This list of Buddhist Guru Master monks will auto-update each time we add a new Master. Click each link in the list to view the amulets and read about each Guru Monk

External Pages
---
Pra Ngop Nam Oy Rare Amulet Nuea Chin Dtakua 2513 BE Luang Por Mui Wat Don Rai
03687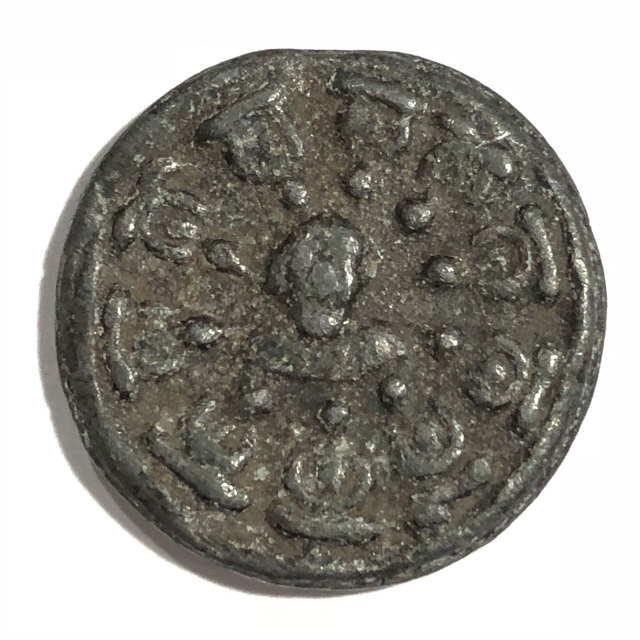 A very rare early Era leaden amulet from this Master, the Pra Ngop Nam Oy ( Sugar Cake Yantra Buddha Mandala), a powerful and Purely Buddhist Alchemical leaden amulet from the year 2513 BE.
The Pra Ngop Nam Oy is one of LP Mui's most famous and highly sought after early era classics and one of his rarer amulets to find. The Yant Ngop Nam Oy amulet is one of the most ancient types of Buddhist amulets, and is formed using a ring of Buddhas cascading outwards from a central point in a circle, resembling a Dhamma Wheel.
The Pra Ngop Nam Oy amulet is known for its powerful Klaew Klaad Kong Grapan Protective Power, and Puttakun Metta Maha Niyom Merciful Blessings. The Pra Ngop Nam Oy of LP Mui is recognizable for the presence of ten Buddhas seated around the central cameo image of Luang Por Mui in the center of the Buddha-Yantra.

Yant Ngop Nam Oi (Sugar cane cake Yantra), is a Buddha Mandala that resembles the traditional Sugar Cane cakes used as units of measurement in olden days (and indeed, still to this day in Thailand). The Yant Ngop Nam Oy was inscribed upon sugar cane cake in olden days, which was then immersed into the family water source, allowing all of those who drank from the source or the well, to experience increased mutual love and affection for each other, and increase Mercy Charm and Popularity for all. This happened through the Powerful Buddhakun Power of this Intrinsically Buddhist sacred Geometry Spell, which emanates Serm Duang, Metta Mahaniyom, Maha Lap and Kong Grapan Chadtri Klaew Klaad Power for Auspicious Fortunes.
One can say that the amulets of Luang Por Mui are all time Classic Pra Niyom amulets of great fame and esteem, that most fans of ancient amulets will have heard of them more than once. it is not possible to spend years studying, loving and collecting amulets withough encountering mention of Luang Por Mui. In short, the amulets of Luang Por Mui are extremely well known amulets, that are very rare to find, but very much desired.
Luang Por Mui Putta Ragkhidto, of Wat Don Rai was the third abbot of the temple, and the first one to take true responsibility, and develop the temple to become the great temple it has come to be known as in the Present Times.
The temple of Wat Don Rai was built by the local folk with the generosity of Mr See, Mrs. Poon, Mr Gaew and Mrs. Hmorn, who were the owners of the land where the temple was built. Once the temple was built in its basic functional state, the folk invited Pra Ajarn Plang to come and stay and administrate the temple.
Pra Ajarn Plang stayed for a period of only one year, and then moved to stay somewhere else. In the year 2458 BE, the folk then asked Pra Ajarn Ploy to come and be the new abbot in his stead. Pra Ajarn Ploy remained at the temple for 5 years, but then decided to disrobe and re-enter the lay community. So the temple of Wat Don Rai found itself without an Abbot for the second time.
The temple remained empty for three years, until the year 2466 BE, when the local Buddhist folk begged Luang Por Mui to come and stay and tend to the needs of the temple.
Since then, Luang Por Mui remained at Wat Don Rai, and performed many great works of restoration and development of the temple facilities. He worked constantly, never complaining when tired, continuing to build and develop the temple, converting a small regional temple into the large one of National Fame, Status and Importance it is today.
Pra Kroo Suwanawutajarn, or 'Luang Por Mui, was born as one of 5 siblings, and given the name 'Chueam', but later changed his Name to 'Mui'. His Surname was 'Mee Sri Chai'. He was born on Thursday 5th December 2432 BE. His father's name was Mr. Muean, and his Mother's name was Mrs. Chang. His family were farmers.
Luang Por Mui spent his childhood much as many farmer's child would do, and lived a normal life, until he came of age and finished his national military service. After he has served his country with the military service, he then was ordained as a Bikkhu into the Buddha Sasana, as is traditional for all Male Buddhist children in Thailand to ordain at least for a while. Luang Por Mui actually ordained twice in his lifetime, with the first time remaining ordained for a period of 10 years (exact date of ordination unknown).
But after Luang Por Mui had disrobed, he became seriously ill, and during the illness made a Vow, that if the illness would disappear, he promised to Ordain again and devote his whole life to the Buddha-Dhamma. When the illness then faded and disappeared, he changed his name officially from 'Chueam' to 'Mui' at the same time. Luang Por then kept his promise, and sought Ordination for the second time. This time there would be no more disrobing.
Below: the famous Pra Ruang Nang Leaden Buddha Image of Luang Por Mui, which was cast from ancient Sukhothai Era Buddhas.
Below; some of the various sacred clay amulets of LP Mui

The second time he ordained is recorded as having occurred at Wat Don Bupharam in Supanburi with Pra Kroo Tammasarn Raksa (Luang Por An) as his Upachaya (Ordaining Officer), and Pra Ajarn Huan, from Wat Bang Krang as his Pra Gammawājājarn (Prompting Officer). Pra Ajarn Gun was his Pra Anusāwanājarn (witness) to the Ordination.
Luang Por Mui received the Dhamma Name of 'Putta Ragkhidto'. Luang Por Mui was known to have a very diligent personality, and in line with this, he began to study the many Wicha and master the Sacred Khom Sanskrit Agkhara Inscriptions. He studied Wicha Akom Dtamra Saiyasart Sorcery with a number of the great Masters of the time. Below, Luang Por Mui Putta Ragkhidto with some of the famous amulets of the grand pantheon of amulets which Luang Por Mui created during his lifetime, which are renowned for their Klaew Klaad Kong Grapan Chadtri and Metta Maha Niyom power.
His various Masters and Kroo Ba Ajarn included both Ordained Monks, and Lay Masters, which included amongst others; Luang Phu Sukh ( Wat Pak Klong Makham Tao), Luang Por Im (Wat Hua Khao), Luang Por An (Wat Don Bupharam), and Luang Por Bpling (Wat Wimon Pokaram). In the year 2475 BE, Luang Por Mui was officially elected as the Abbot of Wat Don Mui. In the year 2476 BE, Luang Por Mui was given the position of Bishop of Nong Sadao Parish. In 2496 BE, Luang Por Mui was given the Status of Upachaya Ordaining Officer for the region of Sam Suk Township. In the year 2502 Luang Por Mui was given the Honorary Title of Pra Kroo Sanyabadtr, and his name was changed in accordance to become 'Pra Kroo Suwannawutājarn'.
Below Pictures; The mausoleum of Luang Por Mui, where his mortal remains (relics) are kept inside a glass coffin for devotees to worship and ask for blessings.
Luang Por Mui was a 'Pra Samatha' - an avid practitioner of Meditation, who sought solitude, and was very strict in his self control and practice of the Vinaya rules of Ordained Life. He was tireless in his duties to serve the Buddhist Faith, and the Devotees of his Region. Luang Por continued to perform one meritorious act after another, throughout his life in service of the Temple and Devotees of Wat Don Rai.

Luang Por spent many years wandering the forests on Tudong, until sometime around 2516 BE, he became weaker and ill. He then decided to return to Wat Don Rai, where the Devotees received him with immense celebration to welcome the return of Luang Por Mui. Luang Por Mui then remained in his old age at the temple of Wat Don Rai, until the day of his final passing on the 15th January 2517 BE, at 07:15 am at the age of 84 years old.
Temple:Wat Don Rai
Maker of Amulet:Luang Por Mui
Weight:8 Grams
Recommended Uses:Protection, Good Karma, Prosperity
Size of Amulet:2 Cm Diameter
Encasement Options
Solid Gold Custom Casing - We will email you with a price quote according to current Gold Prices, and Invoice You after Agreement (0) Waterproof Casing (9) Stainless Steel Casing (9) None (0)