This list of Buddhist Guru Master monks will auto-update each time we add a new Master. Click each link in the list to view the amulets and read about each Guru Monk

External Pages
---
Pra Pid Dta Maha Ud Pong Prai Samutra Ancient Hiding Place Protection Amulet 2499 BE - Por Tan Jerm - Wat Hoi Rak
02662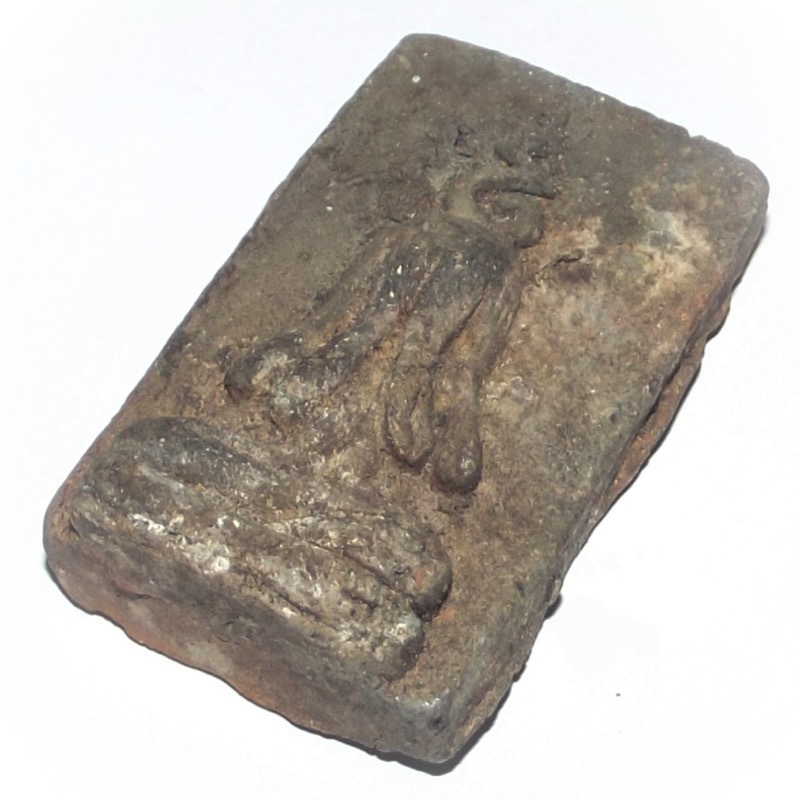 This Pra Pidta Maha Ud ancient hiding place amulet (Pra Gru) is full of sacred Prai Power, and it is very apparent in its appearance, for the time, effort and great assortment of sacred powders that have been gathered and mixed into this now more than half a Century old miraculous amulet.
These are amongst the most classic Amulets that have graced international ancient amulet collectors seen during the last decade, and have been considerably valued by Devotees around South East Asia, for at least 10 years or more. The sacred value goes without question, and the trajectory, and purity of their maker Por Tan Jerm, is that of a great Buddhist master of high repute. His amulets are amongst the most highly praised within this class and price range of ancient Buddhist Amulets.
Pra Pid Ta Maha Ud Pong Prai Samutra 2499 BE is an extremely popular Pra Niyom of the Pra Kru Hiding Place type of amulet that is very highly regarded for its Magical Power not only in Thailand, but also in the rest of South East Asia.
Below is a video of another authentic example of this amulet
For this reason the last decade has witnessed an almost total depletion of this particular classic edition due to the increased number or collectors in International shores accellerating the depletion.
This sheer hardness and dry but smooth and silky texture of this most beautiful classic Buddha Entering Nirodha image in Baked Sacred powders, is worthy of high esteem, in the eye of the collector of Sacred Pra Gru hiding place amulets.
Por Tahn Jerm is one who is very skilled in the Witayaakom occult sciences has summoned the Prai Samutra Powders into Awakening, and through supreme meditative absorption has commanded it to bestow its great power into these ancient Buddha amulets.
These amulets were created over a painstakingly long time of 10 years with many adept masters lending their powerful knowledge into the recitation of the necessary incantations for these Pra Gru. With a Pong Prai Samut Saiyasart powders and 108 sacred herbs baked clay mixture. The intent of constructing these particular amulets was done in great compassion with the forsight that they would one day help to disseminate the Buddha Dhamma over the entire expanse of the world.
The auspicious Pra Pidta Maha Ud Pra Gru ancient amulets from Wat Hoi Rak Bpak Phanang Nakhon Si Thammarat are truly created from a highly skilled master who has gone above and beyond to collect the most holy of ingredients.
These were gathered, to form these highly auspicious and superbly powerful amulets that were consecrated with sacred incantations through supreme conscious awareness.
The Prai Samutra Sutra, and Pra Kata Maha Phetcharat was intoned 10,000 times during 3 Dtraimas beginning in the year 2490BE until finishing the rite in 2499 BE before being able to distribute these amulets to the disciples of Por Tahn Jerm, and adherents of the Buddha Dhamma which immediately reinvigorated the faithful.
The Pra Pid Dta Maha Ud, and Pra Prok Po Prai samutra 4999 BE amulets are of a small number of now ever rarer and highly regarded ancient Pra Gru amulets, which are documented in the below article.
The amulets that weren't distributed were then taken and hidden away in the pavillion, which houses the central Buddha image of the temple.
Wat Hoi Rak has a rich history of adept Gaeji Ajarn skilled in the Khmer Saiwaet occultism including (but not limited to) Por Klaai Waajaasit, Por Kling, Por Mui, etc. who all had come enmass to lend their knowledge and expertise into the consecration of the holy muan sarn powder mixture.
Por Jerm and the plethora of monks and Ajarn worked to manually grind the sacred powder by hand using mortar and pestle to a fine chrystaline with which the powder was used to inscribe sacred Yant and Kata Akom of 108 Pra Puttakhun, 56 Dtammakhun, and 14 Sagkhakhun.
The ceremony was recited over by those who had undertaken at least 9 Sila roop moral precepts and the prayer of homage to the triple gem Ratana Sutta was recited during the entire rite.
The amulets were consecrated with the powers of Kong Krapan invincibility, Klaew Klad evasion, Metta Maha Niyom and Maha Sanaeh.
The Pra Brok Po and Pra Pidta are truly a miraculously powerful example of the highly prestigious physic power of Por Jerm that commands honor on every side.
Later on LP Jerm master of the Aakom Prai Samut passed away from old age entering Nibbana at the age of 77 on 23 March 2528 having completed 57 Pansaa rains retreats.
Pra AJarn Peunotdtu Dtasunadtoh having inherited the masters Wittayaakom Saiyasart, performed the ceremony of worshiping the sol of LP Jerm to ask permission to open the amulet cache and remove them from the Montob to be annointed and restored.
Many of the amulets were broken and very worn out and with permission were restored and distributed to those whos Kamma allowed them to receive such a rare piece of Buddhist and Saiyasart power and history.
There are 4 primary editions in this most Classic, and Highly Collected Pra Niyom class Ancient Amulets, being:
Pra Brok Po (Pim Po San) Pim Yai Lang Yant Lu-Leu
Pra Brok Po (Pim Po Yao) Pim Yai Lang Yant Lu-Leu
Pra Brok Po (Pim Yai) Pim Po Yao Lang Yant Phetcharat
Pra Pid Dta Maha Ud (Bpit Tawarn 9) Lang Maha Yant Phetcharat
Kata Bucha
Put Ta Nus Sa Dti Na Ma Pa Ta

Kata Bucha Pra Pid Ta
Kata Pra Pid Dta – Buddha covering Eyes/orifices), is one of the most powerful Kata to Chant for increasing Riches as well as protection, reducing sufferings and illnesses and incrementing Happiness and Luck.
Tamma Jaggang Bpatang Sudt Dtawaa Puch Chidt Dtawaa Adt Dtang Bpatang Sandtigae Arahaa Laapo Logaanang Hidtagaranaa Pandtae Pawam Bpadtinaama Dtisulokae Subpaagadto Prahma Budt Dto Mahaa Thaero Araho Chaedtago Muni Bpidt Dti Thaero Samo Inta Kantappaa Asuraa Taewaa Saggo Prahmaa Pi Bpuchidto Na Mo Put Tas Sa Kawam Bpadtissa Na Mo Tammassa Kawam Bpadtissa Na Mo Sangkassa Kawam Bpadtissa Sukhaa Sukha Warang Tammang Tammajagga Bpawarang Warang
The Kata for Pra Pid Ta are varied, both short and long. One of the best known ones is the Kata Pra Jao Ha Praongk (five Dhyani Buddhas) as well as the fivefold encoding of Namoputtaya of Na Metta
"Na Metta Mo Karunaa Put Pranee Taa Yin Dee Ya En Doo – Krai Hen Hnaa Goo Rak Goo Khad Goo Midai"
The above Kata is Maha Saneh Choke Laap – luck and fortune, and charming power.
Pra Pid Ta, is also known as Pra Kawambadee or Pra Pakawambodee - Pra Pakawambodee is also known as Sangajjayana, or 'Pra Sangkajjai' (the famous sitting laughing Buddha with round curly hair knots, and a large belly – the Buddha of Happiness and wealth), called 'Pra Sangkajjai in Thai).
Kata Pra Kawambadee (This Kata is for increasing ones wealth and belongings and good fortune);
Namo Puttassa Kawambadtissa Namo Tammassa Kawambadtissa Namo Sangkassa Kawambadtissa Sukha Sukha Warang Na Mo Puttaaya Ma A U Tugkhang Anijjang Anatta Jewa
Another Kata you can use for Pra Pid Ta is;

Na Erd Ad Bad Mit Na Bid Jit Bad Satroo Na Ning Yoo New Mew Pew Tew Mo Erd Ad Bad Mit Mo Bid Jit Bad Satroo Mo Ning Yoo New Mew Pew Tew Put Erd Ad Bad Mit Put Bid Jit Bad Satroo Put Ning Yoo New Mew Pew Tew Taa Erd Ad Bad Mit Taa Bid Jit Bad Satroo Taa Ning Yoo New Mew Pew Tew Ya Erd Ad Bad Mit Ya Bid Jit Bad Satroo Ya Ning Yoo New Mew Pew Tew Na Ma Pa Ta Na – Mo Put Taa Ya – Ja Pa Ga Sa – Na Ma A U U A Ma I-Swaasu Suswaa-I
You can change the words "bid jit" for "bid bpaag" – bid jit means to close the mind of (the enemy) used for stopping them from harming you – bid bpaag means to close the mouth – used in for example, a court case where the enemy is bearing witness against you or speaking against you) – You can change the words "bad satroo" (meaning "swipe the enemy down", to "haam satroo" (meaning "forbid the enemy") depending on your needs.
Pra Pid Ta amulets, as well as Pra Pid Ta in form of Pha Yant, and Bucha statues, have been produced as objects of reverence and protection since very ancient times in Thailand. The artisans of that time created various styles and interpretations using the various periodic influences of Buddhist art and sculpture available at the time. Varios Deity forms were used to make the Pid ta posture ('Pid Ta' means 'covering the eyes') – various Buddhas or Bodhisattvas or Deities are fashioned into the posture of Pra Pid ta, or Pid Tawarn (meaning 'closing the orifices). Pid Tawarn can close 7, or 9 orifices (seven being called 'Pra Pid Sadtatawarn' and nine being called 'Pra Pid Navatawarn').
The Pra Pid Ta is considered to be an amulet with 'Maha Ud' and 'Kong Grapan' power (invincibility and gunstopping power), but is also made as a wealth bringer, in which case, the amulet will be called 'Pra Pid ta Maha Lap'. In order to inflect a greater resonance for wealth attraction and auspicious blessings, in addition to the Maha Ud and Kong Grapan magic, ancient artisans sometimes would use the image of the Sangkajjaiyana Buddha of riches and happiness, and carve it in the Pid Ta posture.
The Pid Ta amulet is one of the most popular of Thai amulets, and has been made by so very many temples and masters from all Provinces, that it is now classed as an important member of the Benjapakee family of classic top five types of Thai amulets.
Pra Pid Ta Silapa Mueang Nakorn
The Pra Pid Ta Silapa Mueang Nakorn amulet is an artistic interpretation found often in 'Kru' hiding places in the South of Thailand. They have been found in many different materials, including bronze, and copper sacred alloys. The Southern Nakorn Sri Tammarat period syled amulets have a much more attractive and special look to them compared to those from other regions in that time (depending on personal taste). The most famous of the Nakorn Sri Tammarat Periodic design Pra Pid Ta amulets was and still is the Pra Pid Ta Pang Pagan
The Pra Pid Ta Pang Pagan Amulet is a Dtamnan (tradition and legend) of amulet making that dates as far back as 1900 to 2000 Years as far as is currently know from archeological finds in Thailand to date. The Pra Pid Ta amulet has its Origins in the time of the Srivichai Kingdom; There was a Great Person born with the name 'Taw Pang Pagan', who defended the Kingdom from Invasion, and brought it back to his Ruler. For his good leadership and Victory, he was awarded Lordship and rule over the City of Nakorn Sri Tammarat, ranging from the Sacred Chedi (Pra Boroma Taat Chedi), to the mountainside. The local Folk gathered in throngs and cgave honor to him raising him to Deva status by calling out the title; 'Taw Pang Pagan'. The Srivichai Kingdom was returned to Thai rule, after a very long invasion from the Chawa. Shortly after this, the Northern warlords and Barons of Siam joined with the Sukhothai Kingdom, which then superseded the Srivichai Kingdom as the Ruling center of the Siamese Regions.
The following generations after the Era of Taw Pang Pagan were ever more initiated into Buddhism as the Dhamma travelled from Sri Langka to Siam, and they began to make Pid Ta amulets in what we now call the Pim Pang Pagan, in honor of Taw Pang Pagan and his family lineage. They personalized this particular Pim with the addition of a Cobra, as a mark of recognition, so that future Generations will remember the courage and heroism of the warriors of the Srivichai Kingdom who played an essential part in how Thailand exists today.
Temple:Wat Hoi Rak
Maker of Amulet:Por Tan Jerm
Weight:15 Grams
Recommended Uses:Protection, Buddhanussati, Kong Grapan Chadtri, Klaew Klaad, Maha Lap
Size of Amulet:4 x 3 Cm
Encasement optionss
Waterproof casing (9) Solid Gold custom casing (email for a price quote) (0) Without Casing (0)