This list of Buddhist Guru Master monks will auto-update each time we add a new Master. Click each link in the list to view the amulets and read about each Guru Monk

External Pages
---
Pra Pid Ta Hlang Baeb Nuea Pong Jum Rak With Authenticity Certificate Free EMS Luang Phu Kaew Wat Kruea Wan
03694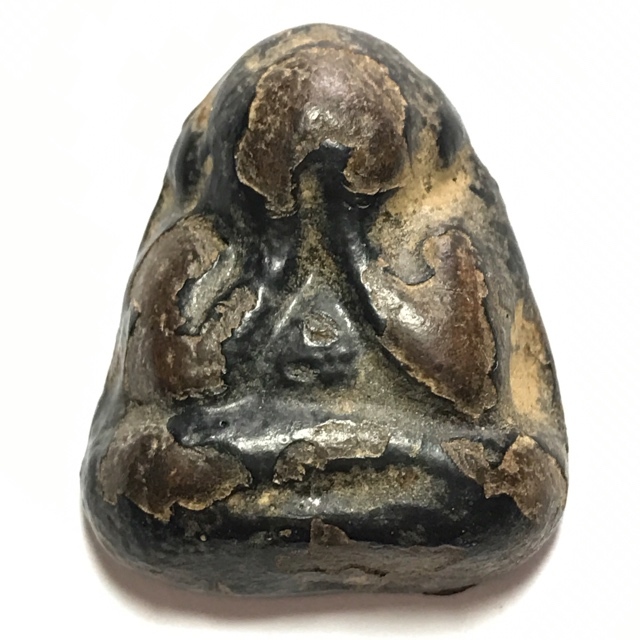 Presenting a Certificated Authentic Ancient Amulet, and all time Number 1 classic Pra Pid Ta amulet of Luang Por Kaew of Wat Kruea Wan (Previously of Wat Pak Tale), in Nuea Pong Jum Rak Sacred Powders with herbal lacquer coating, and the concave indented Pid Ta on rear face. LP Kaew built Wat Kruea Wan after arriving on Tudong in Chonburi Province, around the year 2365 BE, during the time when Pra Jao Thaksin Maharaj was restoring Siam to freedom from Invaders.
An all time Pra Niyom High End Classic Ancient Amulet, renowned for its power and status from Luang Phu Kaew, who first began his legendary of Wat Pak Tale in Petchburi (Later moved to Wat Kruea Wan in Chonburi), with certificate of authenticity included issued by the Samakom Song Pra Tae Mueang Siam Association of Amulets of Siam Thailand.
The Pra Pid Ta of Luang Phu Gaew of ancient fame comes with certificate included and free ems shipping. The Pra Pid Ta of Luang Phu Kaew are considered the number one Pidta of all by devotees of the Chonburi Lineage Master Amulet Collector Scene, and also by those devotees of the Petchburi Masters. A Master Class amulet of ultra rarity that is immensely difficult to encounter in the present Era.
Free EMS Shipping is included with this item. Apart from being so highly regarded for their powerful Metta Maha Niyom and Maha Lap, of the highest power of all Pid Ta, the Pid Ta of Luang Phu Gaew are considered to be the top Pra Pid Ta amulet in Thailand, which carries one of the highest prices within its Genre.
This is so highly regarded that when a Pra Pid Ta Luang Phu Kaew changes owners, the new owner will become 'news' within the amulet scene (regardless of if it came from when Luang Phu was at Wat Pak Tale, or after he moved to Wat Kruea Wan).
This truly ancient amulet is one of the extremely rare amulets of the Pra Niyom Master Class category of Both Petchburi and Chonburi Masters, and has a cult collectorship following in the Wongarn Pra Niyom Sai Chonburi and Sai Petchburi (Chonburi and Petchburi Province High End Collector Scene). The exclusivity factor of this amulet is indescribably high,and coming from the both Chonburi and Petchburi Provincial Collector scene only serves to evidentiate it as a High Class and Ultra rare Pra Niyom Master Class Amulet of ancient times.
Below; Certificate of authenticity from the association of amulets of Thailand with registry number 2581 issued in the 2018 Summer Meeting.
The Pra Pid ta Luang Phu Kaew, is known for its power being made from Luang Phu Kaew's ancient and powerful sacred Muan Sarn. There is a famous tale of the Billionaire Chawapon Rerm Wanich, buying a number of Pra Pid Ta Pim Lek Hlang Riab (plain rear face small model) amulets of Luang Phu Kaew, for a sum of 10 million Baht each (about 350,000$US)!
It is said that the only thing harder to find than the Pid Ta of Luang Phu Kaew, is the Photo of Luang Phu Gaew himself. However, despite these true stories, that some millionaires pay immensely high prices for such amulets, the standard price which true collectors and aficionados consider to be universal ranges between the 1000$ for a less well kept or lesser preferred model with or without certificate, to 11000$ for a top class prizewinner.
Luang Phu Gaew was one of a group of Master Monks who all possessed and practiced the Wicha of making Pra Pid Ta, all of whom are famous names, such as Luang Phu Jeen of Wat Ta Lad, Luang Phu Pu (2351 -2361 BE), Luang Porn Daeng of Wat Ang Sila, and the great Luang Por Plord of Wat Pak Tale, who was the premiere apprentice to Luang Phu Gaew, and famous in his own right for his famous Look Om amulets which he made with the remaining powders inherited from Luang Phu Kaew, as well as adding powders of his other Kroo Ba Ajarn such as Luang Por Tong Sukh's powders of Luang Phu Iam (Wat Sapan Sung).
Luang Phu Gaew was born sometime between 2337. This is known by devotees who met and worshiped Luang Phu Gaew as he appeared on Tudong wandering in Khao Bandai it district of Petchburi, to escape being asked to become abbot of Wat Pak Tale, as the current abbot had just passed away, and he preferred the forest wandering and meditation, to administration of the worldly aspects of running a temple. Luang Phu Gaew wandered onwards until he came to rest at Khao Luang Temple, and saw it was in total disarray.
He thus rounded up devotees to help and slowly restored the temple to original condition, and the local devotees begged him to be the abbot of Wat Khao Luang. But in the eyes of Luang Phu Kaew, this was tantamount to chasing him away, as he was not inclined to accept limitations on the practices and austerities of Tudong. So Luang Phu Gaew wandered off again and disappeared into the forests on Tudong.
Later after some years of disappearance and no documentation of his life during those years, he later appeared in Chonburi and built the temple at Wat Kruea Wan, where he stayed till the end of his life, and became the great Master of Wicha Pra Pid Ta of the Chonburi Province who is considered the top number one master of all, despite the absence of a full biography and a lack of knowledge about the full details of his life. His Wicha was passed to great Masters who he was associated with all of whom became Top Masters of Historical Fame in their own Right, with some of the greatest names being his apprentices.
Below; one of the only photos we have in existence to date of Luang Phu Gaew, which has the date R.S. (Ratanakosin Year) 124 (2449 BE), and his age being 55 years old in this picture.
Even the world famous Payak Kampant, Sian pra Maestro of the Thai Amulet Society, who released a book with 108 biographies and pictures of Great Master Monks, was not able to include the Biography and Picture of Luang Phu Kaew, due to the rarity.
the Muan Sarn of the amulet, with all the aspects of an 'Ongk Kroo' (teacher model to accustom the eyes to the true authentic sacred powder content).
The rear face features the image of the Pra Pid Ta Ongk Pra Buddha embossed in concave. The Muan Sarn of the amulet is clear and easy to appreciate with the eye with no need of an eye loupe or magnifying glass to authenticate. This level of pristine clarity in an amulet of this age and status is so very rare to encounter indeed, making this exhibit a definite 'Ongk Kroo Masterpiece Version'
This particular exhibit displays all the features necessary for prize winning competition entry, and already possesses a certificate of authenticity from the Samakom Song Pra Tae Mueang Siam.

The front face of the amulet glows with a truly seductive aura of beauty and its surface texture of lacquered Sacred Powders with pure gold leaf have blended to render a truly beautiful example of the Pra Pid Ta Luang Phu Kaew. The features of the Buddha Image with its slender arms and its perfectly detailed relief, full of depth and character, leave the eyes unstrained when authenticating and appreciating its subtle features, and evident age.
True beauty in subtlety, with a sacred muan sarn powder content that assures the wearer of high Puttakun Power and effective Kong Grapan, Klaew Klaad, Metta Mahaniyom, and Maha Lap effect. We behold before us a Master Class authenticated amulet from one of the greatest olden days master sorceror monk, of world class status.
Temple:Wat Pak Tale
Year of Issue:
Circa 2400 BE
Maker of Amulet:Luang Phu Kaew
Weight:5 grams
Recommended Uses:Choke Lap, Maha Lap, Maha Pokasap, Metta Mahaniyom, Klaew Klaad
Size of Amulet:2.5 x 2 Cm
Encasement Options
Solid Gold Custom Casing - We will email you with a price quote according to current Gold Prices, and Invoice You after Agreement (0) Waterproof Casing (Free) (0) Stainless Steel Casing (Free) (0) None (0)