This list of Buddhist Guru Master monks will auto-update each time we add a new Master. Click each link in the list to view the amulets and read about each Guru Monk

External Pages
---
Pra Pid Ta Jumbo Sai Rung 2541 BE Rainbow Powders Amulet Original Box Free Casing - Luang Por Pae Wat Pikul Tong
03151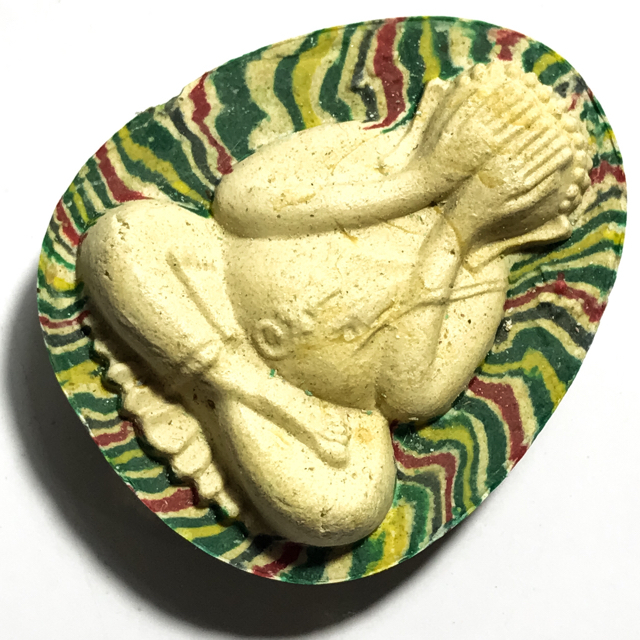 Pra Pid Ta jumbo size sacred powder amulet from 2541 BE, and a pristine example from one of this Century's most highly acclaimed guru masters of Sacred Buddhist Amulet making, one of the most highly reverent and respected monks in living memory, Luang Por Pae, of Wat Pikul Tong (Singhburi).
This particular Amulet, is in jumbo size, comes still in the original temple box, and is one of his most popular all-time classics. The rainbow powders amulets are especially sought after, for their individuality. This is largely due to the powerful Kong Grapan Chadtri, Metta Maha Niyom and Maha Lap Powers attributed to the amulets, and aesthetically, the rainbow coloured sacred powders used for their making, lend it a very attractive visual appearance. Rainbow coloured sacred powder Amulets are synonymous with the name of Luang Por Pae, and are a signature aspect of almost all, if not all editions he ever made.
The amulet measures 5×4 cm, and bears an image of a Buddha, with his hands over his eyes, which represents about entering the meditative state of Nirodha. This position when drawn in sacred geometry, is known as 'Pra Putta Jao Ham Tugkh', which means, the Lord Buddha forbidding suffering.
This refers to The practice of a Buddha entering the state of Nirodha, which is a meditative state, where are no suffering can exist within the mind. This state is attained by the closing off of all attachments to a exterior phenomena, and this is represented with the closing of the orifices.
Pra Pid Ta Sai Rung Luang Por Pae Wat Pikul Tong, is now even rarer than the Pra Somdej Sai Rung, and is since some time an accepted competition class amulet which is showable in prize giving competitions and amulet conventions.
Luang Por Pae, or, better known as Somdej Sangkarach Pae, is one of the last half century's most reverent and long-standing respected monks of the royal procession of stateesteemed monks, Who has excelled in both his behavioural practice as well as his academic studies and adepts applied practice of Vipassana Kammathana in the Thai Tudong Forest tradition.
During the last few years, the rainbow coloured sacred powder Amulets and Pra Somdej classics of this great master, have been seen to dwindle from the public amulet markets, which is due to the fact that not only Thai people have been reverie and holding his Amulets over the last decade or so up, rather that all around Southeast Asia and even as far as western world, people have been snapping up and hiding and stashing away his Amulets like treasure that may never be found again, which is indeed going to be true pretty soon.
This edition was made in Jumbo and 'Plod Nee' models, the plod nee being slightly smaller and more tapered on the top edge than the jumbo maha lap version, but both were released in large sizes. Plod Nee Pra Pid Ta are usually made in a smaller size, which is fitting for ladies and children, but in this particular series they were made in jumbo size in both types.
This has resulted in an accelerated depletion of his Amulets, despite the fact that classic Amulets made according to the official formlas such as the Pra Somdej amulet, make numbers of up to 84,000 per edition they have still managed to disappear almost completely from the public view. They are now not only highly recognised classics, but also extreme rarities, and the coming years can expect to see these Amulets becoming immensely difficult to seek out.
Origins of the Pra Pid Ta amulet.
Temple:Wat Pikul Tong (Singhburi)
Maker of Amulet:Luang Por Pra Sangkarach Pae
Weight:40 Grams with Box
Recommended Uses:Protection & Wealth Increase
Size of Amulet:5 x 4 Cm
Encasement options
Solid gold custom casing (please select this option if you wish us to contact you with a price quote). (0) Waterproof casing (Free Offer) (0) Free Stainless steel Casing (0) Without casing (0)