This list of Buddhist Guru Master monks will auto-update each time we add a new Master. Click each link in the list to view the amulets and read about each Guru Monk

External Pages
---
Pra Pid Ta Maha Lap Na Ta Na - Nuea Pong Bailan Gammagarn Pised - 2 Gold Takrut Only 10 Ever Made! - 2522 BE Luang Phu To Wat Pradoo Chimplee
02766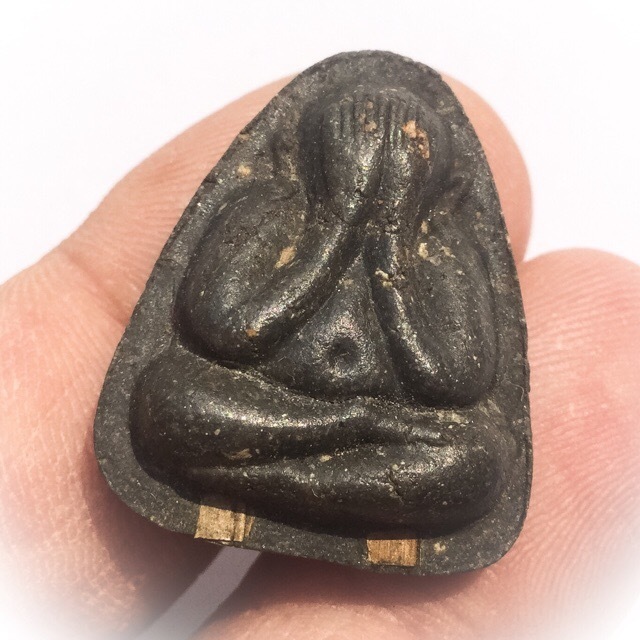 Proudly presenting a classic Masterpiece Amulet of World Famous International Fame and Acclaim, the Pra Pid Ta Maha Lap Hlang Na Ta Na Amulet, in Nuea Pong Bailan Sacred Black Parchment Powders, from the Great and Inimitable Luang Phu To of Wat Pradoo Chimplee.
This amulet is extremely rare due to the fact that only 10 of this series were made in Pong Bailan with Takrut Tong Kam Koo Double Gold Takrut in the Base, and released at the ceremony to certain individuals.
Our contact was at the ceremony back then, and rented a large number of amulets, recieving this as a special Gammagarn model for his large donation.
A special Ongk Kroo Model was also released with only 100 Models made with 1 Gold Takrut, and 1 Silver Takrut. Then, a Further 10 Only Extra Special Models were were released as Gammagarn Distribution Models with 2 Gold Takrut in the base.
Released 2522 BE with Luang Phu To performing his Empowerments and Blessings. The Pid Ta Maha Lap Na Ta Na Amulet has a different Yantra on the rear face to the Maha Lap Jumbo and Plod Nee Versions from the Traimas 2521-2523 Edition, and is a Highly Distinguished Amulet.
The Pra Pid Ta Na Ta Na is small in size, at 3 x 2.5 Cm is fitting for both Ladies or Men to wear. Solid Gold Custom Casing is available for free if wished for this Amulet.
The surface of the Sacred Powders of the Votive Tablet, are highly distinguished and evidently authentic Sacred Powders of Luang Phu To Wat Pradoo Chimplee - the amulet has very clear features, and respectable aging features to the Muan Sarn. The rear face has the Yant Na Tana Sacred Yantra Embossed on the surface.
This Pid Ta is a Pra Niyom Category Amulet (Preferred Master Class Status), and belongs to the Classic Preferred Editions which were blessed and released at Wat Pradoo Chimplee. There are many other Pra Pid Ta amulets from this great master which were released in other smaller temples, some of which are more affordable, and others are also rare and highly revered and worshiped. This particular Gammagarn amulet has only 10 in existence, and is hence an extremely rare amulet.
Before making a choice with Pra Niyom amulets from World Famous Masters, it is important to study, and know which editions and which block mold pressings are the preferred amulets, in order to know which ones are carry a higher price tag and which ones a lower price. In principle, any amulet blessed by the same Master should be equally powerful and Sacred.
However, due to certain editions having Miraculous Events in the News making them more famous and popular, as well as the Collectorship Scene and the Appreciation Societies who Value and Catalogue the various editions, have valued certain models and series editions such as this extremely rare Gammagarn amulet of which only ten were ever distributed, to become extremely expensive for their Master Class Status.
It is therefore not necessary for somebody who merely seeks a powerful amulet, to buy the more expensive models, and with a bit of effort to study and make wise decisions, one should choose always what is within one's own budget. For those who seek a Sacred Powerful Amulet blessed by this Master, there are many more affordable alternative editions to the Pra Niyom Master Class editions, which we hope to provide ever increasingly along with detailed explanations of each edition and series, so that you can distinguish the differences and make your choices accordingly.
Below; Muan Sarn Sacred Powders of the amulet show a slight white mildew rising to the surface, which is due to the precense of Kakyayaks Earths. this is an essential aspect of investigating the Muan sarn of Luang Phu To Pra Pid Ta amulets.
The amulets of Luang Phu To always have a certain quantity of the hair of Luang Phu To in their mixture and visible on the surface to greater or lesser extent. In Black Bailan versions, the hair is much less visible than in the lighter colored powder versions.
Two Gold Takrut spells are inserted into the base of the amulet. A defined ridge is seen where the legs cross at the ankle lines. The Buddha Image is outstanding, with clearly defined lines, and the ear lobes blend with the shoulders in subtle fashion. The fingers are clearly defined and elongated.
The surface of the Muan Sarn Sacred Powders has experienced slight cracks in it, increasing the beauty of the amulet, which is a classic effect of the changing humidities of the atmosphere, and this has given the amulet is distinguished look of authenticity.
For those who see the inimitable top class Master Piece this is amulet is the right choice for those whose budget permits it. This amulet can be found worn in Thailand by high ranking police, army, civil servants and politicians, who jealously guard them for their Sacred Power.
Luang Phu To of Wat Pradoo Chimplee was one of the greatest Masters of the Last Century, and a Highly revered Monk around the whole Kingdom of Thailand. he was Respected and revered by His Majesty Our great King, who was a close friend and companion.
This Great Monk achieved his status through his Great deeds and his great Diligence in his Patipatā (Practice of Purity and Renunciation), and in his Great Attainments in Dhamma Pariyatti and Dhamma Patipatā. Luang Phu To was born on the 27th March 2429 BE in Ban Klong Bang Noi in Samutr Prakarn and passed away on 5th March 2524 BE.
His many honorable awards of status reflect his great practice and diligence, since beginning to studdy the Dhamma Vinaya at Wat Pradoo as a Samanera Novice monk, through to become the Bishop of the Ta Pra Municipality (2463 BE), to becoming awarded the charge of being the Pra Kroo Sangka Wichit for the Abbot of Wat Maha Tat in 2457 BE. In 2463 BE, Luang Phu To became ascended to the status of Pra Kroo Sanya Badtr Chan Dtri (Third Level, tantamount to Batchelor of Arts in Dhamma).
In 2497 BE, Luang Phu then became promoted to Pra Kroo Sana Badtr Chan Toe (Second Level, tantamount to a Doctorate in Dhamma), of Royal Category. In the year 2500 BE, Luang Phu was then given the additional status of Upachaya Ordaining Officer. In the year 2506 BE, Luang Phu attained the status of Pra Kroo Sanya Badtr Chan Ek (tantamount to a Masters Degree in Dhamma). In 2510 BE Luang Phu To was given the charge of being the Gammagarn treasurer of the Temples of Ta Pra Minicipality.Then, in 2511 BE, Luang Phu To was promoted once more to Pra Kroo Chan Kroo Pised (tantamount to an Honors degree in Dhamma).
In 2516 Luang Phu became Pra Racha Kana (Royal Appointment Sangha Comittee) and head officer of the General Affairs of Vipassana Practice. In 2521, Luang Phu To received the status of Pra Racha Kana Chan Rach (tantamount to being an Archbishop of the Royal Decree). His Blessings are believed to possess the most powerful protective power, and to increase success and prosperity. His amulets are both highly revered for their sacred Power of Protection and Prosperity, but also as a connection and Buddhanissati reminder of the Great Guru master, tto beseech his blessings through the amulet. One of the most highly sought after Pra Niyom Category Amulets, which is seen to grace the pages of any and every important amulet encyclopedia, and the highly prized and jealously guarded talisman of the high end collector and devotee.
Temple:Wat Pradoo Chimplee
Maker of Amulet:Luang Phu To
Weight:10.6 Grams
Recommended Uses:Maha Lap (Lucky Fortunes), Maha Pokasap (Wealthy treasure Accumulation), Metta Mahaniyom (Mercy Charm) Serm Duang, (Improve karma) Maha Ud (Invincibility), Klaew Klaad (Evade Danger)
Number of Amulets Made:Only 10 Made
Size of Amulet:3 x 2.5 Cm
Encasement Options
Solid Gold Custom Casing (Waterproo​​​​​​​f) - We will email you with a price quote according to current Gold Prices, and Invoice You after Agreement. (0) Waterproof Casing (free option with this Amulet) (0) Without Casing (0)