This list of Buddhist Guru Master monks will auto-update each time we add a new Master. Click each link in the list to view the amulets and read about each Guru Monk

External Pages
---
Pra Pid Ta Mai Gae Long Rak Pid Tong Circa 2470 BE - Luang Phu Rod Wat Bang Nam Won
03353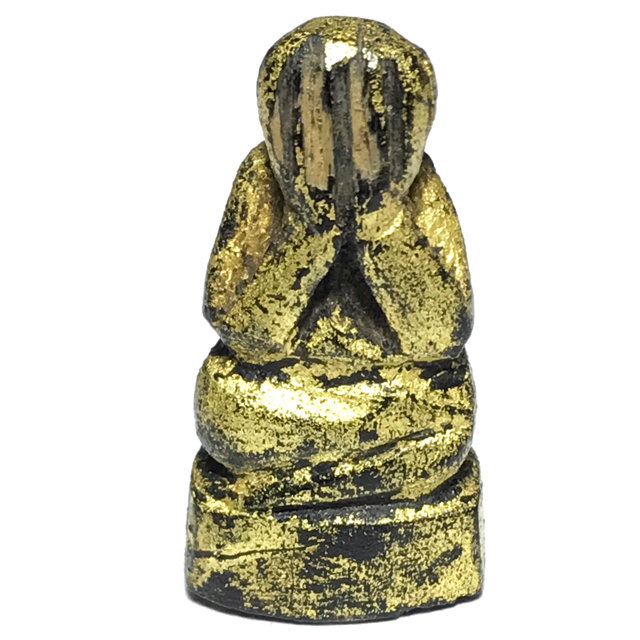 A very attractive exhibit indeed, with highly refined and distinctive features, and an eminent member of the of the World Class top Pra Niyom Master Class Pantheon, the Pra Pid Ta Gae Mai Long Rak Pid Tong carved sacred wood Buddha image, from the Great Master of carved Pid Ta amulets of Olden Days; Luang Phu Rod, of Wat Ban Nam Won in Samut Sakorn.
The Pra Pid Ta Long Rak Pid Tong Nuea Mai of Luang Phu Rod is a top Pra Niyom Master Class Amulet of the both the 'Buddhakhun' (Purely Buddhist) and the 'Krueang Rang' (Talismanic) category, which is most certainly a very rare amulet to find anywhere, and an even rarer opportunity to be able to acquire ownership of. In every sense a competition class amulet of immensely sacred value, high power and immense prestige. The Pra Pid Ta of Luang Phu Rod are counted amongst the top 10 Pra Pid Ta amulets of all History, along with the Pra Pid Ta of Luang Phu Iam (Wat Hnang), Luang Phu Yim (Wat Nong Bua), Luang Phu Tap (Wat Anong), Por Tan Mui (Wat Pha Ragam Nuea), Luang Phu Khai (Wat Cherng Lane). Luang Phu Hiang (Wat Pha Aranyigaram), Luang Por Tap (Wat Tong, Bangkok), Luang Phu Iam (Wat Sapan Sung), and Luang Phu Gaew (Wat Kruea Wan) The statuette measures 2.5 Cm high x 1.4 deep x 1 Cm wide, and is carved from a Sacred treewood. The amulet is covered in lacquer and gold leaf.
The Province of Samut Sakorn has produced some of the Great Kroo Ba Ajarn Master Monks of our lifetime, including the great Luang Por Rung (Wat Ta Graber), the great Olden Days Guru Luang Por Heng of Wat Ban Khom (famous for carved ivory tigers), but one name stands above others for this Province, when it comes to the Pra Pid Ta carved amulet, the Great Luang Phu Rod Puttasando, of Wat Bang Nam Won, so famous for his Pra Pid Ta and Roop Muean.
The name of Luang Phu Rod cannot be omitted when speaking of the Great Samut Sakorn Masters, being one of the greatest Masters of that Province in History. Luang Phu Rod Puttasando was born in the year 2416 BE, and lived 72 Years, passing away in the year 2488 BE. Luang Phu Rod was a Monk who was known to have had powerful Wicha to make amulets, and was believed to have possessed the Abhinya Supernatural Powers.
These days, his amulets are extremely rare, and fetch very high prices in the auction rooms of Master Class amulets. His Pra Niyom Preferred Master Class models are many, the most famous and expensive being the Rian Roop Lor Sae Yid 2477 BE, which fetches prices from thousands to tens of thousands of dollars (depending on the condition), The Rian Lor Boran in Pim Yerd and Pim Dter models of 2477, which is so highly defined for its metallurgy of Samrit bronze with Ancient gold and silver, artifacts and Yantra foils, and is considered by aficionados a most beautiful coin for visual appreciation under the eye loupe.
His Rian Sae Yid See Liam 4 sided coin of 2477 BE, and the Rian Lor Pim Sam Liam Yok Mer Diaw (one hand lifted), and 'Panom Mer' (hands praying) triangular amulet, and not to forget the Rian Lor Pim Jaek Mae Krua, and the Rian Bpam Sema Albaca coin.
Apart from his coin amulets, his many Krueang Rang Talismanic charms, such as his inimitably carved Pra Pid Ta amulets, Singha Lions, Choo Chok, Pha Yant, Takrut, and his famous Phaen Yant Hua Sao Pillarhead Yantra. His Phaen Yant Prateep Singh, and his Magic Rings are also highly sought after and regarded, but are very difficult to find and collect.
Luang Phu Rod's rarest amulet is said to be the Rian Sae Yid Pim Rian Job, which is a slightly differenly filed down version to the standard Sae Yid coin. It is said that Luang Phu Rod only gave the Rian Job to his closest Devotees and Apprentices, and is hence the most difficult amulet to find a photograph of, much less an actual example to study.
Luang Phu Rod was always lovingly called 'Taep Jao Waja Saksit' meaning 'The Angel with sacred Speech'. Most famous for Mastery of Metta Mahaniyom and Kong Grapan Chadtri Klaew Klaad Magic, and was Highly Famed for his Wicha Pha Yant Bang Prai, Wicha Tam Tong Gan Fon Rainstopper Flag Spell, Wicha Takrut, and Wicha Kong Grapan Chadtri
His amulets have spawned many hundreds of tales of miraculous lifesaving events and lucky fortunes over the last half century, which is part of what has placed this Master at the Pinnacle of his Genre of Amulets. It is said that he who wears the amulets of Luang Phu Rod will instil fear into the hearts of ill wishers and enemies, and will be safe from their ill intentions.
Luang Phu Rod ordained in 2428 BE as Samanera at the age of 12, and immediately began to learn Wicha with Pra Atigarn Luang Por Kae, until he reached the age of 20 years old and was ordained again in 2436 BE as a fully fledged Bhikkhu in the Buddha Sasana. He was given the Monks Surnam (Chāyā) of Puttasando. Once more Luang Por Kae was his Upachaya ordaining officer.
He was already proficient in Wicha from his 8 years as a Samanera Novice diligently practicing, and began his long trajectory as an already well trained Sorceror-Monk, from his previous 8 years of Wicha practice under Pra Atigarn Kae.
Idiosyncrasies
There are some special indiosyncrasies for which Luang Phu Rod was famous, such as his refusal to perform disrobal ceremonies on monks who had ordained with him, and would send them to another Upachaya to disrobe. This was because when Luang Phu Rod would agree to ordain somebody as a monk, they had to promise never to disrobe again.
Luang Phu Rod had very strange eyes, with irises which looked like Chakra Disks, and which reflected the light like cats-eyes on the road at night. Nobody ever really dared to look Luang Phu Rod in the eyes when speaking.
If a house had a balcony overlapping the entrance to a house, he would not enter that house if he had to walk under the balcony. He would insist on putting a ladder up to the window, and enter that way instead. This is of course because of certain rules of the Kroo Ba Ajarn of Saiyasart (Rules of Sorcery)
Miracles
The stories of miraculous events with the amulets of Luang Phu Rod, and of Luang Phu Rod himself performing miracles, are numerous. some of the more well documented are;
Once during the Ngaan Prajam Pi yearly Wai Kroo Ceremony, the sky clouded over with dark clouds and was about to let loose with a torrential rainstorm, and Luang Phu Rod came out and made a Pha Yant Tong Fang Takrut (Triangular Yantra Flag with Scroll Spell inserted) and Enchanted it with Incantations. he then instructed his assistants to raise the flag up to the top of the flagpole of the temple. As the yantra Flag reached the top of the flagpole, the massive dark clouds in the sky broke apart and dissipated, leaving a clear blue sky in its place.
Waja Saksit (Wajasit = Power to change things with Speech; Spellcasting) - Once a large group of country folk came to pay devotion at the temple, and were sleeping in the tenmple grounds, as a swarm of mosquitos came and were biting everybody to the point where nobody could sleep or relax. Luang Phu Rod heard of this, and came to tell the devotees to go and sleep inside the Uposatha Shrineroom building.
The devotees entered the Shrineroom, and not a single mosquito entered the whole night, and not a single devotee was bothered further. The Shrinerooms are not hermetically sealed and are as easy for mosquitos to enter as any other part of a temple, which makes this event unexplainable, except for the miraculous Waja Saksit of Luang Phu Rod, and the Sacred Power of the Buddhist Shrineroom.
Singh Glaay Bpen Suea - Lion becomes a Tiger to Scare Away Robbers from the Kuti Hut of Luang Phu Rod. One day a thief came to break into the Kuti of Luang Phu Rod, but as he was about to enter, one of the stone Singha Lion Guardians of the temple in front of the Kuti turned into a Tiger, and walked up and down in front of Luang Phu Rod's staircase, and the thief ran away in terror, to recount the tale to the villagers later, which brought the story back to the temple.
During the final part of his life, Luang Phu allowed the faith filled devotees of Wat Bang Nam Won to reside at the temple when they wished to practice, and set up a daily rule of Dhamma Patipata, for lay people to always practice the Dhamma from 8 PM to 10 PM diligently, and practice the Meditation and Prayer methods of Wat bang Nam Won every day. This tradition is held right up to the present day at the temple of Wat Bang Nam Won, which is a source of Merit Making for Lay Folk and Monks, and a Meritorious Influence to Increase the level of Practice of Dhamma with the Lay Devotees.
There is also a Semantic Reason for why the amulets of Luang Phu Rod are considered to help the Devotee in surviving deadly dangers, and surviving financial crises, is the fact that Luang Phu's name 'Rod' means to pass through, or to survive intact, with or without incident. This suggests that one will pass through all gauntlets and obstacles, survive all ordeals, and escape all disasters, be they mortal, or financial.
Kata Pra Pid Ta
Temple:Wat Bang Nam Won
Year of Issue:
Circa 2470 BE
Maker of Amulet:Luang Phu Rod Puttasando (2416 - 2488 BE)
Weight:3 Grams
Recommended Uses:Improve Karma, Protection, Evade Deadly Dangers, Mercy Charm, Lucky Fortunes
Size of Amulet:2.5 x 1.4 x 1 Cm
Encasement Options
Solid Gold Custom Casing - We will email you with a price quote according to current Gold Prices, and Invoice You after Agreement. (0) Waterproof Casing (Free Offer with this Amulet) (0) Without Casing (0)