This list of Buddhist Guru Master monks will auto-update each time we add a new Master. Click each link in the list to view the amulets and read about each Guru Monk

External Pages
---
Pra Pid Ta Run Raek Long Rak Pid Tong Hlang Yant Khao Hlaam Dtad 1st edition with Solid Gold Casing Luang Phu Kaew Wat Nong Tamleung
02633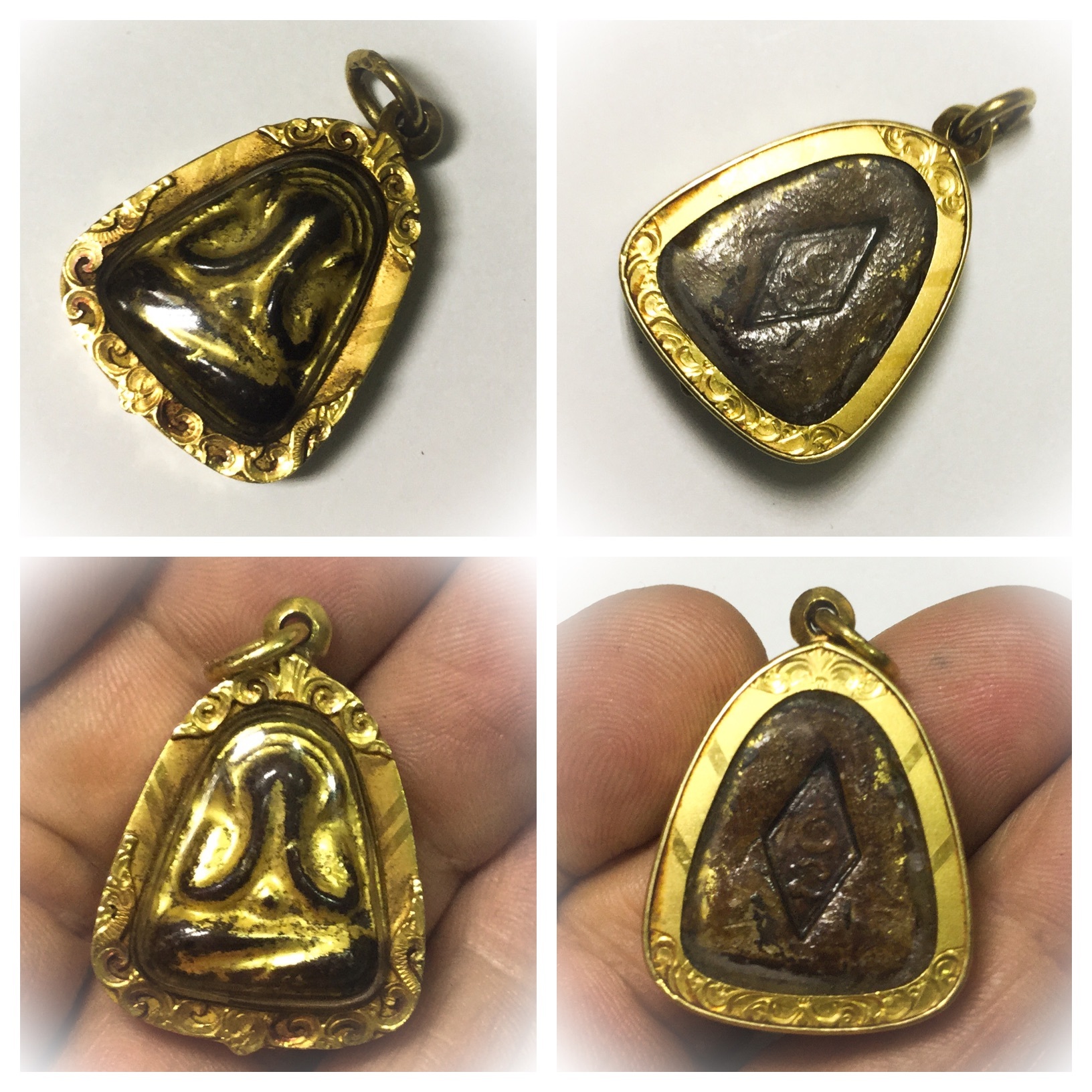 First edition classic Pra Pid Ta amulet in pristine condition with herbal lacquer coating, gold leaf and the Yant Khaw Hlaam Dtat on rear face, from Luang Phu Kaew, first abbot of the previous century, of Wat Nong Tamleung, Discovered in the hiding place chamber at the temple Circa 2505 BE. This amulet comes with solid gold casing included in the price.
This amulet is one of the extremely rare amulets of the Pra Niyom Master Class category of the Chonburi Masters, and has a cult collectorship following in the Wongarn pra Niyom Sai Chonburi (Chonburi Province High End Collector Scene). The exclusivity factor of this amulet is indescribably high, and coming from the Chonburi Provincial Collector scene only serves to evidentiate it as a High Class and Ultra rare Pra Niyom Master Class Amulet.
The Pra Pid ta Luang Phu Kaew, although released in 2505 BE, is an amulet retrieved with Luang Phu Kaew's ancient and powerful sacred Muan Sarn from the Kru Burial Hiding Place of Luang Phu Kaew, who was the first Abbot of Wat Nong Tamleung over 100 years ago, and who buried a few hundred amulets in a Kru Chamber under the Pra Pratan Buddha Image in the Uposadha Chapel of the temple, which were found as the temple was moved and a new Uposadha was t be built.
The old Uposadha was then in process of disassembly to be transported to its new location on a higher altitude nearby, in 2500 BE, and as they lifted the Central Buddha statue they found the doorway to the hiding place chamber. Many hundreds of amulets wer inside, and a large number of extremely ancient centuries old ones were also found from before Luang Pu kaew's time even. The most ancient amulets were to a large extent broken because they lay under Luang Phu Kaews amulets and had been there for centuries, and so these amulets were used as sacred powders for making a new edition of Pid ta Luang Phu kaew. Two different separate Buddha Abhiseka empowerment ceremonies were made, on different dates, the first being in 2505, the second in 2506, with this model being released in the 2505 Ceremony.
The rear face features the Yant Khaw Hlaam Dtad Yantra Spell embossed. The Muan Sarn of the amulet is clear and easy to appreciate with the eye with no need of an eye loupe or magnifying glass to authenticate. This level of pristine clarity in an amulet of this age and status is so very rare to encounter indeed, making this exhibit a definite 'Ongk Kroo Masterpiece Version'
This particular exhibit displays all the features necessary for prize winning competition entry, and is definitely wirthy and almost certain of winning a first prize in its category. If the amulet is stil with us by the time the next Amulet Show comes to our Province in Chonburi, we will be entering it for competition, and reposting afterwards. However, it must be understood that a first prize certificate will drastically increase the value of this amulet, for which reason we also are allowing the chance to those who may wish to submit it themselves into competition, and save themselves a lot of money in acquiring it beforehand.
The front face of the amulet glows with a truly seductive aura of beauty and its surface texture of lacquered Sacred Powders with pure gold leaf have blended to render a truly beautiful example of the Pra Pid Ta Luang Phu Kaew. The features of the Buddha Image with its slender arms and its perfectly detailed relief, full of depth and character, leave the eyes unstrained when authenticating and appreciating its subtle features.
True beauty in subtlety, with a sacred muan sarn powder content that assures the wearer of high Puttakun Power and effective Kong Grapan, Klaew Klaad, Metta Mahaniyom, and Maha Lap effect. These are the ancient powders of an authentic olden days master sorceror monk, which can hardly be found made by any present day Masters at all.. those days are gone indeed.
The status and sacred value of this amulet is not to be questioned, and its beauty and features are amongst the most pristine we have seen in any example of this particular model from Luang Phu Kaew to be found in the amulet scene.
Luang Phu Kaew was a Gaeju Ajarn Guru Monk who was accomplished in Vippassana and Samatha meditation techniques, and was the Upachaya of Luang Por Bern Puttasaro and Luang Por Lon, as well as being the Kroo Ba Ajarn of famous Sorceror Monk 'Luang Por Gon Tammakoso' of Wat Bang Bagong. he had a very high reputation in his time for his kata Akom spellcasting and Magical Powers of Choke Lap and Metta Mahaniyom as well as Klaew Klaad evasive Magic. he was reputedly able to enchant Tamarind Leaves and make them come to life as Bees and Crickets, and was said to have kept two Prai Spirit Ghosts bound under his services. He was said to have bestowed immense magical protection over his devotees, but that anybody who was a selfish person would not recieve his protection, because he detested selfishness.
The Kru Chamber Hiding Place of the amulets of Luang Phu Kaew was discovered in 2505 BE at 9 am in the morning at Wat Nong Tamleung. The 400 year old sacred powders from the Kru of Luang Por Kaew were used for the making of amulets, and hasty preparations were made for a Buddha Abhiseka Amulet blessing, after which the Pra Pidta were released to the public.
The Buddha Abhiseka for the release of this first edition preferred ('Niyom') model in lacquer coating with gold leaf was performed in 2505 BE with Nine Great Guru Monks present to invoke the spirit of Luang Por kaew to attend and to chant the Dhamma Chakra for the opening of the eyes of the Buddha.
Kata Bucha Luang Phu Kaew
Chant the Maha Namasakara 3 Times first
Namo Dtassa Pakawadto Arahadto Sammaa Samputtassa
Namo Dtassa Pakawadto Arahadto Sammaa Samputtassa
Namo Dtassa Pakawadto Arahadto Sammaa Samputtassa
Then Chant
Maedtaa Raachaa Chanaa Athii Jid-Dtang Bpidti Sukhang Arahang Bpidti Aehi Jidtang Bpiyang Ma Ma
Chant each day for Choke Lap Lucky Fortunes, Metta Mahaniyom Mercy Charm, Klaew Klaad Evasion of Dangers
Temple:Wat Nong Tamleung
Year of Issue:
released after the discovery of the Hiding Place chamber amulets of Luang Phu Kaew in the year Circa 2505 BE
Maker of Amulet:Luang Phu Kaew
Weight:10 grams
Recommended Uses:Choke Lap, Maha Lap, Klaew Klaad
Weight of precious Metal in Casing:5 Grams
Size:2.5 x 2 Cm (without casing) / 3 x 2.8 Cm (Including Casing)