This list of Buddhist Guru Master monks will auto-update each time we add a new Master. Click each link in the list to view the amulets and read about each Guru Monk

External Pages
---
Pra Pid Ta Ud Kring Loi Ongk Run Sam 3rd Edition 2513 BE Luang Por Yui Wat Bang Kapi
03518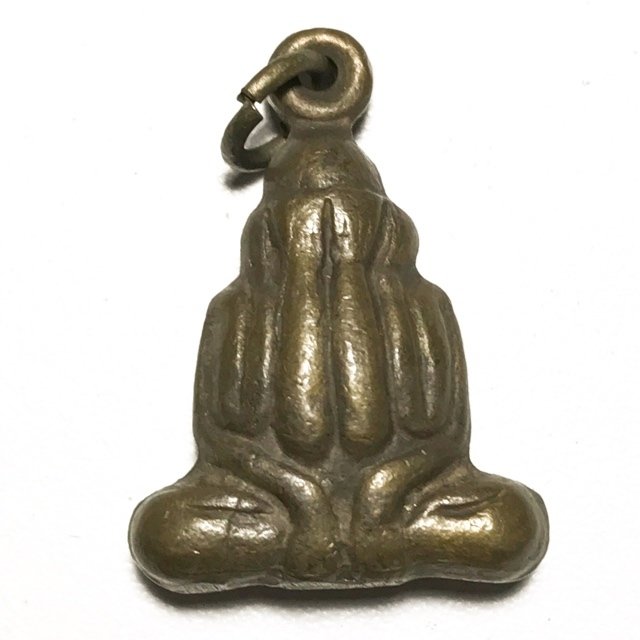 Pra Pid Tawarn Maha Ud Kring Kong Grapan Chadtri Klaew Klaad amulet with Kring Bead rattle within, the most famous amulet of Luang Por Yui, of Wat Bang Kapi. This model is a 'Run Sam' 3rd Edition amulet - a classic protection amulet of historical fame, with legendary powers. The Pra Pid Ta Luang Por Yui is from a Brass based sacred alloy and formed in a Loi Ongk Statuette of Pra Pid Tawarn Gao, which represents a Nirodha Buddha closing all nine orifices, to enter the state of Nirodha Samabhatti, and douse all of the physical sense organs.
The front face has 3 pairs of hands. The first pair of hands cover the eyes and nose and mouth. The second pair of hands covers the ears, and the third pair of hands covers the genitals. Another pair of arms with hands is on the rear face, covering the anal orifice. The Tahi Numeral 3 (๓), is embossed in the center of the rear face,
The sides of the amulet reveal the use of a saw and file to cut the amulets, which was the method of casting and cutting of that era, and is a trademark of the amulet. Considered equally powerful to the first edition Pidta amulets of Luang Por Yui and those of the other Masters of the Indo-China wartime era The amulet is extremely popular for the fact that it has equal power to many amulets of a much higher price range
Historical
The Pra Pid Ta of Wat Bang Kapi began its history during the Indo China Wartime Era, and were made by Luang ta Yui, of Wat Bang Kapi (officially called 'Wat Utaiyaram'). Wat Bang Kapi was assumedly constructed during the Early Ratanakosin Era. The amulets of Wat Bang Kapi have been since olden days a preferred and well talked of amulet within the amulet societies and collector groups, and have always been a popular amulet of devotees pf Buddha Magic and fanatic collectors alike.
The famous triangular shaped Pra Kru Nuea Dtakua Sanim Daeng Red Rusted Leaden Hiding Place amulet was another specially revered and sought after amulet of Wat Bang Kapi with aficionados, and is often said to resemble the Pra Pim Wat Sam Plerm, and Pra Pid Ta amulets, and are highly renowned for Buddhakun Power.
Luang Por Yui was one of various Masters of the time who were producing protective amulets for the Military who were going into battlefronts, such as Luang Por Jad, Luang Por Pring, and Luang Por Derm (Wat Nong Po). During this time of Indo-China wars the amulets of famous masters were in circulation and gained great fame, but the Pra Pid Ta of Luang Por Yui, despite being made by a Monk who was at the time not so famous, gained legendary reputation, from the experiences of those who wore it.
This of course led to Luang Por Yui becoming as famous as the other Great Names of the Time. The Kong Grapan Chadtri Klaew Klaad Power of the Pra Pid Ta Luang Por Yui of Wat Bang Kapi became extremely heard of around south east Asia. The amulet is known for its inimitable shape and form, and is more highly regarded for its magical power, than for its artistic design, which remained faithful to simplistic design, but effective empowerment.
At the time of the making of the Pra Pid Ta Wat Bang Kapi amulets, Luang Ta Yui was despite his age still only a 'Look Wat' common monk of the temple with no status whatsoever. This was because he preferred to wander in the forests on solitary Tudong practice, more than academic 'head stuff' in the Universities. he was a hands on practitioner, not a theologian. He believed in practice more than discussion, and actions more than words.
He wandered as far as the Jungles of Burma and back, which in those days was incredibly difficult task to achieve on foot. Only Adept Monks can withstand the ordeals of the deep Jungle, with fevers, poisonous plants and creatures, and dangerous predators roaming around. Any Monk who was not Adept would not survive such an expedition.
Luang Ta Yui wanted to play his part in helping the Nation, by making Pra Pid Ta amulets to distribute to the military who were serving on the battlefronts. He began by collecting enough Sacred Brass Chanuan metals, of various kinds (Fa Badtr almsbowl lid, Khan Water Bowls, and Ancient Tho Rice Pots), and other artifacts of brazen metal.
Luang Ta Yui then smelted all the sacred artifact metals into one sacred alchemical alloy with his own hands, and cast the metal into ingots, upon which he inscribed Khom Agkhara and Sacred Yant spells and performed incantations throughout the whole process. His Pra Pid Ta Ud Kring amulets became a household name and legendary amulet of high repute for its lifesaving miracles recounted by soldiers, navy and airmen during their times in battle.
Kata Pra Pid Ta
Temple:Wat Bang Kapi
Maker of Amulet:Luang Por Yui
Weight:13 Grams
Recommended Uses:Protection, Invincibility
Size of Amulet:2.5 x 2 Cm
Encasement Options
Solid Gold Custom Casing - We will email you with a price quote according to current Gold Prices, and Invoice You after Agreement (0) Waterproof Casing (9) Stainless Steel Casing (9) None (0)