This list of Buddhist Guru Master monks will auto-update each time we add a new Master. Click each link in the list to view the amulets and read about each Guru Monk

External Pages
---
Pra Pid Tawarn Silapa Nakorn Sai Khao Or Circa 2490 BE Luang Por Jek Wat Khao Daeng Dtawan Dtok
03267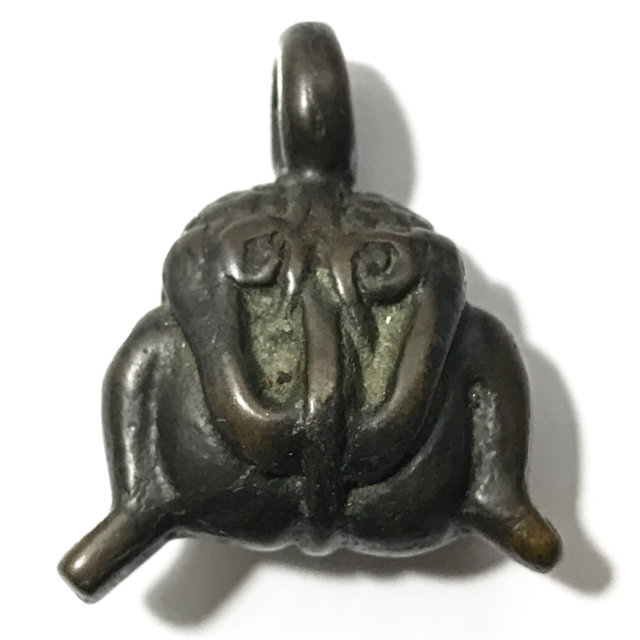 Sacred Pra Pid Tawarn Silapa Nakorn Sri Tammarat cast Sacred Metal Loi Ongk Statuette with twin Pra Pid Tawarn seated back to back facing away from each other, with their orifices covered. The statuette is made from Nuea Samrit sacred Brazen Alchemical Alloy, and is an ancient talismanic occult charm from the Masters of Old, of the Dtamnak Dtak Sila Khao Or Southern Academy of Sorcery. Luang Por Jek was famous for various kinds of cast metal Pid Ta Sangkajjai, Pidta Sivali and Pidta Pakawambodee amulets.
Luang Por Jek Thidta Tammo (Born 2445 - Passed Away 2528 BE), of Wat Khao Daeng Dtawan Dtok), was a great Khao Or Master from Pattalung, who along with the other Great Khao or Masters of his Era,would continue the 1000 years old Khao Or Sorcery tradition of preserving the ancient artistic style of the Nakorn Sri Tammarat Ancient Sri Vichai Empire in making case metallic talismanic charms and amulets.
The many different original cast metal designs found in the pantheon of Khao Or lineage amulets is immense, with almost each and every amulet being an individual masterpiece.
Pra Pid Tawarn means 'Buddha closing the orifices). Pid Tawarn can close 2, 3, 5, 7, or 9 orifices, 5 being called Pra Pid Panja Tawarn, 7 being called 'Pra Pid Sadtatawarn' and 9 being called 'Pra Pid Navatawarn'. This image has cleverly honed the imagery to have closed all orifices, which is of course the most powerful Wicha. This Pidta is in addition 'Nai Khan' (embryonic posture) which is immensely powerful Maha Pokasap Magic
This particular exhibit is forged in the shape of twin Pra Pid Ta (Pid Tawarn) faciing sideways. The images have curly decorative embellished style of anatomy which is typical of the ancient aritstic style of the Ancient Nakorn Sri Tammarat Kingdom, and is part of what makes the amulets of the Southern Khao Or Tradition so inimitable, and powerful, for the Khao Or Magical Lineage is over 1000 years old with unbroken transmission of Wicha, since the days of the Sri Vichai Empire.
The amulets of the Olden Days Khao Masters are legendary, and the amulets of Luang Por Jek are amongst the most Highly Sought After amongst aficionados of this Genre, who have great faith in the certain power of Khao or Amulets. Of course, the amulets are not only powerful magic charms, but also considered valuable for their artistic, historic and anthropological aspects. Many collectors of private museums who collect Buddhist and South east Asian Arts collect antique Khao Or Amulets for their showcases and private museums.
Luang Por Jek was Born on the 10th September ordained as a Samanera Novice Monk at the age of 10 years Old at Wat Jiindtawas in Pattalung, and was schooled by Luang Por Chum Opaso, the abbot of Wat Po Dtamnan. He was educated in both reading and writing Thai, and Ancient Khom Pali Sanskrit. He began at this early age to study and practice Wicha Saiyasart (Sorcery Spells) with Pra Atigarn Kham (Abbot of Wat Jintawas), and mastered all of the Wicha of this Temple in a short period of time.
Luang Por Pra Atigarn Kham thus took Luang Por Jek to see Luang Por Tong of Wat Prajim Tisaram, to continue to practice and master more Wicha. He learned the Wicha Raksa Roke to heal illnesses and ailments using Samun Prai herbal medicine in conjunction with Magical methods.
Then the day came when his family needed his help with the household, and he disrobed to assist them. He was very interested and able in the arts, such as carving images, as well as performance arts such as playing musical instruments, and was able to work to help the family reach a state of prosperity. Once the family were in a prosperous situation, he decided to ask his parents for permission to ordain back into the Sangha as a monk again, and receive permission.
He re-Ordained at the age of 23 for the second time at Wat Jindtawas at 15:32 on the 13th February 2467 BE, with Luang Por Dam Intasaro of Wat Ta Kae as Upachaya Ordaining Officer. Pra Kroo Winai Torn of Wat Intranimit was his Gamma Wajajarn Prompting Officer, and Pra Atigarn Kham was his Anusawanajarn Witnessing Officer.
Luang Por Jek himself was renowned for his many powerful Wicha, of which his most famous were the Alchemical and Metallurgical Magical Arts of forging sacred Metallic images and talismanic object, and his ability with herbal magic to heal illnesses and cure serious ailments. His Wicha Kong Grapan Chadtri Maha Ud Invincibility Magic was legendary even during his early era.
His Wicha were so famous that he was either asked to or allowed to learn Great Sorcery Spells and exchange Wicha with some of his Peers of the time, who are also equally famous Great Masters of Thai Buddhist History, such as; 1. Luang Por Dit (Wat Pak Sa) 2. Ajarn Iad (Wat Don Sala) 3. Ajarn Parn (Pra Kroo Ga Derm), of Wat Khien Bang Gaew Khao Chai Son) 4. Luang Phu Lek Bunyago, of Wat Pradoo Riang Kuan Khanun 5. Luang Phu Dtud, of Wat Kuha Sawan 6. Luang Phu Hmun Yasaro, of Wat Khao Daeng Dtawan Awk 7. Luang Por Sri Gaew Gulakuno, of Wat Sai Yai Kuan Niang, in Songkhla 8. Por Tan Si Nuan, of Wat Ban Dan in Nakorn Sri Tammarat.
Luang Por Jek remained at Wat Jintawas after his ordination until the year 2478 BE, whereafter he went to stay at Wat Pradoo Tong, and remained there to practice until the year 2480 BE. It was here that the devotees of Wat Khao Daeng Dtawan Dtok came to invite Luang Por jeck to come and reside at their temple. Luang Por Jek accepted, and went to stay at the temple of Wat Khao Daeng Dtawan Dtok, and was to remain there for the rest of his life, until his final passing at the age of 83, the 3rd December at 21:20 Hours, in the Year 2528 BE. Luang Por Jek spent 60 of his 83 years ordained as a Bhikkhu, devoting almost all of his life to the Buddha Dhamma, and helping his Devotees to lessen their sufferings with his Blessings, healing magic, holy water, and his amulets.
Origins of the Pra Pid Ta amulet.
The Pra Pid Ta is considered to be an amulet with 'Maha Ud' and 'Kong Grapan' power (invincibility and gunstopping power), but is also made as a wealth bringer, in which case, the amulet will be called 'Pra Pid ta Maha Lap'. In order to inflect a greater resonance for wealth attraction and auspicious blessings, in addition to the Maha Ud and Kong Grapan magic, ancient artisans sometimes would use the image of the Sangkajjaiyana Buddha of riches and happiness, and carve it in the Pid Ta posture. The Pra Pid Ta Silapa Mueang Nakorn amulet is an artistic interpretation found often in 'Gru' hiding places in the South of Thailand.
They have been found in many different materials, including bronze, and copper sacred alloys.These Southern Nakorn Sri Tammarat period syled amulets have a much more attractive and special look to them compared to those from other regions in that time. Luang Por Jek and all the Khao Or Masters throughout History have preserved this method of Alchemical casting and Artistic Design, and even the Masters of the Present Era contunue this tradition with the famous Pra Pid Ta Pang Pagan, and Pra Pid Ta yant Yung, and other images which we can see reflected in the amulets of their forebearers, such as Luang Por Jek, Luang Por Parn, Luang Por Dit and the like.
Temple:Wat Khao daeng Dtawan Dtok
Year of Issue:
Circa 2485 - 2490 BE
Maker of Amulet:Luang Por Jek Thidtatammo
Weight:36 Grams
Recommended Uses:Maha Ud, Kong Grapan Chadtri, Klaew Klaad, Maha Pokasap, Metta Maha Niyom
Size of Amulet:3 x 1.5 x 3 Cm
Encasement Options
Solid Gold Custom Casing (Waterproo​​​​​​​f) - We will email you with a price quote according to current Gold Prices, and Invoice You after Agreement. (0) Waterproof Casing (9) None (0)