This list of Buddhist Guru Master monks will auto-update each time we add a new Master. Click each link in the list to view the amulets and read about each Guru Monk

External Pages
---
Pra Pim Um Badtr Pim Lek Wednesday Buddha - Luang Phu Poo Wat Intraviharn Circa 2450 BE
02619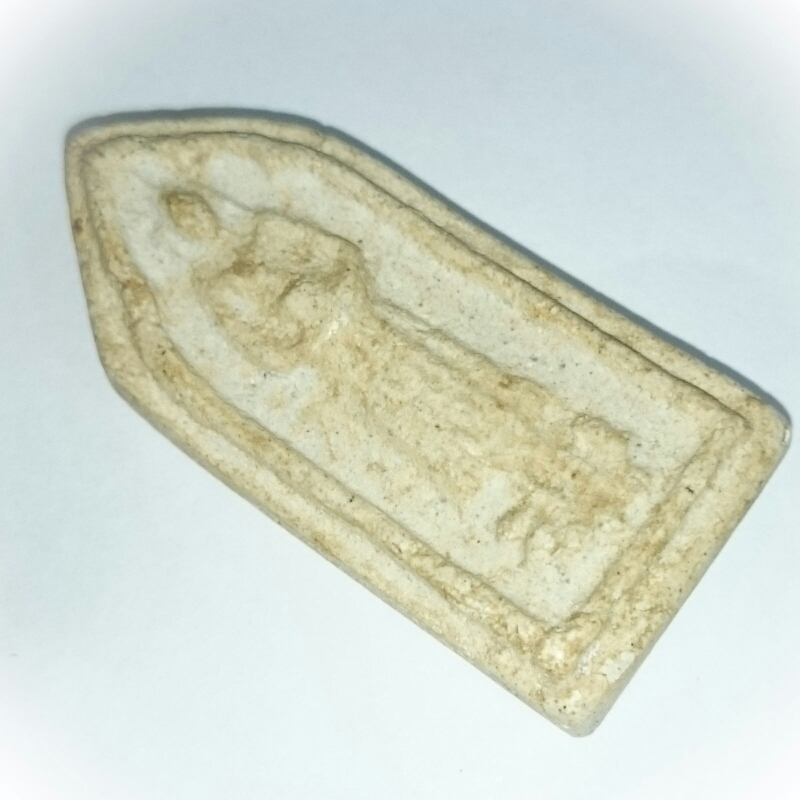 Pra Pim Um Badtr (Standing Buddha with Mendicant Almsbowl) by Luang Phu Poo (2373 BE - 2476 BE) - Wat Intra Viharn (Wat Bang Khun Prohm Nork). A Top Level Masterclass Amulet which is extremely rare to find, and carries price that is relative to its status in the Pra Niyom Masterclass Category
Luang Phu Poo was one of the 10 Master Gaeji Ajarn Guru Monks to enter into the Dtamra Pra Somdej of Somdej Pra Poottajarn (Dto) Prohmrangsri for the adherence to the same Wicha of Muan Sarn Sacred Powder making as found in the contents of the Pra Somdej Wat Rakang Kositaram of Somdej Pra Poottajarn (Dto) Prohmrangsri. A Classic Ancient Amulet of Master Class Status and Legendary Proportion.
Luang Phu Poo was most famous for his Pra Somdej Sae Yid Khaen Hak Sork amulet, which was notable for the 'broken elbows' style of the curve of the Buddhas arms, sitting on a multi tiered dais. His most highly prized amulets go for well over five to ten thousand dollars, and one would be lucky to find any authentic amulet of his making under a thousand dollars, in any place at all in the present day.
A most attractive and in pristine condition Ancient Amulet from one of the Grand Masters of Pra Somdej and a Grand Adept of the Sacred Muan Sarn powder making of the Dtamra Somdej Pra Poottajarn (Dto) Prohmrangsri.
The Amulet features a standing Buddha holding the bowl of the Mendicant (Almsbowl), with a highly defined grooved arch around him (sum). The details and relief on this particular exhibit are enviably clear and highly refined when gazing at the depth and contrast of the amulet.
It is indeed a rare example for its clear detail and absence of serious wear and tear for an amulet of its age and pedigree, and can be hence considered an extremely desirable exhibit to have in one's possession, both for wearing and visual appreciation under the eye loupe when under study, as well as a dead certainty in competition shows, for prizewinning.
The Pra Pim Um Badtr was made in three different sizes (Yai/Large, Klang/Medium and Lek/Small). depicts the Buddha holding an Almsbowl.
This "Bpaaang" is derived from an event where a Miracle occured (Paadhihaariya , called "Idtibatiharn", in Thai). The first time the Buddha travelled to Kapilavatthu (called "Gabinlapat in Thai) after his Enlightenment,, he levitated up into the air, causing the doubtful inhabitants of the City, and his relatives (for this was the City of his birth) to bow down in reverence. He caused a massive rainstorm to flood the area, but where they were sitting was left untouched by the rains. He then told the story of his previous life as Vessantara (called "Prawes Sandorn" in Thai).
Prince Vessantara gave away all his possessions, including his children to become servants of an evil spirited character. In the end everything turns out right though. This Jataka (Lifetime), displays the virtue of Charity.
Once the Sermon was over, the King (Buddha's father), was filled with spiritual bliss (Piti) and raised his hands in reverence to his Enlightened Son, the Buddha. All the citizens of Kapilavatthu followed his lead and raised their hands. His Father made the supposition that because the Buddha was his Son, and used to live there with him in the Palace, that the Buddha would surely come to eat at the palace. So he neglected to invite him to come, thinking that it should be taken for granted. He ordered fine foods to be prepared and laid out in the palace, but when he saw that the Buddha did not appear, he made his second ignorant mistake, supposing that the Buddha must have gone to bring all the other Bhikkhus (monks) to eat too.
He thus ordered the servants to prepare a great banquet with food and gifts for the Monks. When the Buddha and his "sawaka" (disciples) still did not appear, the King then contemplated the story of Buddha's previous lives, considering what Buddha had done in those lifetimes, and realised that the Buddha would always take alms on the roadside without any conceit, despit the fact he was a Prince and could eat in his Father's palace. The Buddha indeed walked along the roadsides of the City to beg for alms, and this was the first time ever that the Folk of Kapilavatthu were able to make offerings to the great Bodhisattva Sakyamuni, and see him in his Radiance. This incident is thus the reason for the creation of Buddha statues , standing holding the almsbowl, and is called "Pra Puttaroop Um Badtr" (Buddha holding almsbowl).
This is the Pim Lek small model measuring 3.5 x 1.8 Cm, and is an absolutely beautiful example of one of Luang Phu Poo's most famous Classic amulets.
This amulet is not only an esteemed Pra Niyom amulet of High Value and Master-Class Category in itself, most certainly worthy of standing an excellent chance of first prize in any National Competition, but is an Ongk Kroo Reference Study Amulet for those who wish to perfect their visual ability to view and recognise the Pra Somdej amulets of Somdej Pra Poottajarn (Dto) Prohmrangsri of Wat Rakang Kositaram.
Above; Old Catalog Publication of the Encyclopedia of the amulets in the Dtamra of Luang Phu Poo.
The reason for this is that the Powder amulets of Luang Phu Poo contain precisely the same formula of the five special powders (Pong Wised Ha Chanid) used by Somdej Pra Poottajarn (Dto) Prohmrangsri in the making of the Pra Somdej Wat Rakang Masterpiece. 'Ongk Kroo' means 'Teacher Amulet' and means that one can use it as a reference model for comparison of authentic amulets from the same Dtamra.
To own an amulet such as this, is to enter into the ranks of the Master-Class Collectors, and one can stand proudly in any community of collectors with one of these around your neck. Most certainly worthy and recommend-ably encased in solid gold casing, to do justice to an amulet that stands in the top ranks of Thai Buddhist Ancient Amulet Collection.
Luang Phu Poo was Abbot of Wat bang Khun Prohm (Nork) so famoous for the Wat Bang Khun Prohm Pra Somdej of Somdej Pra Poottajarn (Dto) Prohmrangsri - Wat Intra Viharn is one fo two temples within the same enclave which both are classed under the category of Wat Bang Khun Prohm.
Luang Phu Poo is one of the most eminent Abbots of this Temple's History and stands in the Lineage History of the Dtamra Pra Somdej along with 9 other esteemed masters. One of the Top Ten respected Pra Somdej Amulet creators of all Thai History.
Above; Luang Phu Poo - Wat Intra Viharn
Below; Famous Pra Somdej of Luang Phu Phu of the Master-Class High End Category of Sacred Ancient Amulets. Only affordable to the Serious Collector who has the Seriosity to Invest. These are Highly Sought after by Wealthy Thai Devotees and High End Collectors.
Above; Pra Somdej Khaen Sork Hak Luang Phu Poo
Kata for Wednesday Buddha (Daytime)
Sappaasiwachaadtiinang Nippamandtaatakang Wiyayannaasedti Wisangko Rang Sesanjaabpi Bparissayang Aanagkhedtamhi Sappadt-ta Sappataa Sappabpaaninang Sappaso Bpi Niwaare Dti Bparidtan Dtampanaamase
Temple:Wat Intra Viharn
Maker of Amulet:Luang Phu Poo
Weight:4 Grams
Recommended Uses:Metta Mahaniyom, Maha Lap, Maha Pokasap, Klaew Klaad, Kong Grapan Chadtri, Serm Duang (improve fate and destiny).
Number of Amulets Made:Unknown
Size of Amulet:3.5 x 1.8 Cm
Encasement Options
Waterproof Casing (0) Solid gold custom casing (we will email you with a price quote according to current gold prices at the time of inquiry (0) Without Casing (0)