This list of Buddhist Guru Master monks will auto-update each time we add a new Master. Click each link in the list to view the amulets and read about each Guru Monk

External Pages
---
Pra Po Jak Pim Ha Liam 2500 BE - Nuea Din Phao See Pan - 5 Edges Buddha Amulet - Luang Por Lee Wat Asokaram
03006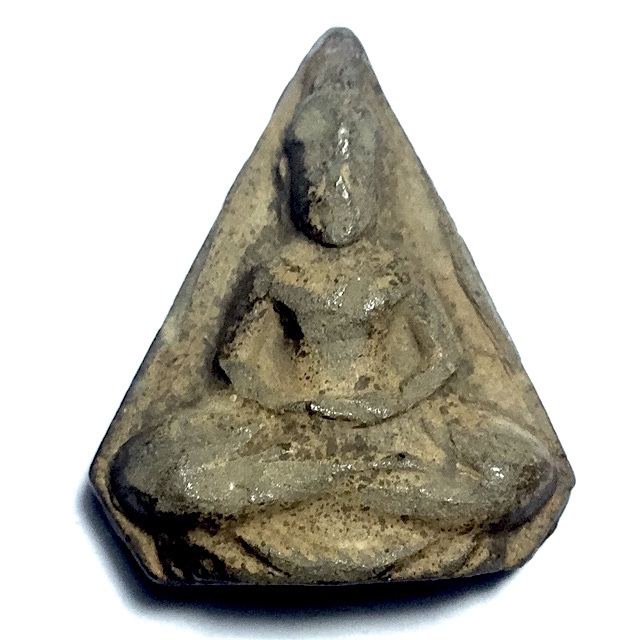 Pra Po Jak Bai Po Pim Ha Liam Pang Samati is one of the more famously renowned and well known amulets of the Pantheon of Pra Niyom category amulets made by the Great Luang Por Lee, of Wat Asokaram. This model measures 2.8 x 2.2 Cm, and is made from Nuea Din Phao See Pan, which is a very rare version in these ochre-green-brown coloured Sacred baked clay.
The front face features the Budda seated in meditation, with a curved mat protruding out from under the Buddha. The Buddha has clasped hands and sits within a five sided triangular frame, with some thin lines radiating out from the Buddha, which are in fact, the veins of a Bodhi Leaf.
This 'Pim' is famously known around the world, and is even recognised by people who are not amulet aficionados, for it has graced the pages of so many encyclopaedic works on amulets, that it has been seen by the eyes of many a person who stopped at the newsagent to buy something, and looked at the magazine stand as they waited for service.
The rear face of the amulet has a beautiful glistening sheen to it when the light falls on it, due to the Nature of this particular rare Muan Sarn Clay, and also due to the effects of atmospheric changes, drying and hardening and the contraction of the porous spaces between the particles of Muan Sarn Sacred Powder over the years.
The Pim ha Liam triangular 5 edges amulet was actually cut from original Pra Po Jak Pim Bai Po Bodhi leaf shaped versions, which cuts out the four Agkhara inscriptions found on the leaf shaped versions, leaving only the veins of the Bodhi Leaf visible within the five sided triangular shape surrounding the Buddha image.
The rear face reveals true depth and character and authentic Muan Sarn Sacred Powders present within the clay. This exhibit is indeed a beautiful example, with classic features.
The Pra Po Jak amulet is a series which was made using various block press molds, resulting in this series having its own Pantheon of different Pim, made from different substances, which included Nuea Gesorn (pollens), Nuea Bailan (burned sacred parchment powders), Nuea Din (reddened sacred clay), and the ultra rare and extremely highly prized 'Nuea Chocolate' (dark brown colour with smoother texture).
There are also some very rare versions of the Pra Po Jak amulets, such as the Khorb Tong model (Golden Edges Pim), which has golden or orange flamed markings on a predominantly darker main surface area.
In addition there were many slight variations, due to the final stages before the beginning of the blessing ceremony, as time was running out, more and more devotees were called upon to help press the amulets, to get the finished before Luang Por Lee performed the blessing and empowerment.
And so there are many different appearances on the models pressed during the final stages, as some tired hands pressed the clay more shallow, and other hands pressed deeper with more strength. This of course results in each amulet having a sliughtly different appearance, which makes it difficult for all except the true dedicated students of this series of amulets, to be able to distinguish one model from the other.
This amulet is extremely popular in all its different versions, and already tried and tested, and accepted for its power, not only by Thai Buddhists, but by devotees of Luang Por Lee and his amulets, around the world.
The amulets of Luang Por Lee are becoming ever harder to find these days. Because of the large number of students and followers of the teachings of Luang Por Lee, his amulets are especially rare to come by.
The are widely collected first and foremost, because of the Guru Monk who made them, and in addition, are collected avidly by those who seek the famous Klaew Klaad Kong Grapan Chadtri magic of these amulets.

They have enjoyed the honourable status of Pra Niyom category for many years already, but in recent times, his amulets have risen to even higher importance than before, and this trend does not seem to be slowing down.
We have hence decided to begin to present those few remaining amulets of this great Master we can find available, for your enjoyment and perusal.
Luang Por Lee was not only a Master Gaeji Ajarn Guru Monk of the Thai Buddhist Folk, nor was he solely famous for his amulets. In truth, Luang Por Lee is one of the great Kroo Ba Ajarn of some of the greatest monks and Arya Sangha realised Masters of the last Century.
His teachings were so great, that they inspired and led some of the great Masters of the present day and recent past. This includes some of the top living Masters in the western world also, such as Thanissaro Bhikkhu, Ajarn Amaro, and Ajarn Sumedho.
He was an iconic teacher for the western forest tradition monks who came to Thailand to ordain with the great Ajahn Chah Supatto of Wat Nong Pha Pong, and his teachings are translated into English, and are considered immensely important teachings for the dedicated practitioner of Vipassana Kammathana practice, and especially for Monks.
Luang Por Lee began to make amulets at Wat Pha Klong Kung around 2496 BE, and used a design he had obtained from his visit to India, as the model to carve the block press molds from. The original images were from two different carved Buddha images which Luang Por Lee had from India which were carved in Ivory.
One of the images was seated in the 'Pang Samadhi' meditation posture with clasped hands on the lap, seated within a Bodhi Leaf, with four Yant in Khom Agkhara around the Buddha. This image had a Yantra on the rear face (Hlang Yant Duang). Some were also pressed with no Yant on rear face (Hlang Riap) The other image had the Buddha with one hand raised in the first sermon posture (Dhamma Dhesana).
The large Bodhi shaped model of this series was made with no Yant Puttajak (four Khom letters) on the front face, just smooth surface with leaf veins (Hlang Riap). However one can stil find variations in authentic models. There were also these cut-out models, which were cut around the Buddha image into a five sided triangular shaped amulet, which became known as the 'Pra Po Jak Pim Ha Liam'.
Because of the many slight variations which can be found in authentic models, it is not the best criteria to use the visual details as the main authentication method. Knowledge of the Muan Sarn Sacred Powders and their appearance, and how the clay should look, is a very important tool to use with this kind of amulet
Luang Por Lee collected the best Muan Sarn Sacred Powders from some of the greatest masters of that era to use for this edition, including sacred powders from the following; Pra Ajarn Sao, Pra Ajarn Mun Puritadto, Pra Ajarn Fan Ajaro, Ajarn Tes, Pra Ajarn Gongma, Luang Ta Maha Boowa, and the Great Ajarn Chah Supatto (Wat Nong Pha Pong).
He mixed those with 108 kinds of Gesorn (flower pollens), and flowers from the monks praying to the Buddha. The powders were mixed with 100 year old prayer water from Prajinburi, and baked.
Luang Por Lee also added earths and other substances taken from the place of the Buddha's Enlightenment, and his Passing into Nibbana, which he had brought with him from India. Another very powerful and less known ingredient of the Muan Sarn Sacred Powders, was the addition of 'Sai Tham Gong Sai', which is a magical sand found inside a very hard to access cave in the mountainous forests of the south of Thailand.
He also used some 'Khaw Ruesi' which was a mysterious substance found within a strange anomaly within a sacred cave in the north eastern Isan region, which when broken open was found to have long white rice like pieces of hardened substance, which was thousands of years old.
This 'Khaw Ruesi' is believed to be rice which the Lersi Hermits living in caves to meditate in ancient times, had taken rice which they had left over, and placed it within a magical shell, and attached it to the cave wall. Fossilised Seashells from within a mountain cave were also used with the aforementioned substances, to grind down into the Muan Sarn Sacred Powders of the Pra Po Jak Bai Po.
Luang Por Lee Tammataro was a direct lineage Looksit of the Great Ajarn Mun, and one of the great Masters and Teachers of the Kammathana Thai Forest Tradition Buddhist path, and a Great Kroo Ba Ajarn to thousands of Devotees around the world. One of the most important Masters of Thai Kammathana Buddhist path Teachings in all History. Luang Por Lee created the Pra Po Bai Jak amulets for empowerment in the 2500 BE 25 Centuries of Buddhism mega-Ceremony which is classed as the third largest and most important mass blessing ceremony in all of history
Use the Traditional Thai Buddhist Method for Bucha;
1. Chant Maha Namasakara (3 Times)
2. Chant the Trai Soranakom (3 Times)
3. Chant Kata Aaraatanaa Pra Krueang (3 Times)
Kata Maha Namasakara
Namo Dtat-Sa Pakawa-Dto Araha-Dto Sam-Maa Sam-Put-Dtat-Sa
Namo Dtat-Sa Pakawa-Dto Araha-Dto Sam-Maa Sam-Put-Dtat-Sa
Namo Dtat-Sa Pakawa-Dto Araha-Dto Sam-Maa Sam-Put-Dtat-Sa
Trai Soranakom
Puttang Cheewidtang Yaawa Nipaanang Saranang Kajchaami

Tammang Cheewidtang Yaawa Nipaanang Saranang Kajchaami
Sangkang Cheewidtang Yaawa Nipaanang Saranang Kajchaami
Tudtiyambpi Puttang Cheewidtang Yaawa Nipaanang Saranang Kajchaami
Tudtiyambpi Tammang Cheewidtang Yaawa Nipaanang Saranang Kajchaami
Tudtiyambpi Sangkang Cheewidtang Yaawa Nipaanang Saranang Kajchaami
Dtadtiyambpi Puttang Cheewidtang Yaawa Nipaanang Saranang Kajchaami
Dtadtiyambpi Tammang Cheewidtang Yaawa Nipaanang Saranang Kajchaami
Dtadtiyambpi Sangkang Cheewidtang Yaawa Nipaanang Saranang Kajchaami
Kata Aaraatana Pra Krueang
Puttang Aaraatanaanang
Tammang Aaraatanaanang
Sangkang Aaraatanaanang
Puttang Prasittimae
Tammang Prasittimae
Sangkang Prasittimae
Temple:Wat Asokaram
Maker of Amulet:Luang Por Lee
Weight:3.5 Grams
Recommended Uses:Klaew Klaad, Kong Grapan Chadtri, Metta Maha Niyom, Serm Duang, Maha Lap
Size of Amulet:2.8 x 2.2 Cm
Encasement Options
Solid Gold Custom Casing (Waterproo​​​​​​​f) - We will email you with a price quote according to current Gold Prices, and Invoice You after Agreement (0) Waterproof Casing (9) Without Casing (0)