This list of Buddhist Guru Master monks will auto-update each time we add a new Master. Click each link in the list to view the amulets and read about each Guru Monk

External Pages
---
Pra Pong Luang Por Tuad Pim Yai 2549 BE - Nuea Wan Si Tao Hlang Yant Udtarang - Luang Por Niyom - Wat Takian Tia
02652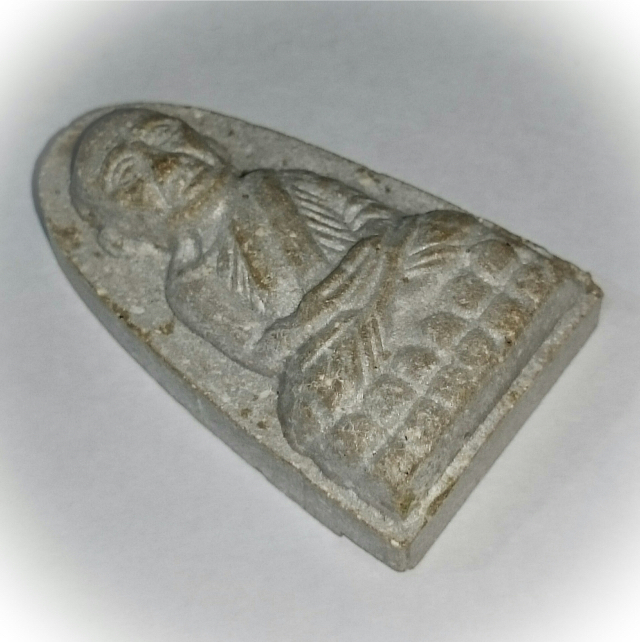 Pra Luang Por Tuad Pim Yai in Gray Herbal Powders with Pong Puttakun - Tha Yant Udtarang is embossed on the rear face - A now extremely rare Pim Niyom amulet from Deceased Chonburi Master Luang Por Niyom of Wat Takian Tia.
This Sacred Pra Luang Por Tuad, is an extremely rare to find amulet from the pantheon of amulets of Luang Por Niyom. This amulet is a top recommendation as an amulet that is not only sacred, and from a great master considered to possess magical powers, but is also an amulet that has a very long future.
Luang Por Niyom  is a Sak Yant Master and Adept Amulet maker of the Chon Buri district who passed away in 2552 BE. He was a very Kind and Friendly monk with a devout following, who, since his passing has become ever more popular for his amulets around the whole country.
Now, the collectors are beginning to take an extreme interest and collect all of the rarer amulets of Luang Por Niyom, for they know that the future holds a great legend in its hands, and that his amulets will become amongst the rare Masterpieces of the foregoing Generation of Thai Guru master Monk amulets.
The collection of amulets from Luang Por Niyom however is a very difficult thing for collectors, because most of them remain in the possession of his devotees, who are very reluctant to part with them.
Even at the temple of Wat Takian Tia, the new Abbot has closed all sales of his remaining amulets and made a museum of them, and refuses to part with the amulets of Luang Por Niyom which remain in possession of the temple. It is therefore not possible to obtain any from the temple anymore, and in any case, only very few amulets remain there, on show for preservation purposes.
The Amulets of Luang Por Niyom have become so sought after this last year or so that they have rapidly become extremely rare, and the older editions of his amulets that were still in the temple, have been locked into a glass case and are no longer for sale.
This shows how difficult it has become to obtain an authentic amulet, from the time when Luang Por was still alive. Many of the Devotees of Luang Phu Tim are turning to Chonburi Master Luang Por Niyoms amulets too, as a powerful alternative to Luang Phu Tims Sacred powder amulets, for they are seen to be of great power and similar richness of composition of sacred powders, but still for now at a much more affordable price (for now).
They are expected by those in the know, to enter into the same category as the amulets of Luang Phu To (Wat Pradoo Chimplee), and Luang Phu Tim, and are thus becoming ever rarer, as the speculative collectors and experts round up the last remaining examples, in anticipation of a future major price increase, as word gets out, and they become essential rarities
We advise to collect and safeguard amulets by LP Niyom, as a safe investment and a worthy Sacred Amulet of true Buddhist Spiritual value, and collectibility.
Luang Por Niyom was a special Monk with special powers, who is only now becoming publicly heard of outside of his Province and in International Amulet Scene. He was a close accomplice and companion of both Luang Por Sakorn of Wat Nong Grub, and Luang Phu Sin of Wat Laharn Yai. Luang Por Niyom was originally known as Pra Ajarn Gae, but hs Dhamma Sermons became so popular, that his name became changed over the years by popular cultural infuence, to the name 'Luang or Niyom', because 'Niyom' means 'Popularly Preferred'.
Above is a  close up Macro of the Muan Sarn Powders on the rear face of the amulet
This amulet is a perfect recommendation for all ages and genders, Men, Women or Children. It is a perfect Family Heirloom amulet to pass on through further generations, as a Spiritual memento of Ancestors.
Many people get a very strong and good feeling just from seeing Luang Pors Image, which is another proof of the immense Maha Sanaeh and Metta charm aura which this great master of Chon Buri possessed.
Temple:Wat Takian Tia
Maker of Amulet:Luang Por Niyom
Weight:10 Grams
Recommended Uses:Klaew Klaad, Kong Grapan, Metta Mahaniyom, Maha Sanaeh, Maha Lap.
Number of Amulets Made:3000 Made
Size of Amulet:3.5 x 2 Cm
Encasement Options
Solid Gold Custom Casing (we will email you with a price quote, depending on gold price rates at time of order) (0) Waterproof Casing (Free Option) (0) Without Casing (0)