This list of Buddhist Guru Master monks will auto-update each time we add a new Master. Click each link in the list to view the amulets and read about each Guru Monk

External Pages
---
Pra Pong Roop Muean Nuea Pong Chan Hmak Pasom Gesa 2518 BE - Areca Nut Powders with Monk Hair - Luang Phu Khaw Analayo - Wat Tham Gong Plae
02897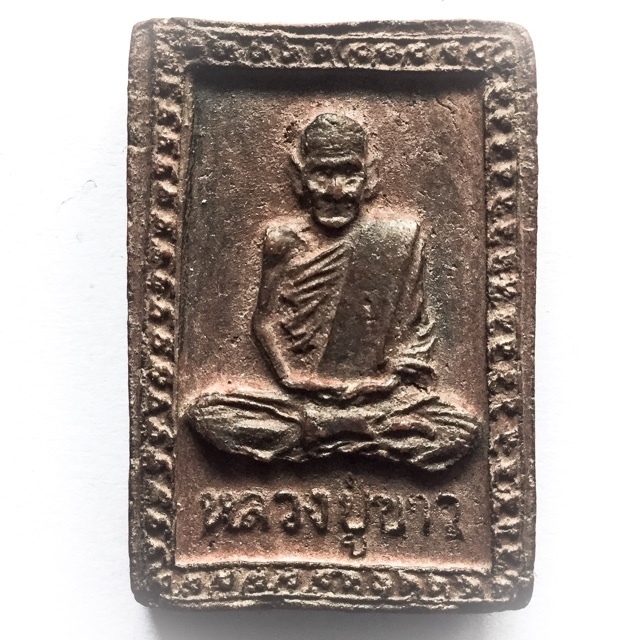 Pra Pong Roop Muean Luang Phu Khaw - Nuea Chan Hmak Pasom gesa (chewed areca and betel powders with monks hair). Classic and rare sacred Guru Monk Amulet from one of the Great Arya Sangha Tudong Forest Monks of the Eastern Province of Udorn Thani. Released in the year 2518 BE.
The front face of the amulet features the image of Luang Phu Khaw of Wat Tham Gong Plae, seated in full Lotus Posture with clasped hands in meditation.
The rear face of the amulet has the Sacred Yant Jantr Seek crescent moon Yantra spell, with the name of the temple of Wat Tham Gong Plae, and the Province of Udorn Thani embossed beneath the Yantra.
The Muan Sarn Sacred Powders are hardened with age and reveal a very high concentration of Chan mak chewed betel and areca powders from the mouth of this great Arya sangha Monk. Chewed Betel Areca Nut of the Enlightened Monks is considered to be one of the most sacred and Powerful substances to use for Muan Sarn Sacred Powders in the making of Guru Monk amulets.
Luang Phu Khaw Analayo of Wat Tham Glong Plae, in Nong Bua Lampoo, was a Gaeji Ajarn Master Monk of the Dhammayut Lineage of Ajarn Mun Puratto, who was highly revered and known for his Adept Mastery of Vipassana Kammathana Mindfulness Practice.
He was a Master of the same Generation as the Great Luang Phu Waen Sujjino, and the Inimitable Luang Phu Doon. He is said to be an Arya Sangha who reached a High Stage of Enlightenment.He is known to have been highly acclaimed and respected by the Great Luang Por Ajarn Maha Bua.
Luang Phu Khaw's mortal remains turned into crystallised relics, which is considered to be a sign of having become Enlightened Being. Luang Phu Khaw Analayo was born on the 28th December in the Year 2431 B.E. in Ban Bor Khaneng, in Tambon Nong Gaew, in Ampher Amnaj Jaroen, in Udorn Thani Province. He was Ordained on the 2nd of May 2462 BE at Wat Po Sri, in Ban Bor Khaneng.
His Upachaya (Ordaining Officer) was Pra Kroo Puttisak, the Bishop of Amnaj Jaroen, and Pra Ajarn Bun Jantr was his Pra Gammawājājarn (Prompting Officer). Luang Phu Khaw remained thereafter at Wat Po Sri for a further 6 Years, after which he left to travel on Tudong Solitary Forest Wandering.
It was here that Luang Phu Khaw met and asked to study and practice under the Great Arahant Luang Phu Mun Puratto. Luang Phu Khawwas always intensely attracted to the practice of Vipassana Kammathana, and due to this interest, he also travelled onwards to Thonburi to the temple of Wat Plab, which was famous for its Advanced methods of Kammathana Vipassana.
It was here that Luang Phu Khaw got the chance to learn Wicha with the Great Pra Sangkawara Luang Por Chum, maker of the famous Nam Tao Gan Fai Magic Gourd (known for its ability to prevent fires). The temple of Wat Plab has records in its written history annals of Luang Phu Khaw appearing to practice there, which confirms the truth of this.
Luang Phu Khaw was also one of the few great Monks who was revered and often visited by His Majesty the King. Luang Phu Khaw passed away on Monday the 16th May 2526 BE at Wat Tham Gong Plae at the age of 94 Years, 4 Months and 18 Days Old in his 57th Year of Ordained life.
Temple:Wat Tham Gong Plae
Maker of Amulet:Luang Phu Khaw
Weight:5 Grams
Recommended Uses:Klaew Klaad, Kong Grapan Chadtri, Serm Duang, Maha Lap, Metta Maha Niyom
Size of Amulet:3.2 x 2.2 Cm
Encasement Options
Solid Gold Custom Casing (Waterproo​​​​​​​f) - We will email you with a price quote according to current Gold Prices, and Invoice You after Agreement (0) Waterproof Casing (9) Without Casing (0)