This list of Buddhist Guru Master monks will auto-update each time we add a new Master. Click each link in the list to view the amulets and read about each Guru Monk

External Pages
---
Pra Pong Supan - Alchemical Maekasit Metal 400 years Anniversary - Wat Rang Bua Tong (Supannburi) 2535 BE
02597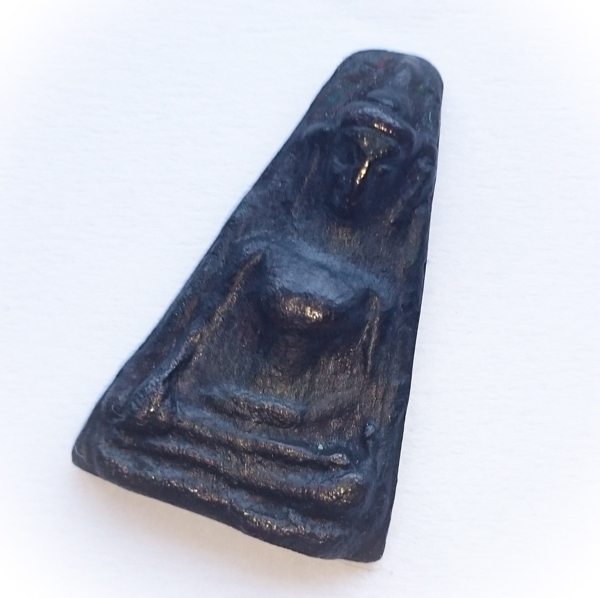 Pra Pong Supan Benjapakee Amulet - Alchemical Maekasit Metal - Rasing of Luang Por Dto Shrine Roof edition - Wat Rang Bua Tong (Supannburi) 2535 BE. The year 2535 Marks the 400th Anniversary.
The Pra Pong Supan, is an eminent member of the Five Benjapakee "Top Five" classic regional amulets of Thai Ancient Amulet History, and is the representative of the Western Region of Central Thailand of the Province of Supannburi (Hence the Name 'Pra Pong Supan'.
This particular Pim is however, not made from 'Pong' (Sacred Powders), rather is forged from Mercurial, Alchemical Maekasit Metal, and is a special edition for this reason. The temple of Wat Rang Bua Tong (previously called 'Wat Bang Bua Tong' meaning 'Temple of the Golden Lotuses') is a Historical Old Buddhist Temple of Supannburi, and part of the Family of Supannburi Temples belonging to the Dtamra of Pra Pong Supan Amulet Making.
Nuea Maekasit, is the most difficult Sacred Metal of all to make, for it requires both Alchemical Prowess and the Magical Adepthood of the Alchmist Sorceror, to forge the Mercury into the other Sacred Metals with not only calcification processes but also Magical Incantations of the Most Powerful variety.
This particular version is made from Nuea Maekasit - Alchemical Substance made using Ancient Khmer Sorcery to transform Mercury into a hard substance.
Nuea Maekasit is obtained by Alchemically smelting Iron Artifacts, with Mercury as the main base Magical ingredient, and performing Elemental Invocations until the structure of the metal changes, and becomes a sacred Metal of Alchemical Nature. Alchemy and Metallurgy are combined here as one facet of the various aspects of empowerment of the amulet.
The Maekasit and Maekapat Sacred Alchemical Metals are not only especially apt for channelling Magical Forces, but also is a preferred substance for aesthetic reasons; Namely, that the surface of Nuea maekasit, when boiled and transformed Alchemically into its final state, takes on a reddish-black fiery tone, that is matt finish, with the interior of the metal more whitish or purplish.
Often looking like the interior is filled with Silvery Lek Lai, if you place the metal in water, it changes color, and also with passage of time, the color and textures of the metal change color.
It has the reputation of being able to 'Hnun Duang Chadtaa' (improve Karma and Horoscope, Luck, Fortune, Destiny and Fate). It is also reputed to be able to forewarn of Dangers or Enemies.
Comes with original felt lined box from the temple of Wat Rang Bua Tong
Temple:Wat Rang Bua Tong
Maker of Amulet:Wat Rang Bua Tong
Weight:15 grams in box
Recommended Uses:Protection and Wealth
Number of Amulets Made:Very Few in Maekasit
Size of Amulet:2.5 x 1.5 Cm
Encasement Options
Waterproof Casing (9) Solid gold custom casing (we will email you with a price quote according to current gold prices at the time of inquiry) (0) Without Casing (0)