This list of Buddhist Guru Master monks will auto-update each time we add a new Master. Click each link in the list to view the amulets and read about each Guru Monk

External Pages
---
Pra Pruhnang Nuea Pong Puttakun Pasom Poon - Early Era Rare Masterpiece Amulet - Luang Phu Doo Wat Sakae
02751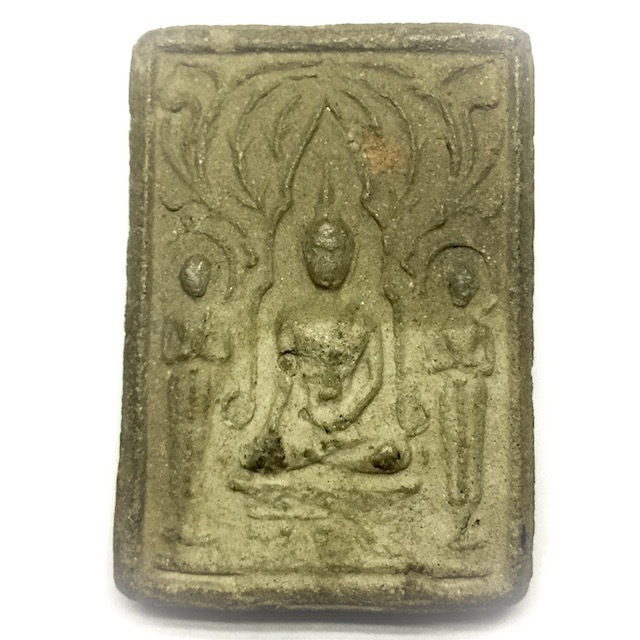 The Pra Pruhnang Amulet from Luang Phu Doo is one of the very early era amulets made by the Great Guru Master of Wat Sakae. The amulet is famous for Kong Grapan Chadtri and Klaew Klaad, and an extremely rare edition from Luang Phu Doo, that is only rarely seen these days.
Luang Phu Doo created this amulet by using a Block Press made from one of the Ancient Pra Pruhnang Hidiing Place Amulets found in the Wat Putai Sawan Kru Find in 2450 BE.
He made these amulets during his early period as he first began to make and distribute amulets, as a way to attract devotees to come and say prayers and learn how to practice Dhamma at the temple.
Luang Phu Doo was known to not hand out amulets to his devotees easily, and would only hand out amulets to a devotee when they would show enough faith and effort to practice Meditation, after which he would hand the devotee an amulet, and teach them how to use it for Samadhi Bhavana (practice meditation) and 'Tam Nam Montr' (make Sacred Prayer Water), to heal illnesses with and to increase Auspicious Blessings.
The Pra Pruhnang features an image of the Buddha in Mara Vichai (subduing Mara), seated touching the earth, calling the Dharani Earth Goddess as his Witness. The two Savaka Pra Mokkhallana and Pra Saributra are standing to either side of the Buddha, who is surrounded by a decorative Arch.
The Pra Pruhnang Amulet is an ancient Amulet of the Ayuttaya Kingdom which is a Historical Artifact, and a Highly revered Votive Tablet. The original Pra Pruhnang found at Wat Putai Sawan and other Temples in the Ayuttaya Region.
It is a famous fact that both the Great Khun Pantagij Rachadech (creator of the Jatukam Ramathep Amulet) and his Unkillable Enemy the Bandit 'Suea Fai', were both known to highly rever the Pra Pruhang amulet, and wore more than one of them on the same neck chain around their necks.
Even after retiring from hunting Bandits, Khun Pan still wore the amulets for protection until his old age. The Pra Pruhnang is one of the most famous amulets for its power of Kong Grapan Chadtri and Klaew Klaad protective magic, and also for its healing powers.
Luang Phu Doo Ordained in 2468 at the age of 21 Years Old in the Uposadha of Wat Sakae in Tambon Tanū, Amper Utai, Pra Nakorn Sri Ayuttaya. His Upachaya Ordaining Officer was Luang Por Glan of Wat Prayatikaram, nd Luang Por Dae (Abbot of Wat Sakae), as his Pra Gammawājājarn. His pra Anusawanājarn was Luang Por Chay of Wat Klang Klong Sra Bua. He was given the Ordained Name of 'Prohmabanyo' (Wisdom of Brahma).
In his first year of Ordination, Luang Phu Doo studied the Pra Pariyatti Dhamma (Academic Concepts of Dhamma) at Wat Pradoo Song Tam (in those days it was known as 'Wat Pradoo Rong Tam). His teacher was Jao Khun Nueang (Luang Por Rod). Luang Phu Doo also practiced and developed his skill in Vipassana Kammathana practices with Luang Por Glan, and Luang Por Phao (an Adept Apprentice of Luang Por Glan).
Luang Phu also studied the Jatakas and the Dhammapada. Once he had become well studied in all these aspects of practice, he then went on to seek Wicha with other Masters. he travelled to learn under Guru masters of the Province of Supan Buri and of Sra Buri and other Provinces.
Luang Phu Doo was known to revere Luang Phu Tuad with Incredible Fervor, but it was also believed by many of Luang Phu Doo's most faithful devotees, that Luang Phu Doo was also a Manifestation of Luang Por Tuad himself, reborn on Earth to make further Merits.
Luang Phu Doo was close friends with many famous masters, but one strange thiing is that, although he never met the Arahant Luang Por Kasem Khemago of the Sussaan Trailaks in Lampang, he always stated himself to be a Devote Admirer of Him and a Student of his Teachings. Luang Por Kasem in turn, was also heard to have recommended his own Devotees to go and obtain of of Luang Phu Doo's Luang Por Tuad Perd Loke amulets.
Luang Phu Doo passed away on 17th January 2533 BE at the age of 85 Years and 8 Months Old, in his 65th year of Ordained Life. He left his degotees Devastated, and his Legacy is contined by his apprentice Masters who follow is footsteps, namely; Luang Ta Ma of Wat Tham Mueang Na, Kroo Ba Bun Chum, and Luang Por Dtiw of Wat Mani Chonlakhant.
Amongst Luang Phu Doo's most famous amulet editions, apart from the world famous and miraculous Luang Por Tuad Perd Loke, many other editions of Luang Por Tuad amulets have received ultimate acclaim.
The Pra Pruhnang is one of the more highly prized amulets of collectors and devotees of Luang Phu Doo, and is a veru difficult amulet to find in any circumstance, making such an acquisition an extremely eminent exhibit to posses within one's collection. Luang Phu Doo wold teach his devotees to use it for Immersion in Holy Water to chant into and make Praye water for drinking (to heal) and to spray for Holy Water Blessings.
How to make Holy Prayer Water (Nam Montr)
All Luang Phu Doo's amulets are Sacred, and Revered, but if there is one amulet which Luang Phu would hand out to his devotees more than any other, it was the Pra Nuea Prohm 'Buddha over Brahma' amulet in pure powdery white Puttakun Powders.
Temple:Wat Sakae
Maker of Amulet:20 Grams
Weight:10 Grams
Recommended Uses:Protection, Spiritual Healing, Auspicious Karma, Holy Water Making, Samadhi Meditation
Number of Amulets Made:Unknown
Size of Amulet:4 x 3 Cm
Encasement Options
Solid Gold Custom Casing (Waterproo​​​​​​f) - We will email you with a price quote according to current Gold Prices, and Invoice You after Agreement. (0) Waterproof Casing (9) Without Casing (0)