This list of Buddhist Guru Master monks will auto-update each time we add a new Master. Click each link in the list to view the amulets and read about each Guru Monk

External Pages
---
Pra Put See Gler Nuea Maekapat Alchemical Metal 4 Sided Buddha Amulet Circa 2470 BE - Luang Por Ee Wat Sattaheep
02980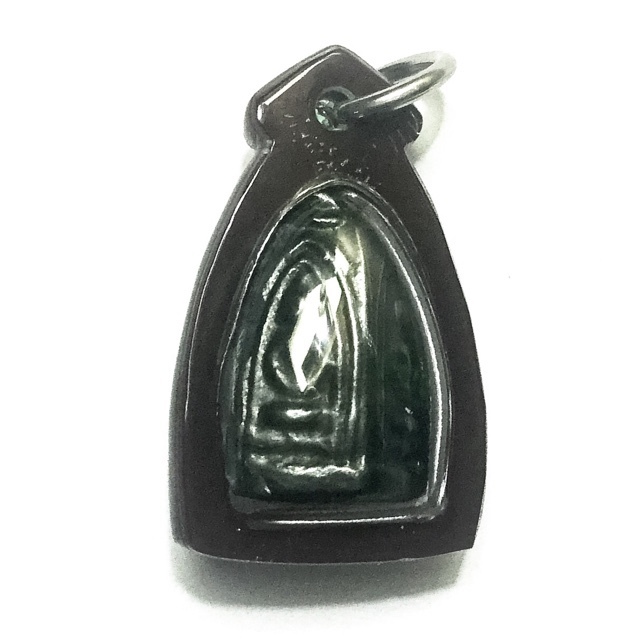 Pra Put See Gler - 4 sided Buddha Amulet in Nuea Maekapat Alchemical Metal Alloy, from Luang Por Ee of Wat Sattaheep (2408 BE - 2489 BE).
Made from Sacred Maekapat Alchemical Metal Alloy, the amulet is a four sided shape with four Buddha Images facing in each cardinal direction, sitting within an arched dais. One of the famously popular and preferred Amulets from one of Thailand's Greatest Guru masters of Yester-Year.
The amulet is framed with a maroon coloured border waterproof casing. Released circa 2460 - 2470 BE - Luang Por Ee lived from 2408 to 2489 BE, and was one of the legendary monks of his day.
There is Miraculous tale of the day when he passed away; After telling his disciples to attend, him entering into meditation, he stopped breathing in that meditation, as, at the same moment, a plank fell off the wall, and a mirror broke.
Maekapat Metal is a Magical Metal Alloy made using Ancient Alchemy Formulas. This amulet is forged with Ritual Casting Ceremony made in Nuea Maekapat, one of two similar Ancient Alchemical Alloys used for Sorcery, the other being 'Nuea Maekasit'.
The amulet is of a small to medium size and hence, wearable by both genders, and even children, and is a highly recommendable amulet for Protection, Auspicious Good Fortune, and Evasion of danger. it is in addition a powerful mercy Charm and a very powerful amulet for those who practice Buddhist meditation. A wonderful Buddhanussati Votive Image for Remembrance of the Buddha's Enlightenment, and of one's own Practice.
These metals are obtained by Alchemically smelting Iron Artifacts, with Mercury as the main base Magical ingredient, and performing Elemental Invocations until the structure of the metal changes, and becomes a sacred Metal of Alchemical Nature. Alchemy and Metallurgy are combined here as one facet of the various aspects of empowerment of the amulet.
The Makasit and Maekapat Sacred Alchemical Metals are not only especially apt for channelling Magical Forces, but also is a preferred substance for aesthetic reasons; Namely, that the surface of Nuea Maekasit, when boiled and transformed Alchemically into its final state.
It then takes on a reddish-black fiery tone, that is matt finish, with the interior of the metal more whitish or purplish, often looking like the interior is filled with Silvery Lek Lai. If you place the metal in water, it changes color, and also with passage of time, the color and textures of the metal change color.
It has the reputation of being able to 'Hnun Duang Chadtaa' (improve Karma and Horoscope, Luck, Fortune, Destiny and Fate). It is also reputed to be able to forewarn of Dangers or Enemies.
The color of the metal can vary, because this is the Nature of Nuea Maekapat and Maekasit Alchemical Metals, which tends to separate in its components in certain areas, revaling different colors and sheens. This is of course also part of what makes Maekapat and Maekasit metal so beautiful.
Luang Por Ee is one of the Great Olden Days Masters of Thai Buddhist History, and a Top 5 Gaeji Ajarn Guru Monk of the Chonburi Region. His amulets are as rare as they are popular with Thai Buddhist people, especially in Central Thailand.
His amulets are highly recommended for their Sacred Value and High End Status, for they are as highly regarded and powerful as many amulets of other Masters of the same Era, and are known for their Powerful Metta Mahaniyom Klaew Klaad Maha Lap and Kong Grapan Chadtri Power.
Temple:Wat Sattaheep
Year of Issue:
Circa 2460-2470 BE
Maker of Amulet:Luang Por Ee
Weight:Circa 10 Grams
Recommended Uses:Protection, Buddhanussati, Auspicious Karma and Fortunes, Mercy Charm, Meditation Practice, Immerse for Chanting Prayer Water
Size of Amulet:2.5 x 2 Cm