This list of Buddhist Guru Master monks will auto-update each time we add a new Master. Click each link in the list to view the amulets and read about each Guru Monk

External Pages
---
Pra Putta Chinarat Nuea Rae Prohm Changae - Luang Por Un - Wat Tan Gong​​
02775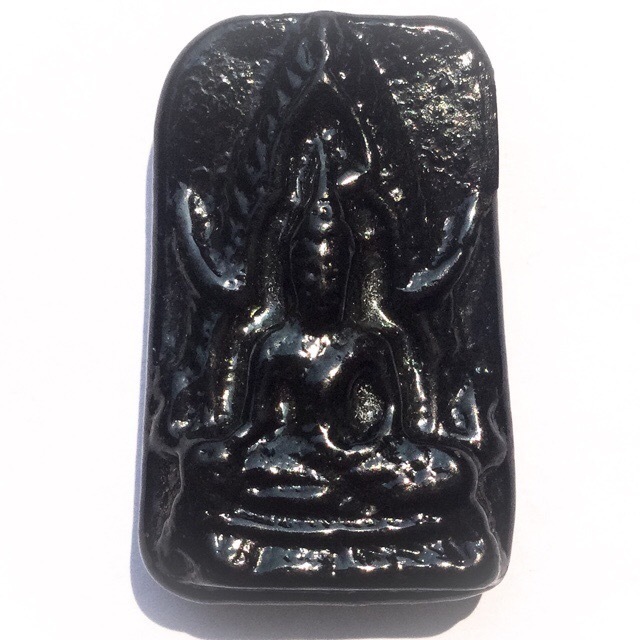 Pra Putta Chinarat Buddha Votive Tablet made from rare alchemical substance forged from 'Rae Saksit' Sacred mineral from the caves of the Khao Prohm Changae Mountain, from Petchburi Master Monk Luang Por Un, of Wat Tan Gong (Born 2459 BE).
A most pristine and attractive amulet, with the Sacred Protective Blessings of Luang Por Un, and the fasmoulsy Powerful Klaew Klaad and Kong Grapan Chadtri Power of the Chinarat Buddha.
Luang Por Un of Wat Tan Gong - Master Gaeji Ajarn of the Petchburi Province, learned and practised his Wicha from three great Petchburi Masters; Luang Por Tong Suk (Wat Tanode Luang), Luang Por Phiw (previous Abbot of Wat Tan Gong, and Luang Por Jan, (Wat Mareuka Tayawan). He also inherited the teachings of Wicha Kong Grapan Chadtri, Khab Khun Sai (exorcism of Black Magic), and the Wicha Paya Ling Lom (Vanora Monkey) from Pra Atigarn Chan of Wat Mab Pla Kao.
Luang Por Un finished his Wicha studies with Luang Por Phiw at Wat Tan Gong, and subsequently travelled to receive Khan Ha Initiiation (official protection and necessary ritual to be able to practice Occult Sorcery) with Luang Por Tong Sukh at Wat Tanode Luang, and became one of the very true direct Transmission Lineage Master Adepts of Luang Por Tong Sukh. He spent periods in the forest with Luang Por Tong Sukh to develop his meditative powers too.
He mastered one of Luang Por Tong Sukh's most difficult Wicha, (one which not all of his apprentices managed to master), that of the method of making powerful 'Pong Prajant Kreung Seek' (Crescent Moon Powders) which are an extremely powerful Metta Maha Niyom Muan Sarn Sacred Powder for mercy Charm amulets. Pong Prajantr Krueng Seek is of course a form of Pong Puttakun. He mastered the methods of making Pong Ittijae (sometimes called 'Ittajae'), Bpathamang, and Pong Maha Rach powders.
He mastered the Wicha Pong Prapaktra from Wat Nok temple (in Ang Tong). The Wicha Tam Pong Prapaktra is now completely disappeared and not found present in any of the many Dtamra Saiyasart of the various Samnak in Thailand, and only remains in existence with Luang Por Un as the sole Wicha Preservation Master.
Luang Por Un gained much fame for various amulets, including the Pra Somdej Hmen, and the Putta Chinarat type amulets, and has created a vast pantheon of different amulets, all of which have all gained fame to be included in collector catalogs, of which tthere are various books dedicated specifically, and solely to documenting the pantheon of amulets of Luang Por Un.
Both the Pra Putta Chinarat amulet, and the Pra Somdej Hmen 2497 BE (Smelly Somdej - see picture to the left), became very highly sought after, when miraculous stories of Klaew Klaad and Kong Grapan Chadtri began to circulate. One devotee who wore the Chinarat amulet was in a deadly accident where all involved were killed instantly, but the devotee who wore the Chinarat Buddha, was completely unscathed and unharmed.
the list of amulets which Luang Por Un has made is so extensive, that at least 3 different full volume catalogs have been made to cover the pantheon, ranging from Pra Kring, 'Rian Kanajarn' Gueu Monk Coins, Bua Khem and Upakut Buddha statuettes, Pra Pid Ta, Pra Somdej, Takrut, and Lockets are of the most well known. Perhaps one of the more popular of the Pra Somdej apart from the Somdej Hmen, is the Pra Somdej Khee Suea (Buddha riding on a Tiger) amulet, and of course this Putta Chinatrat amulet, both which were made in powders and in this Sacred 'Rae Khao Prohm Changae'. It is indisputable, that this Sacred Kaya Siddhi Elemental substance is of such an attractive appearance, and also for its possession of Sacred Magical Properties of Immense Power, that it has become one of the most highly sought after amulets of Luang Por Un.
Above Image; Amulet Catalog of the amulets of Luang Por Un
Luang Por Un's first ever edition of amulets was created in 2495 and took three years to complete with the assistance of other monks in the temple helping to press the amulets. The first edition was of course his famous Pra Somdej Hmen 'Smelly Somdej'. The Pra Somdej Hmen is also marked for its Sacredness by the inclusion of Muan Sarn Sacred Powders (Pong Ittijae) from the great Luang Por Gaew of Wat Kruea Wan, which was taken from an ancient repository which was stored in Kru Hiding place within the Uposadha Shrineroom of Wat Tan Gong. 84.000 Pra Somdej Hmen were made, but only about 7000 of them were kept for distribution, the rest being hidden within various Kru Chambers in the Uposadha Building of Wat Tan Gong, for distribution in the far future.
Rae Khao Prohm Changae
Rae Khao Prohm Changae, is a mineral substance found in the higher regions of the mountains of Petchburi Province, and was discovered through mysterious circumstances This alchemical Kaya Siddhi substance is made using a very difficult formula of forging under controlled heat, which is very difficult to turn into the substance we can admire so much, with its shiny black surface and glossy finish. It is considered to be a kind of Lek Lai Kaya Siddhi Adamantine Substance, with all the related powers which belong to this Sacred Substance.
It is said that all of the amulets made using Rae Prohm Changae, had to be made through the alchemy of Luang Por Un himself, who is both expert in the smelting and forging method needed co control the temperature accurately, and that lp Un also uses Kata Akom Incantation, without which, the susbstane will not congeal into the desired form. If the process and empowerment is not performed properly, the Rae Prohm Changae turns to mere rusty powder, and will not liquify.
The story of how the Rae Prohm Changae has Kong Grapan Chadtri powers a legend in itself; There was a devotee called Lung Chaeng Into, who went to Wat tan Gong, to makemerit, and saw a bead of Mineral Substance, which attracted his eye, and he asked Luang Por Un if he could have it. Luang Por Un reached out, and gave it to him without hesitation. Lung Chaeng then put the bead of Rae Prohm Changae into his shirt pocket, and begged his leave, and departed from the temple, to go to see doctor Hmor Yaem in the Petchburi Town Market at his clinic for a check-up, and receive his injections.
Below; Piece of Raw Rae Khao Prohm Changae
The doctor tried and tried again to inject the medicine into Lung Chaeng's skin, but the needle would not pierce his skin. In the end, he tried so hard that the needle bent. The doctore asked Lung Chaeng if he had any amulets on him, and that if he did, he should remove them. Lung Chaeng then replied 'No i am not wearing any amulets'. So the doctor took a new needle and syringe, and began to try again. The same thing happend, and the second needle ended up bent in half.

Lung Chaeng then wondered if it was anything to do with the eye-catching beautiful mineral substance he has asked Luang Por Un for. He removed the Rae Khao Prohm Changae from his shirt pocket, and the doctor tried once more, and was easily able to perform the injection with no more resistance. The relatives of Lung Chaeng heard about this incident, and went to visit Luang Por Un, to beseech permission to take some rae Khgao Prohm Changae, and make amulets with it. They asked for Luang Por Un to make amulets and bless the substance, because, beforehand, these same relatives had wandered around the area of the caves at Khao Prohm Changae mountain, and collected every bead and piece of the substance they could find. Some of the relatives had gone to the doctor when needing injections and carried a piece of the substance with them. But i seemed that none of them experienced the same mysterious effect as Lung Chaeng. And so it was seen that the substance only worked when Luang Por Un had prepared it and empowered it with his Wicha, and this was how he came to be asked (and conceded) to make amulets from this substance.
Luang Por Un was also a proficient Adept Sak Yant Thai Temple Tattoos Master, with undisputed powers of Kong Grapan Chadtri and Klaew Klaad.
But Luang Por Un saw in time, that many of those devotees who came for Sak Yant, were selfish and violent people who caused unrest in society. He meditated on this matter and saw that making Sak Yant on them would support their criminal behavior, and was not helpful to the spreading of the Dhamma.
He thus retired form making Sak Yant Thai Temple Tattoos completely. But he still performs non-tattooed Yantra Blessings on those devotees who seek the blessing, because the Hooligans and Criminals mostly don't want the kind of blessing that is not an inked tattoo. In this way, he filtered the kind of persons who came for blessings down to those faithful devotees who practice Dhamma and Alms Giving, and Make Merits by keeping the 5 PreceptsKata
Kata Bucha Pra Putta Chinarat
Temple:Wat Tan Gong
Maker of Amulet:Luang Por Un Sukh Gāmō
Weight:14 Grams
Recommended Uses:Klaew Klaad, Kong Grapan Chadtri, Serm Duang, Metta Maha Niyom.
Number of Amulets Made:Unknown
Size of Amulet:3 x 2 Cm
Encasement Options
Solid Gold Custom Casing (Waterproo​​​​​​​​f) - We will email you with a price quote according to current Gold Prices, and Invoice You after Agreement) (0) Waterproof Casing (9) Without Casing (0)