This list of Buddhist Guru Master monks will auto-update each time we add a new Master. Click each link in the list to view the amulets and read about each Guru Monk

External Pages
---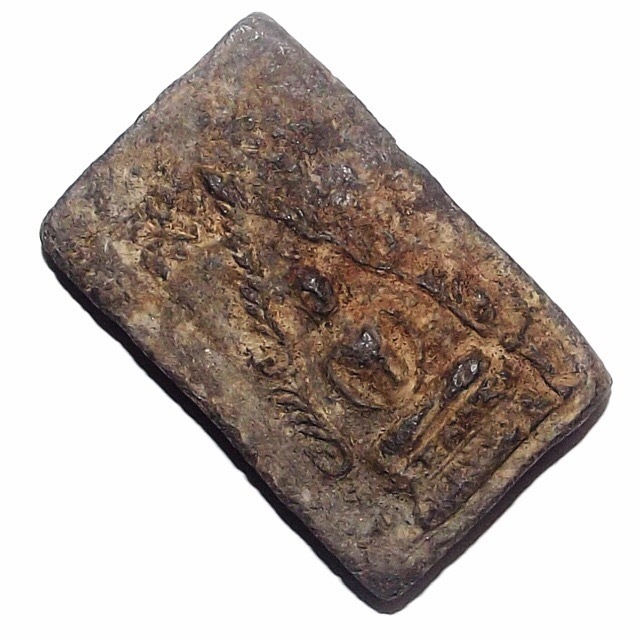 Pra Putta Chinarat Ta Ruea Pim Yai Pong Taep Nimit 2497 BE - Ajarn Chum Chai Kiree & 100s of Great Masters
SKU 03833
Product Details
Pra Putta Chinarat Ta Ruea Pong Taep Nimit 2497 BE - Ajarn Chum Chai Kiree Dtamnak Dtak Sila Khao Or Southern Academy of Sorcery - Hundreds of Gaeji Ajarn Guru Monks were present to perform their Chants, and Meditative Blessings upon the Amulets. This model was made in different sizes, Pim Jiw Miniature size, and Pim Yai Large size.
One of the famous amulets of the Miraculous Taep Nimit edition of the Miracle Blessing Ceremony with Ajarn Khun Pantagij Rachadech, Ajarn Chum, Pra Ajarn Kong (Wat Ban Suan) and Hundreds of the greatest Masters of that Time. This amulet was one of a number of different amulets, oils, and Takrut charms, plus some special ritual items such as magic Mai Kroo wands and Mitmor knives.
These amazing items were all involved in the famous ceremony of Maha Ud magic performed by Ajarn Chum with amazing displays of invincibility magical proof. This amulet has immense Kong Grapan power (bullet and knife proof). The famous maker of Jatukam, Khun Pantaraks Rachadej was also involved in this ceremony.
The reason that the amulets of this edition are called 'Taep Nimit, is that the word Nimit means 'appear in a vision', and the Dtamra (legend) of Ajarn Chums 'Taep Nimit' amulets began with a vision in a dream, in which Pra Ajarn Tong Tao (founder of the Dtamnak Dtak Sila Khao Or Southern Academy of Sorcery), appeared and foretold that those Humans who do not follow the Dhamma and have Moral Precepts will be engulfed in attacks by great weapons the world has never seen before, be invaded by pirates and thieves who are worse than wild animals, and attacked by ghosts and demons.
If we look at the History of the world since 2496 BE, when this amulet was made, we will see that many of these predictions made in Ajarn Chums dream, can seen to have come true. In order to keep safe from these dangers, the Pra Ajarn Tong Tao said that Ajarn Chum should take flowers which Monks had offered to ask forgiveness to each other before the rainy seasons, and flowers which had been offered to the Buddha by the monks at the rainy season beginning ceremony.
He should gather this from 108 Sacred temples, and mix with pieces of powdered bricks from the Relic Stupa of Nakorn Sri Tammarat. In addition, the Monk in the vision said he should take powders from the great Bodhi tree, and powders from various important Samnak (temples where magic is practiced), and the sacred powders of Ajarn Kong (who was the Guru of Khun Phaen). These powders should be made into a Buddha amulet and given three months of empowerment.
The Muan Sarn used in the sacred powders in this amulet include flowers offered to the Buddha from all the Royal temples. as well as from a host of many of the most sacred public temples around Thailand, broken pieces of the Chedi Stupa and leaves from the Bodhi tree at Nakorn Sri Tammarat, a collection of the best sacred powders from a large number of the Greatest Ajarns, including Pong Wised from Ajarn Kong (the Ajarn of Khun Phaen himself), which was discovered when digging under the Chedi of Ban Sri Prajant in Supannburi. The amulets were distributed constantly from the moment of release, until they finally ran out and were completely depleted in the year 2524 BE, when the very last amulets were distributed after the final opening of the Kru chamber.
Ajarn Chum Gave a Traimas (3 Months) empowerment to the amulets. As usual in the empowerment of the Puttapisek final ceremony, the famous Khun Pantagij Rachadej was present to add his Incantations to the blessing. This amulet was given out to Devotees present in the 2496 BE Wai Kroo Ceremony. A host of Famous Gaeji Ajarns of the Khao Or Lineage were present to assist with the blessings and Puttapisek chanting. Ajarn Chum Gave a Traimas empowerment to the amulets. As usual in the empowerment of the Puttapisek final ceremony, the famous Khun Pantagij Rachadej was present to add his Incantations to the blessing. This amulet was given out to Devotees present in the Wai 2496 BE Wai Kroo Ceremony. A host of Famous Gaeji Ajarns of the Khao Or Lineage were present to assist with the blessings and Puttapisek chanting. The remainder were placed inside a Kru Burial hiding chamber, and later retrived, to be released at the 2511 BE Miracle ceremony, now so famous as one of the most important ceremonies in the History of Thai Buddhism and in Thai Occultism.
The Pra Taep Nimit Edition indludes a large compendium of different models of amulets, including the Pra Khun Phaen Awk Seuk, The Pra Pong Taep Nimit, Pra Putta Chinarat Ta Ruea, Pim Nang Tra Nakprok (small and large versions), Pra Nakrprok Taep Nimit Hlang Yant, and various other sacred powder amulets. The am,ulets received constant Buddha Abhiseka Chanting Ceremonies throughout the three months of the Traimas Rainy retreat. The amulets were pressed on the 2nd August 2497 BE, with all different models pressed a total of 84,000 amulets in different shapes and sizes. The last ones were pressed on the 1st September 2497 BE, and were then Empowered in 'Piti Pluk Sek' on 14th September 2497 BE. The Grand Buddha Abhiseka Ceremony Was Then held on 12th October 2497 BE, which was the end of the Rainy retreat.
This Ceremony for the Pra Putta Chinarat Pong Taep Nimit and other Amulets was performed at Wat Banpot Pinij in Pattalung, and then were transported to Wat Boroma Tat in Nakorn Sri Tammarat for a final major blessing ceremony, with a large number of some of the Greatest Guru Monks of Khao Or Sorcery Lineage of that Era present, to Empower and Bless the Amulets; Luang Por Tan Klai (Wat Suan Khan), Luang Por Opasi, Luang Por Khiaw (Wat Hrong Bon), Luang Por Mueang (Wat Ta Paya), Luang Por Kong (Wat Klong Noi), Luang Por Mui (Wat Pha Ragam Pak Panang), Luang Por Daeng (Wat To Ta Sala), Luang Por Kling (Wat Thalung Tong Ron Piboon), Luang Por Daeng (Wat Khao Hlak Tung Yai), Luang Por Dtud (Wat Tung Gong, Krabi), Luang Por Wan Manso (Wat Prasitti Chai), Luang Por Saeng (Wat Klong Nam Jet, Trang), Luang Por Parn (Wat Khao Or), Luang Por Kong (Wat Ban Suan), Luang Por Dit (Wat Pak Sra), Luang Por Jek (Wat Khao Daeng Dtawan Dtok), Luang Por Hmun (Wat Khao Daeng Dtawan Dtok), Luang Por Hmun (Wat Khao Daeng Dtawan Awk, Pattalung), Luang Por Pua (Wat Khao Rahu/Wat Bang Duean), Luang Por Daeng (Wat Klong Sai), Luang Por Wirat (Wat Gabao Siri Radtana Nikom, Surat Thani), Luang Por Tong (Wat Don Satorn), Luang Por Songk (Wat Sala Loi), Luang Por Jeed (Wat Tham Khao Pluu), Luang Por Rung (Wat Bang Hwaen, Chumporn), Luang Por Tuam (Wat Khao Bote, Bang Sapan), Luang Por Biam (Wat Kho Hlak, Prajuab Khiri Khan), Luang Por Tong Suk (Wat Tanode Luang, Paetch Buri), Luang Por Daeng (Wat Khao Bandai It, Paetch Buri), Luang Por Ngern (Wat Don Yai Horm), and Luang Por Te (Wat Sam Ngam, Nakorn Pathom), and many others. Laymasters included; Ajarn Chum Chai Kiree, Ajarn Nam Gaew Jantr, and Police Sargeant Khun Pantaraks Rachadej.
The Empowerments were laid out in a specific sequence of 7 days per session. 7 Days of empowerment for protection against Illnesses and Dangers from Injuries and Sicknesses, Demons and Evil Energy. 7 days of empowerment for Metta Mahaniyom Mercy Charm and another 7 days of empowerment for the Illusion Spell of Multiplying Oneself, to make the Enemy see you as many people coming to get them. This spell should come into effect in extreme cases for example, when going into battle in war. The Muan Sarn Sacred Powders donated by the Gaeji Ajarn who came to assist, included many very Sacred and Powerful ingredients, which were brought according to the instructions in the dream of Ajarn Chum Chai Kiree, which said that powders from the great Masters should be mixed into the Muan Sarn Clay. Some of the special ingredients included Sacred Pra Kru amulets froom 108 different Holy Kru Hiding Chamber Shrines, 108 types of Sacred Magical Herbs, Pong Wised Magic Powders of many types.
Some of the famous amulets used to grind into the Sacred Clay of the Taep Nimit amulets were; Pra Kru Nang Tra Ta Ruea, Pra Kru Taw Kote, Pra Somdej Wat Rakang Kositaram, Pra Somdej Wat Bang Khun Prohm, Pra Pong Supan, Pong Dam Pong Daeng Hun Payont from Luang Por Gaet, Pra Khun Phaen from the Kri Wat Pra Roop burial, and the Wat Ban Krang archeological find, Pra Nang Paya from Wat Nang Paya and Wat Dton Jantr in Supanburi, Pra Kru Ta Maprang, Various types of Pra KrU from the Kampaeng Paetch Era, and Pra Kru from Sukhothai Era, Hoo Yan Lopburi amulets, Pra Kru Ta Gradan Hoo Hai from the Kanjanaburi Kru Shrine, Pra Kru from Wat Chinarat in Pitsanuloke, Pra Kru Luang Por Juk, Pra Julamani Pitsanuloke, Pra Rod Lampun, Pra Kong Lampun, Pra Beum Lampun, Pra Mahawan Wat Khao Or, and extremely ancient Pra Kru Sri Vichai from the Sri Vichai Era.
Tests should be made on the amulets for their power, and also those who recieved them and wear them must make an official oath to the Buddha Dhamma and Sangha to leave sinful and immoral activity forever, and to practice Metta and offerings to the Sangha. If those who wear the amulet can keep these rules, they will be completely safe and protected from the predicted evils. In the year 2470 BE, Luang Phu Kong (Wat Kae, Supannburi) entered the body of a Civil servant in Pattalung, South Thailand, and spoke through him, revealing the Dtamra of making a kind of Pra Khun Phaen to Ajarn Chum Chai Kiree. This Khun Phaen was called 'Pra Pong Taep Nimit' During the Puttapisek and further three month empowerment, Luang Phu Kong visited and entered the consciousness of Ajarn Chum the whole time to assist in the empowerment.
Luang Por Kong was abbot of of Wat Kae, in Supannburi (Wat Tan) who lived during the time that Ayuttaya was the Royal Seat, and was the first Ajarn of Khun Phaen himself. The Luang Por Kong of Ancient Fame created the Pra Khun Phaen Ruean Gaew and gave to Khun Phaen himself for protection and blessings. Not only this, but Ajarn Kongs spirit also demanded that Ajarn Chum remove some Pra Yord Khun Pon, Pra Khun Phaen and the bones of Luang Phu Kong himself from the inner chamber below the Chediat Wat Tn (Wat Kae) in Supannburi (which had been there since the times of the Ayuttaya Kingdom) ใ Ajarn Chum went to ask for permission to dig there from the Ministry of Fine Arts and Culture.
As soon as the Devotees heard of this, they asked Ajarn Chum to make Pra Khun Phaen and Pra Taep Nimit amulets. Ajarn Chum thought carefully about it and thgought that if he did make them, then he would have funds to build an Uposadha shrine room at Wat Ban Suan in Pattalung and dedicate it and the merits recieved to Luang Por Kong, as well as to distribute amulets to soldiers and other members of the military and police force who were defending the country from danger. Ajarn Chum made the following statement about the Pra Pong Taep Nimit before handing them out;
"This amuet i guarantee to truly protect from dangerous weapons of all kinds, including protecting from, and preventing thieves and pirates, and wild dangerous animals. The amulet is heavily leaning towards Metta Mahaniyom and Maha Sanaeh power. Both Men or Women or Children can use it".
"It is forbidden to take the amulet and test its power for fun, which would be disrespectful, and endanger you of using up the miracle power it holds to protect you in the true moment of dire need. If you do not believe in the amulet, you should not come forward to recieve one, for it will bring you bad luck".
Tests using guns and sharp knives were performed, to test the magic on the throngs of Devotees present. Ajarn Chum is in my opinion the greatest and most powerful lay master of all living history of Thai Saiyasart. This amulet is a rare old amulet of undoubtable magical power to protect against knives, bullets and the like. This amulet is in extremely fine condition, and a very beautiful example indeed. Extremely rare. The amulet is made from over 500 kinds of sacred powders which were collected by Ajarn Chum and Luang Por Kong (Wat Ban Suan) over 40 Years.
Because the Thai Government had issued papers calling for the army to gather and recruit to go into War in the Indochina war in 2497. A certain amount of the 2496 and 2497 Taep Nimit amulets were immediately distributed to the Military, and in the Wai Kroo Ceremonies of 2496/2497, but some of them were kept in Gru chamber, until 2511 BE, and empowered constantly until then, and handed out during the Puttapisek.
Kong Grapan Chadtri and Klaew Klaad magic at its finest. Below, You can view evidence of the miraculous events which occurred after one of Ajarn Chums amulet blessing ceremonies (2511 BE).
Bucha Method (How to Worship)
Chant Namo Tassa 3 times first (as must be done before chanting to any amulets)
Then pray hard and declare that you take refuge in the Buddha, Dhamma and Sangha
Then gaze at the Buddha on the face of the amulet for a moment, before breathing in and saying innerly 'Bud' and breating out and saying 'Dho' (or Put-To, depending on your pronunciation).
Keep doing this until your mind is still and clear. Once you have attained the stillness of meditation, then begin to chant the following;
I Sawaa Su Su Sawaa I - A Sang Wi Su Lo Bu Sa Pu Pa (3 times)
If you have any bothersome influences or events occurring, or questions you need answering, then light incense and call the devas that take care of the Buddhas to come, whilst thinking of Luang Phu Kong and Pra Khun Phaen.
Then place your hands together with the amulet between them, and begin to chant the following;
Na Ma Pa Ta Neu Meu Peu Teu
Keep chanting it until the Deva of the amulet enters your mind, after which you wlil be able to pose questions in your heart without words.
After this great ceremony was over, Ajarn Chum Chai Kiree took a large number of these amulets to distribute along with instructions on how to pray to the amulets, and give them to his disciples. For this reason, this series of amulets is known as being from Ajarn Chum Chai Kiree. But in fact, it was a grand collaboration of not only the Great Ajarn Chum Chai Kiree, but of a large number of the Greatest Masters we have ever seen, and was given its final ceremony at Wat Boroma Tat in Nakorn Sri Tammarat.
Ajarn Chum Chai Kiree took also a large number of the amulets which were remaining after the pressing of the 84,000 amulets, and placed them in a Kru Burial chamber shrine (about 200 cubic liters). After they were buried, a termite nest appeared over the Kru Chamber. This is why some of the amulets in this series are found to have 'Kraap Pluak' (Termite Cement) on them, which makes them recognizable as being from the batch which Ajarn Chum Chai Kiree stashed in the Kru Chamber.
The Putta Chinarat Ta Ruea Pong Taep Nimit is a very rare amulet indeed to come across these days, and is an unmistakably eminent amulet in the pantheon of Thai Buddhist Amulets of High esteem, and a highly revered votive tablet for all Buddhists.
Kata Bucha Pra Krueang Ajarn Chum Chai Kiree
Na Rong Hai - Na Maa Khao Haa - Na Jidtang Maa Ni Maa Maa - Jidtang Maa Ni Maa Maa (3 Times)
Chant
Na Mo Tassa Pakawadto Arahadto Sammaa Samputtassa
Na Mo Tassa Pakawadto Arahadto Sammaa Samputtassa
Na Mo Tassa Pakawadto Arahadto Sammaa Samputtassa
Then Chant
I Sawaasu Susawaa I - A Sang Wi Su Lo Bu Sa Pu Pa (3 Times)
Second to none for truly potent Magical Power, Ajarn Chum commands a top position in the History of Thai Buddhist Amulets and the Status of Occult legend. Ajarn Chum was arguably the most powerful and famous Laymaster of all Thai Occult History, and his amazing miraculous feats of Magickal Prowess are still the talk of every Samnak Saiyasart around the country, many years after his passing. His public shows of Miraculous Magick, has amazed a whole generation of faithful devotees. They are filled with faith in his inexplicable shows of power, and the miraculous events which many people who rever his amulets have encountered, has served to raise Ajarn Chum Chai Kiree to the Status of Grand Master of the Khao or Academy of Occult Sorcery. When Ajarn Chum was just 7 years old, he once grabbed the rifle barrel point of his father's friends gun who had come to visit, and chanted a mere 11 syllable Kata. The gun exploded and broke in half the next time it was used to shoot with. These events caused the villagers to believe in his powers, and have faith in his Magick. When he reached the age of Ordination, he ordained under Pra Ajarn Kong and stayed at Wat Chai Mongkol, until his disrobing.
After this, he studied hard further as a Lay Practitioner and studied the Buddha-Dhamma. Later, he moved to Pattalung, and became a practitioner at the Dtamnak Dtak Sila Khao or, under Ajarn Iad (Wat Don Sala), as his Mentor in Magickal Sorcery. He already had fifteen years of ordained study and practice behind him befriended with the Great Luang Por Kong, and now became the Legendary Master of Khao or Sorcery. He is famous for many Miraculous feats from his amulets, including his famous Noo Kin Nom Maew Metta Oil, which he made, and tested with a show of putting baby mice and a cat who was giving milk into the same cage, after smearing some oil on them all.
The mice ran to the teats of the cat, and the cat gave milk to the mice. Ajarn Chum had a very strange ability to decipher difficult methods of Sorcery and had a special mind that was attuned to mysterious forces. Ajarn Chum always used his famous magical 'Nam Man Solos Mongkol'' oil, to smear on the heads of the Devotees before performing Kong Grapan Magic.
Save this product for later