This list of Buddhist Guru Master monks will auto-update each time we add a new Master. Click each link in the list to view the amulets and read about each Guru Monk

External Pages
---
Pra Putta Jao Khee Ling Ud Tian Chai Buddha riding Hanuman - Luang Phu Yim - Wat Jao Jet
03109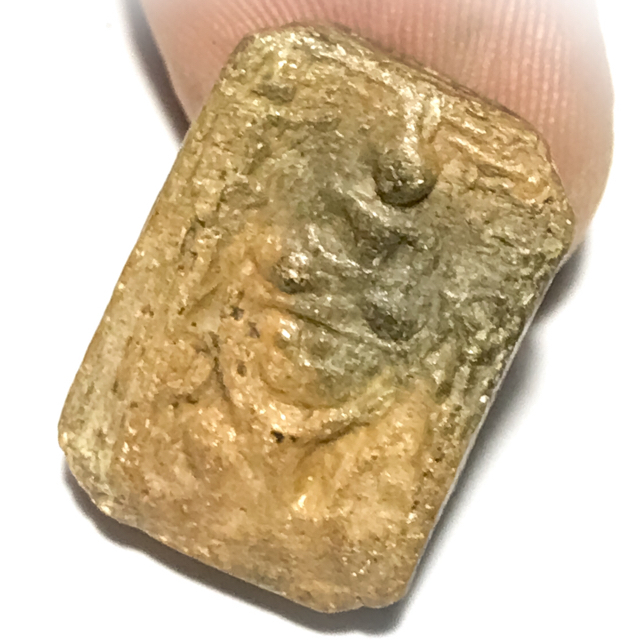 A very rare amulet made by, and from the famous Sacred Clay of Luang Phu Yim, of Wat Jao Jet, the Pra Putta Jao Khee Ling Buddha riding Hanuman amulet, 'Ud Tian Chai' with Victory Candle wax and Muan Sarn inserted into a cavity in the top of the amulet. This of course follows the same Wicha as the Pra Putta Jao Pratap Sadtw of Luang Por Parn of Wat Bang Nom Kho which was shared with Luang Phu Yim by Luang Por Parn Wat Bang Nom Kho.
The story behind the creation of Luang Phu Yim's version of this classic, comes from a devotee who brought some of Luang Por Parns amulets back from Wat Bang Nom Kho, and commissioned an Artisan to create some Block Mae Pim amulet molds to press some amulets with Luang Phu Yim's special powders inserted in the same form.
The amulets were created in Pim Lek (small) and Pim Yai (large) and in 'Han Saay' turned to look left, or 'Han Khwaa' (turn to face the right). A couple of slightly different designs were also made with large head and arms or with thinner arms and smaller head.
The amulets were passed to the Devotee by the Artisan, who brought them to donate to Luang Phu Yim for his distribution to devotees.
Some of the devotees asked why the Buddha was riding on a monkey, and Luang Phu Yim explained to them that it was Hanuman, because hanuman is a monkey. He filled the amulets with his special Muan Sarn in their cavities and empowered them in solitary.
This amulet is a very powerful Anti Black Magick amulet, as well as possessing immense Serm Duang Power to improve the Line of Fate, Metta Mercy Charm, and Kong Grapan Chadtri / Klaew Klaad for Invincibility and Protective Power.
One of the rarer amulets of the pantheon of Luang Phu Yim, and a perfect alternative to the extremely expensive Buddha riding animals amulets of Luang Por parn of Wat Bang Nom Kho. The empowerment and Muan Sarn Sacred Powders are equally sacred, making this amulet an excellent acquisition for both those who seek the power of this famous amulet, at a price many time less than a Luang Por Parn Wat Bang Nom Kho amulet. The amulet is also an excellent study material and reference amulet, for those students and aficionados, who wish to study this Genre and Pantheon of amulets of the Ayuttaya Masters of that Classic Era.
This model is a Pim Lek measuring 2 x 1.5 Cm and is hence also a recommendable choice not just for men, bbit ladies also, due to its smaller size and portability.
Sacred Muan Sarn of Luang Phu Yim is embedded into the cavity of the top edge of the amulet, as is required for this Wicha, as stipulated by Luang Por Parn according to the Dtamra he received from the Chee Ba Khaw when he received the miraculous transmission of the wicha. The sacred clay of Luang Phu Yim is so incredibly similar to that of the Muan Sarn Sacred Powders of Luang Por parn, and this is of course natural due to their close association, and their proximity in the municipality of Amphoe Sena, Ayuttaya. With Luang Phu Yim we are hence looking at a master of the same lineage who became so revered in his own right, that it is less known of the close connection between these two masters by many devotees, Luang Phu Yim being the sole focus of the devotee who seeks his amulets. However, we feel it is also an important historical fact to document.
---
Luang Phu Yim of Wat Jao Jet Nai, was a Master Gaeji Ajarn of Pra Nakorn Sri Ayuttaya of the second World War Era, and the Indo-China War. LP Yim was befriended on best friends basis with the Great Master Luang Phu Jong of Wat Na Tang Nork (Ayuttaya), who was slightly older than him by three years. Another intimate friend and colleague in practice was Luang Por Parn of Wat Bang Nom Kho, who was exactly the same age as Luang Phu Yim.
All three of these Masters would constantly visit each other at their respective temples, and swop and share the various magical Wicha of Buddha magic they had learned in the time they had not seen each other. It bean to be spoken, that all three of these Monks and their amulets had special power. They were said to be full of Puttakun and Metta Mahaniyom power, and strong with Kong Grapan Chadtri invincibility.
When any of these Masters would make amulets, the other two friends would always be present to help perform the Puttapisek Empowerment ceremony at each of the three temples. The rest of course, is History and common knowledge in Thailand. All three of these Masters are of the most revered Masters for amulets in Thai Amulet history, especially Luang Por Parn with his Bang Nom Kho amulets (Pra Putta Jao Pratap Sathw - Buddha image riding on animal figures).
Apart from sacredness and certainty of power in this amulet, it is a wonderful example of old style clay 'Gru' amulet and was made at the same time with and in the same manner as Luang Por Parns amulets. This is a popular amulet to rent not only for its Sacred Power and its Immense Raritym and Unusualness, but is also a reference amulet for the purpose of study, because it was made in the same way, from same substance same blessings and same method of Gru as the classic Wat Bang Nom Kho amulets 'Buddha Riding Animals' themself.
Pra Nuea Din Phao Luang Phu Yim - The Pantheon of baked Clay Amulets
There are a large number of Pim (models) of amulets of the baked sacred clay variety within the pantheon of Luang Phu Yim's amulets, with at least 24 different models documents in official catalog.
1. Pra Ngop Nam Oy Pim Yai (large size) Pra Putta Jao 10 Pra Ongk - some with lines separating the ten Buddhas, some with no line partitions.
2. Pra Ngop Nam Oy Pim Klang (medium size) Pra Putta Jao 10 Pra Ongk - some with lines separating the ten Buddhas, some with no line partitions.
3. Pra Ngop Nam Oy Pim Lek (small size) Pra Putta Jao 10 Pra Ongk - some with lines separating the ten Buddhas, some with no line partitions.
4. Pra Putta Chinarat Pim Yai Peek Kwang large Triangular Buddha Amulet with wide flanks
5. Pra Putta Chinarat Pim Lek - small Chinarat Pitsanuloke Buddha amulet
6. Pra Putta Chinarat Ha Liam - 5 sided Chinarat Buddha amulet
7. Pra Somdej Pim Khad Samati Paetch (2 models made) - Meditating Lotus Posture Buddha amulet
8. Pra Somdej Prok Po Jet Chan - 7 tiered dais Buddha under Bodhi Tree amulet
9. Pra Somdej Pim Dtid Phaeng (Somdej Phaeng)
10. Pra Somdej Pim Thaan Laekh Jet Thai - Buddha with Thai number 7 on the base
11. Pra Kone Samor large clay Ayuttaya style Buddha Image Votive Tablet
12. Pra Khun Phaen Pim Yai - large Khun Phaen amulet
13. Pra Khun Phaen Pim Sum Ruean Gaew - Pra Khun Phaen wiithin a Crystalline Arch
14. Pra Chinarat Bai Putsa Bpaang Sadung Marn - Plum tree Leaf Buddha amulet Subduing Mara posture
15. Pra Ruang Pim Yai, Klang, and Lek - large, medium and small models of standing Vairocana Buddha amulet
16. Pra Lila Khang Jut - walking Buddha amulet
17. Pra Pim Luang Por Dto - small Luang Por Dto Buddha amulet
18. Pra Gleep Bua - Lotus Petal shape Buddha amulet
19. Pra Nang Paya Thaan Bua Pim Yai and Pim Lek - large and small models of Nang Paya Buddha on Lotus Dais amulet
20. Pra Nang Paya Khaen Orn - sloping armed meditating Nang Paya Buddha amulet
21. Pra Pim Khee Ling Yai, Khee Ling Lek (large and small models), in 'Han Saay' (gazing left) and 'Han Khwaa' (gazing right) versions - Buddha riding Animal Deities amulet, in small and large models with left and right facing Hanuman Monkey.
22. Pra Pim Hyod Nam - Water Droplet shape Buddha amulet
23. Pra Pim Nang Kwak - waving Supawadee Merchant's Daughter Deity amulet
24. Pra Somdej Pim Prok Po Ha Chan - Buddha under Bodhi Tree on 5 Tiered Dais amulet
Kata Ārātanā Pra Krueang
Puttang Ārātanānang
Tammang Ārātanānang
Sangkang Ārātanānang
Puttang Prasittimae
Tammang Prasittimae
Sangkang Prasittimae
Temple:Wat Jao Jet
Year of Issue:
Circa 2480 BE
Maker of Amulet:Luang Phu Yim
Weight:4.8
Recommended Uses:Protection, Good Karma, Mercy Charm, Success and Victory
Size of Amulet:2 x 1.5 Cm
Encasement Options
Solid Gold Custom Casing (Waterproo​​​​​​​​f) - We will email you with a price quote according to current Gold Prices, and Invoice You after Agreement (0) Waterproof Casing (0) Without Casing (0)