This list of Buddhist Guru Master monks will auto-update each time we add a new Master. Click each link in the list to view the amulets and read about each Guru Monk

External Pages
---
Pra Putta Lila Gampaeng - Nuea Din Pasom Wan 2497 BE - Ajarn Chum Chai Kiree - Dtamnak Dtak Sila Khao Or - Ultra Rare!
02535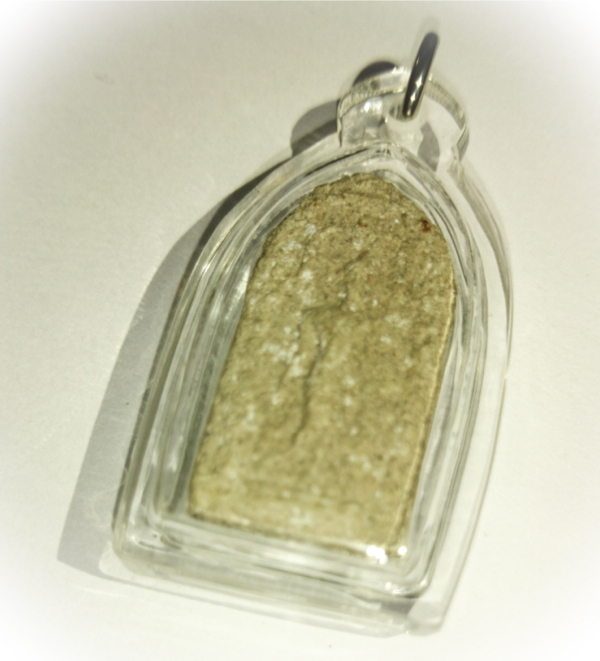 Pra Lila (walking Buddha) Sacred hiding place amulet by the Great Ajarn Chum Chai Kiree 2511 BE pong Puttakun wan 108 - This series of Khun Phaen which was released in the most famous Miracle Blessing Ceremony, which was performed, with the presence of hundreds of Lersi Hermit Masters, from India, Thailand, and around South East Asia, whom Ajarn Chum had invited to assist in the empowerment. Extremely recommended for ladies and children due to its small dimensions, and light to wear. Its powerful Metta Mahaniyom will bring great Mercy Charm.
Hundreds of Gaeji Ajarn Guru Monks were present to perform their Chants, and Meditative Blessings upon the Amulets. This amulet is a Pra Gru; placed in a 'Gru' chamber buried for a time before release, for charging up with Buddha blessings, from the prayers of the Monks.
This amulet is extremely rare, even more so than Ajarn Chum's famous Pra Pong taep Nimit, and the Pra Khun Phaen Awk seuk, and Kong chai chum amulets. They are the 'Pim Niyom' versions (preferred), for the fact that they were given further empowerment in the Chamber and charged with Buddha Magic, and their Classic Appearance and ease of authentification due to the 'Kraap Gru' mildew stains which only are found on the Pim Niyom versions of this series.
This amulet was one of a number of different amulets, oils, and Takrut charms plus some special ritual items such as magic Mai Kroo wands and Mitmor knives, which were involved in the famous ceremony of Maha Ud magic performed by Ajarn Chum with amazing displays of invincibility magical proof.
This amulet has immensmetta Mahaniyom, Kaa Khaay, and maha Pokasap power, but is known for its extra unusual Kong Grapan power (bullet and knife proof), which is not common at all for Pra Lila amulets. The famous maker of Jatukam, Khun Pantaraks Rachadej was also involved in this ceremony.
This particular exhibit, was made in 2497 BE and used the same special powders as this Pra Khun Phaen Awk Seuk, for which authentication is easy because the texture, colors, and appearance of the clay powders used.
The powders are precisely the same in both the Pra Khun Phaen, and Pra Lila (as well as some other amulets such as LP Tuad, and Pra Nakprok). You can see the similarity in the below video.
We offer free Waterproof Transparent Acrylic Casing with this item, included.
Tests using guns and sharp knives were performed, to test the magic on the throngs of Devotees present. Ajarn Chum is in my opinion the greatest and most powerful lay master of all living history of Thai Saiyasart. This amulet is a rare old amulet of undoubtable magical power to protect against knives, bullets and the like. This example is in extremely fine condition, and a very beautiful example indeed. Extremely rare. The amulet is made from over 500 kinds of sacred powders which were collected by Ajarn Chum and Luang Por Kong (Wat Ban Suan) over 40 Years. Because the Thai Government had issued papers calling for the army to gather and recruit to go into War in the Indochina war in 2497
Maha Lap, Metta Mahaniyom, and in addition, due to Ajarn Chum's special and powerful blessings Kong Grapan Chadtri and Klaew Klaad magic, makes this tiny power-packed Buddha amulet, an amulet of the first class level, at its finest. You can see film evidence of the miraculous events which occurred after the ceremony.
Ajarn Chum always used his famous magical 'Nam Man Solos Mongkol Oil' to smear on the heads of the Devotees before performing Kong Grapan Magic.
Other famous Ajarn present for the empowerments were Luang Por Iad, and Ajarn Nam of the Khao Or Lineages as well as Ajarn Kong. The famous Laymaster Ajarn Khun Pantaraks Rachadech was also present in the ceremony.
Kata Bucha Pra Krueang Ajarn Chum Chai Kiree
Na Rong Hai - Na Maa Khao Haa - Na Jidtang Maa Ni Maa Maa - Jidtang Maa Ni Maa Maa (3 Times)
Chant
Na Mo Tassa Pakawadto Arahadto Sammaa Samputtassa (three times)
Then Chant
I Sawaasu Susawaa I - A Sang Wi Su Lo Bu Sa Pu Pa (3 Times)
Temple:Wat Boroma Tat (Nakorn Sri Tammarat)
Maker of Amulet:Ajarn Chum Chai Kiree
Weight:5 Grams with case
Recommended Uses:Business and Mercy Charm, Protection against both Physical and Magical Dangers.
Size of Amulet:2 x 0.5 Cm