This list of Buddhist Guru Master monks will auto-update each time we add a new Master. Click each link in the list to view the amulets and read about each Guru Monk

External Pages
---
Pra Putta Mongkol Maha Lap Pim Nakprok Nuea Solos Daeng 2499 BE Kun Mae Chee Bun Ruean Wat Awut
03712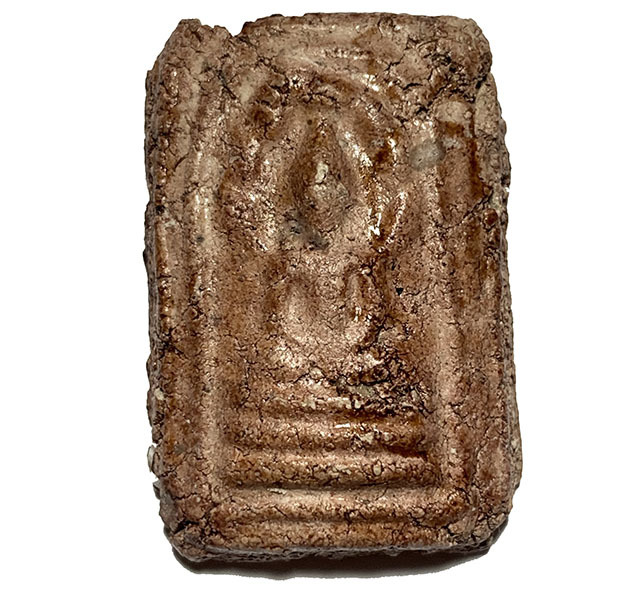 Pra Somdej Nakprok Mongkol Maha Lap Nuea Pong Maha Solos Daeng 2499 BE Mae Chee Bun Ruean Wat Awut. The Pra Somdej Mongkol Maha Lap amulet series of 2499 BE, was released at Wat Sarnath, in Rayong, to fund the creation and installment of the Pra Putto Pas Chinarat Jom Muni Buddha statue, which was made at Wat Sapmant Wongs, in Bangkok, and donated to be installed at Wat Sarnath, as the Pra Pratan main Central Buddha image within the Uposatha shrine room.
The amulets were made in various powders, white nuea solos, brown nuea wan, and red nuea wan sabu luead, as well as nuea bailan and other admixtures. Some received the inscription of the Yant Putto, or the Yant Dto Rasamee, of Mae Chee Bun Ruean, and others were left with 'Hlang Riab' 'smooth faced' rear sides. All versions contain the famous pong Maha Solos Maha Lap (Pong Guubose), which is legendary for its powers.
The Pra Nakprok Buddha is especially recommended for those w3ho are born on a saturday, as well as for those who pray to the Birthday Buddhas, for wearing and praying to on saturdays.
This item comes with free registered airmail shipping worldwide, as is the case with all amulets in Ancient Amulet Store The amulet is empowered for healing, Karma improvement, promotion, protection, wish fulfilment by holding and praying to, and making wishes, and is a protector against black magick, as well as possessing healing elements.The amulet can be held in the palm of the hand when meditating too, for intensive practice of meditation.
Mae Chee Bun Ruean is perhaps the most famous of Thai Buddhist Nuns, which is underlined by the fact that a Buddhist Nun made such great impression and influence in the Thai Buddhist religion is a statement in itself of her great merits to propagate and preserve the Buddha's teachings, and to lead her devotees towards the true path of practice.
---
Who was Mae Chee Bun Ruean?
Kun Mae Chee Bun Ruean was a Buddhist Nun whose purity of practice was so exemplary that she became a Buddhist master in her own right in Thailand's Theravada tradition, which is highly unusual and a difficult task to acheive, in a Tradition where women are not permitted to ordain as a Bhikkhuni, and must remain in white as a Karavasa Holder of Precepts.
Despite these disadvantages, her great practice, Metta (Compassion) and her teachings, and Charitable Works for Buddhism, brought her to become the most highly beloved Buddhist Nun in the History of Thai Buddhism. She was known to practice and listen to the Dhamma mostly at Wat Sampant Wongs in Bangkok.
Above and Below; the rich ingredients of the muan sarn clay, and its authentic natural ageing characteristics are easily visible as authentic muan sarn of Mae Chee Bun Ruean.

Her most famous amulet is of course the 'Pra Putto Noi' amulet, which was made in various kinds of sacred powder clay. The most popular model being the 'Pim Jumbo' large size model, in its white powder version.
Below; Pra Putto Noi Mae Chee Bun Ruean.
The Pra Putto Noi was created in the year 2494 BE, with the Mae Chee Bun Ruean as the Organiser of the raising of the funds for their making and the Charitable Acts which were planned from the funds. The Pra Putto Noi amulet in its Pim Niyom model, if in pristine state, can fetch tens of thousands of dollars in the high end auction rooms of the Sian Pra Niyom.
Luckily there were many models, and some are still affordable in this time, but they are very far and few to discover for collection. The devotees who wear her amulets walk confidently in faith of the Metta Maha Niyom and Serm Duang Klaew Klaad Powers, and healing effects of the amulets of Kun mae Chee Bun Ruean. Devotees would rub the powders ointment onto giant centipede and snake bites and infected wounds, to heal them.
Her amulets are said to heal illnesses and to improve Karma. They are believed to be full of Puttakun Power to bring auspicious blessings and prosperity, because of Mae Chee Bun Ruean's life of charitable acts, and her practice of great generosity. They are full of Metta Maha Niyom from Mae Chee Bun Ruean's Equal treatment and Loving Compassion for all of her devotees regardless of their social or financial status. All were treated with the same Metta.
Her purity is believed to have made the amulets she created to be so powerful, and caused her Pra Putto Noi and other amulets to be extremely sought after amulets. She blessed the amulets in 2494 BE, with a ceremonial prayer for the Welfare of the Temple of Wat Awut, in Thonburi. The aim of the funds raised from the edition was to construct the Pra Putto Paas Chinarat Jom Muni, as the 'Pra Pratan' Main presiding Buddha Image of the Uposatha Shrineroom at Wat Sarnath Dhammaram temple, in Rayong.
The amulets were handed out to devotees during a later ceremony who came to donate and support the installation of the Putta Sima temple boundary of Wat Sarnath, and many of the amulets were of course held for burial within shrinerooms and Checdi Stupas of choice, for later distribution, or accidental rediscovery long into the future. This is a common practice with amulets, where they are placed in a hiding place chamber (Kru), or buried under the ground or under the floor of sacred places, as a way of preserving the fact that there was once a Buddha who walked upon this earth. Hiding Place amulets are also stored in Kru Chambers as a repository to use for fundraising by removing a number and distributing them to devotees who donate to the temple (Note; The placement and removal of amulets from Kru for providiing a method of creating fundraisers only became a practice during the last century, after Buddhist amulets became a source of fundraising).
Apart from the Pra Putto Noi amulet, Kun Mae Chee Bun Ruean made various other amulets which are also in extremely high regard for their Sacredness, such as the Pra Chaiyawat Putto Brass Votive Tablet of 2499 BE, and the Rian Pra Putto Jom Muni coin of the Pra Putto Yai Statue Installation Ceremony of 2499 BE, in which these Pra Somdej were released.
Another very popular 'Krueang Rang' Talismanic Charm of Mae Chee Bun Ruean was the 'Thung Hniaw Sap" treasure glue purse (lucky purse to attract treasures and money like glue sticks to paper), made in 2497 BE. The treasure purse was made in various colours; white, blue, yellow, pink, red, black, and with various styles and designs. Som were made from sack cloth, others from fine cloths, some were large others small purses. The closures of the purses were also varied, ranging from zip to string closures.
Below; one of many different versions of the Thung Hniaw Giaw Sap treasure sack of Mae Chee Bun Ruean, one of the more expensive, sought after, and rare amulets of this Great Laymaster Buddhist Nun.

Mae Chee Bun Ruean empowered the Thung Khiaw Hniaw Sap treasure attractor purses at the temple of the Buddha Footprint at Wat Pra Puttabat, in Sra Buri, where they were blessed in a large Buddha Abhiseka ceremony and released in early 2488 BE. Some purses actually had something inside of them, and others didn't. The purses are reputed for their Maha Pokasap power to increase wealth and professional success, but have also gained a reputation for powerful healing and protection powers too.
Kata Bucha Mae Chee Bun Ruean
Na Chā Lī Dti Chimpalī Ja Mahā Thērō Suwana Mā Mā Pō Chana Mā Mā Pōka Mā Mā Mahā Lāpō Mā Mā Sappē Chanā Pahū Chanā Pawandtumē
The Kata is said to have been transmitted to Mae Chee Bun Ruean in Meditation from the God Indra, to pay reverence to the Chimplee Arahant (Pra Sivali), in order to bring Maha Lap Lucky Fortunes, Maha Choke, Lucky Windfalls, and Maha Pokasap Treasures.
For Auspicious Blessings, the Kata should be chanted on any Sunday that falls on the 6th day of the month, any Monday falling on the 15th of any Month, Tuesdays which fall on the 8th day of any Month, Wednesdays which fall on the 17th of any Month, Thursdays which fall on the 19th of any Month, Fridays which fall on the 12th day of any Month , and Saturdays which fall on the 10th day of any Month.
Temple:Wat Awut
Maker of Amulet:Kun Mae Chee Bun Ruean
Weight:8 Grams
Recommended Uses:Healing, Protection, Prosperity, Mercy Charm, Lifesaver, Meditation, Good Business, Anti Black Magick
Number of Amulets Made:Extremely Few Made (Ultra Rare, especially in Ongk Kroo with Ruby Insert)
Size of Amulet:3.5 x 3.5 Cm
Encasement Options
Solid Gold Custom Casing - We will email you with a price quote according to current Gold Prices, and Invoice You after Agreement (0) Waterproof Casing (Free Offer) (0) Stainless Steel Casing (Free Offer) (0) None (0)