This list of Buddhist Guru Master monks will auto-update each time we add a new Master. Click each link in the list to view the amulets and read about each Guru Monk

External Pages
---
Pra Ruang Rang Pern - Pim Prataat Chedi Noon Dtua Phu 2515 BE - Blessed by LP To, LP Kasem, LP Hwaen, LP Guay
02737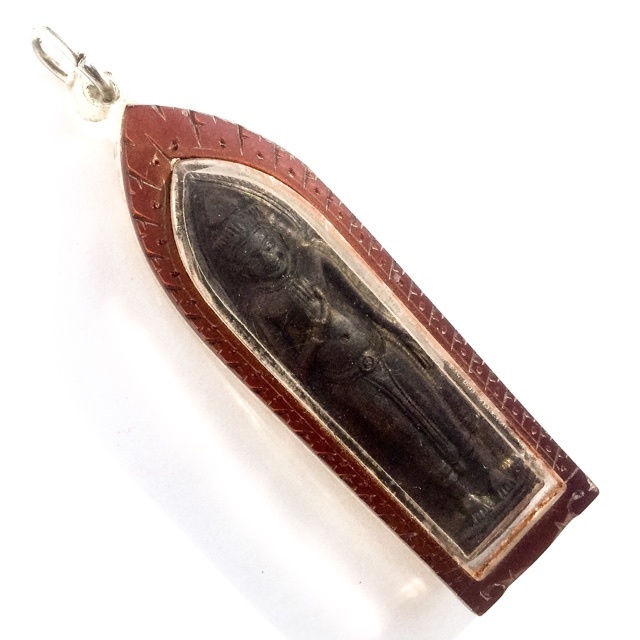 Pra Ruang Rang Pern - Pim Prataat Chedi Noon Dtua Phu - Nuea Loha Saksit (Sacred Artifact and Yantra Foil Metals) - Wat Doi Sutep 2515 BE - Blessed by LP To (Wat Pradoo Chimplee), LP Kasem, LP Hwaen (Wat Doi Mae Ping), LP Guay (Wat Kositaram).
This Fine Example of this Classic and Ultra Collectible Amulet from Wat Doi Sutep in Chiang Mai is in Absolute Pristine Condition, and is a highly prized amulet for the powerful blessings given by some of the Greatest Master Monks of that Era.
Pra Ruang Rang Pern Wat Doi Sutep 2515 BE - empowered in an Important and Officially Documented Putta Pisek ceremony at Wat Doi Sutep, with the Great Honorable Presence of the Great Arahant Luang Por Kasem Khemago, to assist in the Empowerment. This is the 'Pim Prataat Noon' (Raised relic Stupa), which is notable by the raised embossed Chedi Stupa on the rear face, there was also another version with an indented Chedi Stupa, known as 'Pim Prataat Jom'.
Blessed in Puttapisek by some of the Era's Greatest Practitioners, including Luang Phu To (Wat Pradoo Chimplee), the Great Arahant Luang Por Kasem Khemago (Sussaan Trailaks in Lampang), Ajarn Nam Gaew Jantr, (Wat Don Sala) LP Waen Sujino (Wat Doi Mae Pang), and Luang Por Guay, of Wat Kositaram.
Luang Por Guay Chudtintaro
The Devotees of Luang Por Guay revere and Seek this amulet extremely because of his Personal Involvement in the empowerment ceremony, and this in itself makes the amulet an ever rarer to find amulet. Luang Por Guay's amulets have reached the highest level of respect and collectorship in their history now, and are considered to have noticeable effects that are felt be everybody who owns and wears one of his amulets. The stories of confirmation of their power are more than can be counted, and his gereat Patipata and Exceedingly Powerful applied methods of Sorcery are a large part of what attributes to their power.
Luang Por Guay amulets are anyway now becoming so rare and ever increasing in price, that any editions which he was involved with are becoming highly sought after. Read full Biography of Luang Por Guay Chudtintaro - Wat Kositaram
Luang Por Kasem Khemago
The presence of Luang Por Kasem is in itself another factor which makes this amulet a highly faith instilling Buddhist Artifact. Luang Por Kasem Khemago of Sussaan Dtrailaks in Lampang is considered an Arahant in Thailand. His Birth was predicted by the Great Kroo Ba Srivichai naming him as the 'Meritorious One', and his Legend is One of Great renunciation and Purity.
Read Biography of Luang Por Kasem Khemago
Luang Phu To
In addition, the Powerful Magic of the Great Luang Phu To of Wat Pradoo Chimplee being bestowed upon this All Time Eternal Classic Buddhist Amulet, makes it Undoubtably a Best Choice for any and every Buddhist.
Luang Phu To was born on the 27th March 2429 BE in Ban Klong Bang Noi in Samut Prakarn and passed away on 5th March 2524 BE. His amulets are both highly revered for their sacred Power of Protection and Prosperity, but also as a connection and Buddhanissati reminder of the Great Guru master, to beseech his blessings through the amulet.
His amulets are of the most highly sought after of all Masters ever seen to grace the pages of any and every important amulet encyclopedia, and are the highly prized and jealously guarded treasures of the high end collector and devotee.
His many honorable awards of status reflect his great practice and diligence, since beginning to study the Dhamma Vinaya at Wat Pradoo as a Samanera Novice monk, through to become the Bishop of the Ta Pra Municipality (2463 BE), to becoming awarded the charge of being the Pra Kroo Sangka Wichit for the Abbot of Wat Maha Tat in 2457 BE.
In 2463 BE, Luang Phu To became ascended to the status of Pra Kroo Sanya Badtr Chan Dtri (Third Level, tantamount to Batchelor of Arts in Dhamma). In 2497 BE, Luang Phu then became promoted to Pra Kroo Sana Badtr Chan Toe (Second Level, tantamount to a Doctorate in Dhamma), of Royal Category. In the year 2500 BE, Luang Phu was then given the additional status of Upachaya Ordaining Officer.
In the year 2506 BE, Luang Phu attained the status of Pra Kroo Sanya Badtr Chan Ek (tantamount to a Masters Degree in Dhamma). In 2510 BE Luang Phu To was given the charge of being the Gammagarn treasurer of the Temples of Ta Pra Minicipality. Then, in 2511 BE, Luang Phu To was promoted once more to Pra Kroo Chan Kroo Pised (tantamount to an Honors degree in Dhamma).
In 2516 Luang Phu became Pra Racha Kana (Royal Appointment Sangha Comittee) and head officer of the General Affairs of Vipassana Practice. In 2521, Luang Phu To received the status of Pra Racha Kana Chan Rach (tantamount to being an Archbishop of the Royal Decree). His Blessings are believed to possess the most powerful protective power, and to increase success and prosperity.
The rear face shows the bulging protuding Chedi Stupa, which makes this a preferred Pim of the 'Chedi Noon' type. 'Noon' means 'Bulging' and 'Dtua Phu' means 'Male' This refers to the fact that the Chedi is bulging out and therefore male, the inwards receding version is the 'Dtua Mia', Female version.
Apart from the Pra Ruang Rang Pern,there were many other amulets blessed in this very same ceremony of importance, including the Pra Kring Chiang Saen, Rian Pra Putta Sihingk Buddha Coin, Rian Pra Jao Saedtangka Muni Buddha Coin (Wat Chiang Man), Rian Luang Por Tan Jai Buddha Coin Amulet, Rian Kroo Ba Sri Vichai Monk Coin Amulet, Rian Jao Kun Pra Racha Sit Ajarn Monk Coin Amulet, and the Rian Jao Kun Pra Apay Sarata Monk Coin Amulet. All of these Amulets are now Rare Collectibles, Extremely Valued by Devotees of the Northern Lanna Buddhist Traditions.
Temple:Wat Doi Sutep
Maker of Amulet:LP To, LP Kasem, LP Hwaen, LP Guay
Weight:40 Grams
Recommended Uses:Kong Grapan, Klaew Klaad
Size of Amulet:5 x 1.5 Cm