This list of Buddhist Guru Master monks will auto-update each time we add a new Master. Click each link in the list to view the amulets and read about each Guru Monk

External Pages
---
Pra Ruang Rang Pern Yuttahadthi Amulet - Blessed by Luang Por Mui, Pae, To, Noi, Ngern amongst 108 Great Master Monks - Wat Pa Lelai 2513 BE
02803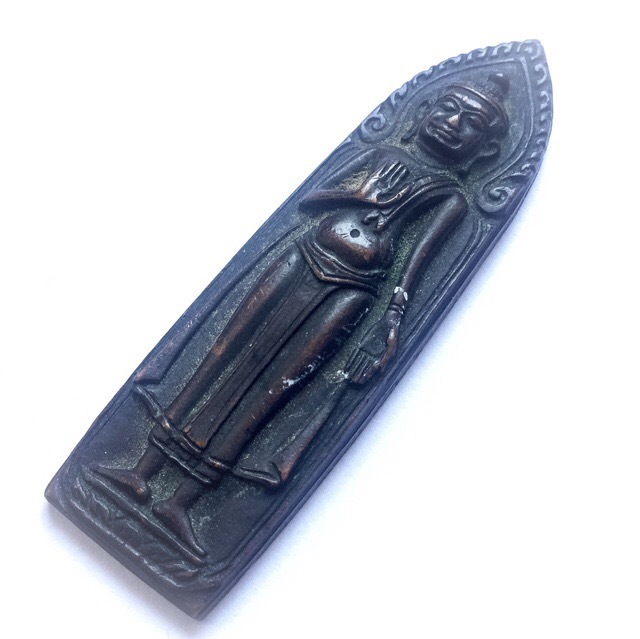 Pra Ruang Rang Pern Yuttahadthi Nuea Loha Saksit - 108 Master Monks Blessing - Wat Pa Lelai 2513 BE. A most exquisitely beautiful Sacred Buddhist Amulet in Sukhothai Artistic Style, with Immense Historic Importance
Great Blessings have been empowered upon this amulet, from some of that Era's Greatest Masters, including Luang Por Mui of Wat Don Rai, Luang Por Pae of Wat Pikul Tong, Luang Por To of Wat Pradoo Chimplee, Luang Por Noi of Wat Dhamma Sala, Luang Por Khom of Wat Pai Rong Wua, and Luang Por Ngern of Wat Don Yai Horm. Extremely Recommended Amulet!
The Pra Ruang Buddha Amulet 2513 BE of Wat Pa Lelai in Supan Buri, was created and blessed in the 'Wan Gong Tap Thai' National Military Celebration Day, with a very special Buddha Abhiseka Ceremony, which saw the presence of some of the Greatest Guru masters from around the Country appearing to lend their empowerments to this special edition coin of National Historic Importance. The Putta Pisek Ceremony was held on the 25th of January 2513 BE.
The coin was forged in the image of the Pra Ruang Yuttahandthi Don Chedi Standing Buddha. The Pra Ruang Standing Buddha is fashioned in the form of a standing Buddha, in the Ham Yati posture (forbidding relatives from quarreling).
There are various interpretations of who the Buddha image represents, the most common being that it is derived from the Pra Ruang Royal Family Lineage, who were the first and only rulers of the Sukhothai Kingdom Era of Thai History. King Pra Ruang was the father of Por Khun Ramkamhaeng, who invented the written Thai Language, and is revered as a Deity in his own right by Thai People.
In truth, the image is indeed that of the Buddha forbidding relatives, in Sukhothai Artistic Style. The Buddha is standing on a Lotus Dais within a crystal flamed arch. The right hand of the Buddha is raised up over the chest, with palm facing outwards. The left hand of the Buddha is lowered below the waistline, also palm facing outwards, bestowing blessings.
The image protrudes significantly from the flat surface of the amulet, in true 3 dimensional relief. The buddha trails a long Civara robe like a cape behind him and the body of the buddha is extremely elegantly fashioned with the typical curvature of Sukhothai Artistic Influence.
The Pra Ruang Rang Pern with its bullet-like shape, and elegantly styled Buddha image has always been an extremely popular amulet, not only for its powerful Kong Grapan Chadtri, Serm Yos, Klaew Klaad and Metta Maha Niyom Magical Powers, but also because of its immense beauty as a piece of fine miniature Buddhist Art. The amulet is known as 'Rang Pern' which refers to its 'bullet holder' or 'bullet belt' style appearance of projectile ammunition.
The rear face of the amulet has a convex surface, and has King Naresuan riding on an elephant within a raised circle in the center, to bring Victory and Maha Amnaj Commanding Power in all Conquests.
Piti Putta Pisek (Buddha Abhiseka Ceremony)
The lighting of the Victory Candle was performed by Somdej Pra Wanaradt, of Wat Chetupon. Some of the 108 Monks present in the Ceremony were;
Luang Por Pueang (Wat Suvarnabhumi, Supan Buri), Pra Racha Tammaporn (Luang Por Ngern of Wat Don Yai Horm in Nakorn Pathom), Pra Racha Puttirangsri (Pra Ajarn Jiam of Wat Sotorn of the Luang Por Sotorn Buddha, in Chachoeng Sao), Pra Ragkhidtawan Muni (Luang Por Thin of Wat Pha Lelai Worawiharn, in Supan Buri), Pra Kroo Sila Prohm Sopidt (Luang Por Pae, of Wat Pikul Tong in Singhburi), Pra Kroo Bhavana Gidtikun (Luang Por Noi of Wat Dhamma Sala in Nakorn Pathom), Pra Kroo Wiriya Gidti (Luang Por To of Wat Pradoo Chimplee in Ton Buri), Pra Kroo Sopana Ganlayanawadtra (Luang Por Seng of Wat Ganlayanamit in Ton Buri), Pra Kroo Nonta Gij Wimon (Luang Por Chern of Wat Dtamnak Nuea, in Nonta Buri), Pra Kroo Winij Wiharagarn (Luang Por Tiam of Wat Kasatratirach in Ayuttaya), Pra Kroo Upai Padatorn (Luang Por Khom, of Wat Phai Rong Wua, in Supan Buri), Pra Ajarn Sawai, of Wat Racha Nadda In Bangkok), Pra Ajarn Luang Por Horm (Wat Sak Hmak in Rayong), Pra Ajarn Luang Por Gee, (Wat Hoo Chang, in Nontaburi), and Pra Kroo Suwannawutajarn (Luang Por Mui of Wat Don Rai).
Temple:Wat Pa Lelai (Supan Buri)
Weight:17.4 Grams
Recommended Uses:Protection, Invincibility, Increase Status and Commanding Power, Mercy Charm, Wealth Increase, Improve Karma
Size of Amulet:5 x 1.5 Cm
Encasement Options
Solid Gold Custom Casing (Waterproo​​​​​​​f) - We will email you with a price quote according to current Gold Prices, and Invoice You after Agreement. (0) Waterproof Casing (9) Without Casing (0)