This list of Buddhist Guru Master monks will auto-update each time we add a new Master. Click each link in the list to view the amulets and read about each Guru Monk

External Pages
---
Pra Ruang Rung Rojana - Pid Tong 92 Edition - Nuea Rakang (Temple Bell Brass) Pra Pathom Chedi Nakorn Pathom 2550 BE
02607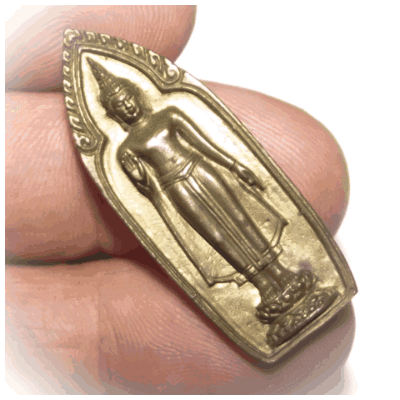 Rian Lor Pra Ruang Rojana Rit (Vairocana Buddha) Pra Pathom Chedi Nakorn Pathom - Nuea Rakang 2550 BE - Pid Tong 92 years Edition
The Rian Rojana Rit is a Vairocana standing Buddha, known as 'Pra Ruang' in Thailand. This is a Classic and Authenticated Amulet with code stamp making it a high standard amulet that possesses all the marks of quality of a collector's class Pim Niyom amulet, that is however, still a very price-worthy amulet, with a long future that will stand the test of time, and is an accepted amulet in collector and expert circles.
The code stamping of coin amulets is something that is not found on all amulets, but those which possess this anti forgery, are the amulets which can only increase in status and value as they increase in age. This edition is a classic and historical edition which marked the even of the gold leaf pasting ceremony to cover the Pra Ruang Giant Standing Buddha of the Pathom Chedi Temple in Nakorn Pathom in 2550 BE.
These particular versions in Nuea Rakang (Temple Bell Brass), were made from an ancient centuries old Temple Bell that was struck by lightning, and smelted it down with a large number of Sacred Yantra Foils inscribed my many great Guru Master Monks, and empowered the metal ingots resulting from the smelting ceremony in a large Buddha Abhiseka ceremony.
Funds from this edition were used to pay for the solid gold used to cover the giant Pra Ruang Buddha at the Pathom Chedi temple. The gold covering process began in January 2550 BE, 92 years after the Pra Ruang Buddha statue was installed at the temple in 2457 BE. In order to pay for the large amount of solid gold needed to complete this immensely expensive process, a number of different models were created, totalling 25,199 Coins in all;
99 Coins were made in Solid Gold
2,550 Coins were made in Nuea Sam Kasat
22,5550 Coins were made in Nuea Rakang
Each coin was stamped with a series code stamp for documentation and authentication purposes. The amulets bear the image of the Pra Ruang Vairocana Buddha, and this edition, due to the meritorious event of the covering of the statue in gold, was a pre-order release, which depleted before the Buddha Abhiseka, leaving only very few amulets left to those who did not pre-order.
About the Pra Ruang Buddha Statue and the Pathom Chedi Stupa Temple
The Pra Ruang Buddha stands 120.45 Meters high, with the dais. The Chedi is measuring a circumference of 235.50 Meters. Four Vihara shrines at the cardinal points surround it. The Buddha statue itself is made from brick, with a cement plaster covering. Two crystal walls cover it (Kampaeng Kaew). The patio around the Stupa covers 526 Meters around the Stupa.
Temple:Pra Pthom Chedi
Weight:5 Grams
Recommended Uses:Protection and Auspicious Blessings
Number of Amulets Made:22,550
Size of Amulet:3 x 1 Cm
Encasement Options
Waterproof Casing (9) Solid gold custom casing (we will email you with a price quote according to current gold prices at the time of inquiry) (0) Without Casing (0)