This list of Buddhist Guru Master monks will auto-update each time we add a new Master. Click each link in the list to view the amulets and read about each Guru Monk

External Pages
---
Pra Ruesi Nuea Pong Puttakun Klueab Ya - Chalong Sala Garn Bprian Edition 2538 BE - Luang Phu Prohmma
03180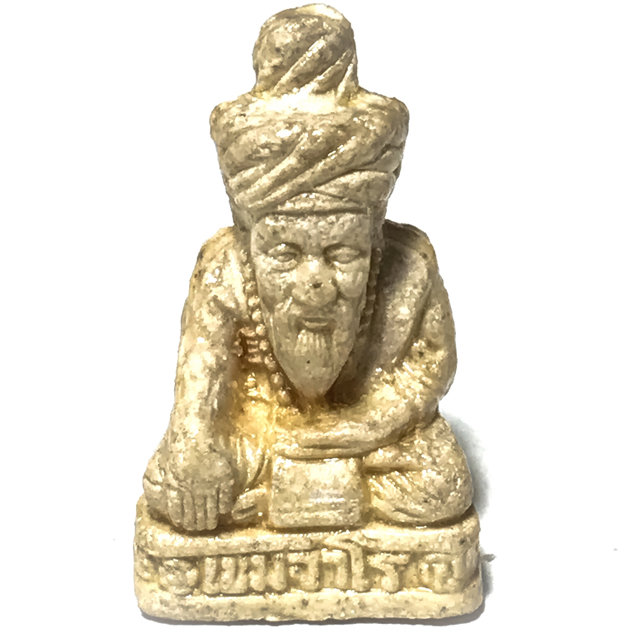 Pra Lersi Nang Samadhi Nuea Pong Puttakun Klueab Ya 2538 BE Lersi Hermit God amulet, from Luang Phu Prohmma. The amulet was released in the Chalong Sala Bprian Dhamma Study Hall Building Edition, at Wat Suan Himapant Nang Koi. This model is made from Puttakun Powders with a Herbal Lacquer coating, and is along with all amulets of Luang Phu Prohmma, extremely rare and highly regarded, and sought after by the devotees of Luang Phu Prohmma, and those seeking Kong Grapan Chadtri Maha Ud Klaew Klaad power of Invincibility, Evasion and Protection.
Luang Phu Prohmma of Wat Suan Himapant Nang Koi (Ubon Rachatani), is one of Thailands Historically famous Gaeji Ajarn Master Monks of the Isan region. He ordained as a Samanera at the age of 12, and learned how to make Buddha Magic at this ripe young age with Somdej Lun, a Khmer Master of Jampa Sak. He studied for 6 years under this Master, who passed away at this point. After the death of his teacher in Buddha Magic, Luang Por Prohm wandered around the country in Tudong practice (aimpless wandering of an ascetic). It was during this time that Luang Phu Prohmma was able to meet and study under the great Arahant Luang Phu Mun Puratto.
After studying with Luang Phu Mun, LP Prohmma then went to live in a Cave on the peak of a mountain called Khao Kway, and he remained here practicing in solitary for a period of 45 years. After this, he crossed the bhorder into Thailand in the year 2533, where he went to stay in a cave where he had noticed that many wild animals would come and cross paths and coexist together. He stayed in this cave practicing, and his merits and renunciation became so well known, that even Somdej Prataep Radtana Rachasuda Siam Boroma Rachachonanee (the Royal Princess), travelled twice to pay reverence and offerings to Luang Phu Prohmma.
Up to his death, Luang Phu Prohmma had helped the local folk of the forest and farmers with various projects to develop the area, or preserve the wild forest and natural habitat. Luang Phu Prohmma of Samnak Songk Tham Suan Hin Gaew (Phaa Nang Koi), Poo Grajiaw mountain, Ban Dong Na, Sri Mueang Mai, Ubon Rachatani, passed away from heart disease in 2545 BE at the respectable age of 105 years old
Those who worship the Lersi or practice Lersi-ism, or use the Lersi amulets are very familiar with the Lersi Loi Ongk statuettes of Luang Phu Prohmma for being of the finest Lersi statuettes available, and made by a Monk who has practiced in the way of the Lersi for all of his adult life, living in caves and stripped bare of luxuries and comforts, and spending the dark hours in solitude and meditation in the forest caves. A Lersi amulet by a true Lersi. Luang Phu Prohmma's amulets are of high credibility, authentic power, and fine quality craftsmanship.
LP Prohmma is known to make extremely powerful Lersi amulets, and this is due to the fact that, as he was wandering on Tudong,he learned Wicha from a Lersi who was living in the forest. This was part of what caused LP Prohmma to be inclined to make so many tens of famous editions of Lersi amulets (for it is the Lersi for which he is famous in the amulet world) Most editions of his Lersi amulets were made from sacred herbal powders and pollens, but because of their brittleness and easy to break, the Devotees began to ask for Lersi amulets as metal coins or statuettes.
The LP Prohmma Lersi amulets are of the finest and most powerful, and are a very recommendable item for those who worship the Lersi, practice meditation, healing, magic. Also a perfect amulet for those who are in the performers or entertainment industry, such as comedians, actors and actresses, Musicians and those who practice esoteric arts. Protects against black magic, increases power of meditation, gain prosperity, protect from accidents and attacks, promotion in profession, success with less obstacles.
Around the year 2536 BE, Luang Phu Prohmma's amulets hit the news in a big way, when a famous politician of Nakorn Sawan Proovince was caught up in a shooting in an assassination attempt, and was shot at point blank range as he sat at a red light in his car. The automatic weapon used to shoot with riddled the car with bullets and the windscreen was totally smashed, but the Politician who was shot was completely unharmed by the bullets. (the bullets hit him, but did not pierce his skin).
The politician was wearing a single amulet, that of Luang Phu Prohmma. Since this event, the amulets of Luang Phu Prohmma have more or less disappeared from public amulet marketplaces and showrooms to the greater extent, and the value rose manyfold, making the amulets of Luang Phu Prohmma not only sacred and beautiful, but confirmably powerful, extremely rare, and carry a pricetag that reflects their status.
The Lersi/Ruesi
The Lersi Hermit Gods were the Devas who created the Earthly Arts and Sciences, and Bestowed them through transmission to the Denizens of earth. They Composed the Psalms of Heaven (the Tri Veda), which was in turn written down by the earthly Lersi (Rishi) who meditated and heard the Angelic Beings reciting these Psalms, and wrote them down.
The Lersi all are disciples of the 'Maha Rishi' (Great Lersi), the God Shiva, who is the highest of all Lersi sages. The Lersi serve to protect and improve all facets of life, as to Bucha the Pra Lersi Hermit God sages, is to Invoke Great Prosperity and Success into one's life. Por Gae Lersi, is a highly revered Thai Lersi Deity of Ancient Renown. There are many Legends about many different Lersi. One of the Lersi to be found so often mentioned in Thai Mythology, is Por Gae Lersi Dta Fai.
(Sometimes spelled "Pho Kae Ta Fai"). The legend of Highly Developed Beings has been told in different Mythologies and Cultures around the world. In Thailand there are also various legends of "Pu Wised", or Lersi , Arahants or Yogis. These Lersi are said to have possessed various powers, such as Knowledge of herbal medicines, minerals, magical invocations, and supernatural abilities, such as Levitation, Teleportation, Alchemy, and Mind Reading.
These beings with special powers are reputed to have lived recluse lives in the forest, on mountains, or in caves; practicing meditative skills and mental development using secret methods passed on from mouth to ear by their fore-goers/masters. The Lersi, or also known as 'Ruesi', are the holders of the Great Kampira Grimoires, and Magical Wicha of the Dtamra Saiywaet, and are the Root Guru Masters of the Magical Tradition in Buddhist Thailand. Lersi Deva Hermit Gods are Revered in Thailand under the Name 'Por Gae'.
Por Gae defends these 'Wicha' Ethereal knowledge from both the ignorant who wish to destroy them, as well as the ignorant not ready to learn them. This Lersi commands respect and gives knowledge to those ready to accept the power that comes with the Lersi Path. Worshipping the Ruesi brings a full range of blessings and protective magic of the Boroma Kroo and the Immense Power and Protection of the 108 Ruesi Hermit Sages. Kong Grapan, Klaew Kaad, Gae Aathan, Gan Kun Sai, Choke Lap, Kaa Khaay, Metta Mahaniyom, Serm Duang, Maha Sanaeh.
All of these blessings are given with the practice of revering and following the Ruesi Devas. It requires somewhat more effort to practice revering the Ruesi, than to wear an amulet, because the practice of Revering Ruesi is a regular applied practice and you must think that the Ruesi are always with you, and that one lives and behaves as a Looksit of the Ruesi Boroma Kroo Por Gae. To Bucha the Ruesi brings Protection from physical and magical dangers (black magic) had Kong Grapan, Maha Ud and Klaew Klaad Properties.
Gae Aathan (remove Black Magic), Gan Phii (scare Ghosts away), Metta Mahaniyom (great preference and popularity), Maha Sanaeh (charm and hypnotic effect, attraction to the opposite sex). Serm Duang (invoke an auspicious fate and destiny, horoscope). Most traditional Lersi respect the Pantheon of Higher Beings according to the Brahmin tradition. Namely; Lord Brahma Shiva and Vishnu. Most Lersi practice the development of power and evocation/invocation(Peng Kasin). The word 'Peng', means in principle, to "stare", but in this case, it really means to insert, or transform matter or substance, whether it be physical element, or a spiritual element.
The Ruesi Path is now becoming a very popular alternative to the General Buddhist path, because even a layperson or a married person is able to practice the Ruesi way, and advance within the framework of their own lifestyle. No ordination as Monk is necessary, but a true diligent attitude and effort to practice the Mindfulness path and the path of meditative skill and wisdom is crucial and must be applied.
Kata Bucha Lersi 108 - Compendium of Kata for different kinds of Lersi
Wai Kroo Lersi Kobutra
Always chant the Praise to Buddha first three times;
Na Mo Dtassa Pakawadto Arahadto Sammaa Samputtassa
Na Mo Dtassa Pakawadto Arahadto Sammaa Samputtassa
Na Mo Dtassa Pakawadto Arahadto Sammaa Samputtassa
Chant 3 times on your knees with palms placed together, and bowing each time, with each palm to the floor and your outstretched thumbs touching at the tips, this leaves just enough space for the forehead to bow down and touch the floor between your two hands.
Then chant the refuge in the triple gem until entering Nirvana – chant with with hands raised in prayer, and bow after each line is finished;
Refuge;
Puttang Cheewidtang Yaawanippaanang Saranang Kyajchaami (bow once)
Tammang Cheewidtang Yaawanippaanang Saranang Kyajchaami (bow once)
Sankang Cheewidtang Yaawanippaanang Saranang Kyajchaami (bow once)
Tudtiyambpi;
Puttang Cheewidtang Yaawanippaanang Saranang Kyajchaami (bow once)
Tammang Cheewidtang Yaawanippaanang Saranang Kyajchaami (bow once)
Sankang Cheewidtang Yaawanippaanang Saranang Kyajchaami (bow once)
Dtadtiyambpi;
Puttang Cheewidtang Yaawanippaanang Saranang Kyajchaami (bow once)
Tammang Cheewidtang Yaawanippaanang Saranang Kyajchaami (bow once)
Sankang Cheewidtang Yaawanippaanang Saranang Kyajchaami (bow once)
Then you can chant all or any of the following Kata when and as you feel the wish or need, as additional Bucha
Short Kata to the 108 Ruesi;
Om Surawepoya Ruesi Poya Na Ma Ha
Kata to ask for the blessings of the Ruesi;
Om Dtwa Mewamaadtaa Ja Bpidtaa Dtwa Mewa Dtwa Mewa Pantusaja Sakhaa Dtwa Mewa Dtwa Mewa Witayaa Tarawinam Dtwa Mewa Dtwa Mewa Sarawam Ma Ma Tewa Tewa
Kata Bucha Por Gae Ruesi Dta Fai

Ugaasa imang akkee paahoo buppang Ahang wantaa aajaariyang sappasayang winaassandti
Sittigaariya abparabpachaa imasaming pawandtume
Tudtiyambi – imang akkee paahoo buppang Ahang wantaa aajaariyang sappasayang winaassandti
Sittigaariya abparabpachaa imasaming pawandtume
Dtadtiyambpi – imang akkee paahoo buppang Ahang wantaa aajaariyang sappasayang winaassandti
Sittigaariya abparabpachaa imasaming pawandtume
Kata Bucha Ruesi Narai;
Om Imasaming Pra Bprakone Tap Pra Muneetewaa Hidtaa Dtumhe Bparipunchandtu
Tudtiyambpi – Imasaming Pra Bprakone Tap Pra Muneetewaa Hidtaa Dtumhe Bparipunchandtu
Dtadtiyambpi – Imasaming Pra Bprakone Tap Pra Muneetewaa Hidtaa Dtumhe Bparipunchandtu
General Kata (Good for all Ruesi)
Namasa Dtisadtawaa Isisitti Lokanaatathang
Anudt Dtarang Isee Ja Pantanang
Saadtraa Ahang Wantaami Dtang Isisittiwesa
Temple:Wat Suan Himapant Nang Koi
Maker of Amulet:Luang Phu Prohmma
Weight:3 Grams
Recommended Uses:Klaew Klaad, Kong Grapan Chadtri, Maha Ud, Serm Yos, Maha Lap, Serm Baramee
Size of Amulet:3 x 1.5 Cm
Encasement Options
Solid Gold Custom Casing (Waterproo​​​​​​​​f) - We will email you with a price quote according to current Gold Prices, and Invoice You after Agreement (0) Waterproof Casing (9) None (0)