This list of Buddhist Guru Master monks will auto-update each time we add a new Master. Click each link in the list to view the amulets and read about each Guru Monk

External Pages
---
Pra San Yern (Pra Lila) - Walking Buddha Amulet - Maekasit Alchemical Metal with Meteorite - Luang Por Guay Wat Kositaram (2448 - 2522 BE)
02641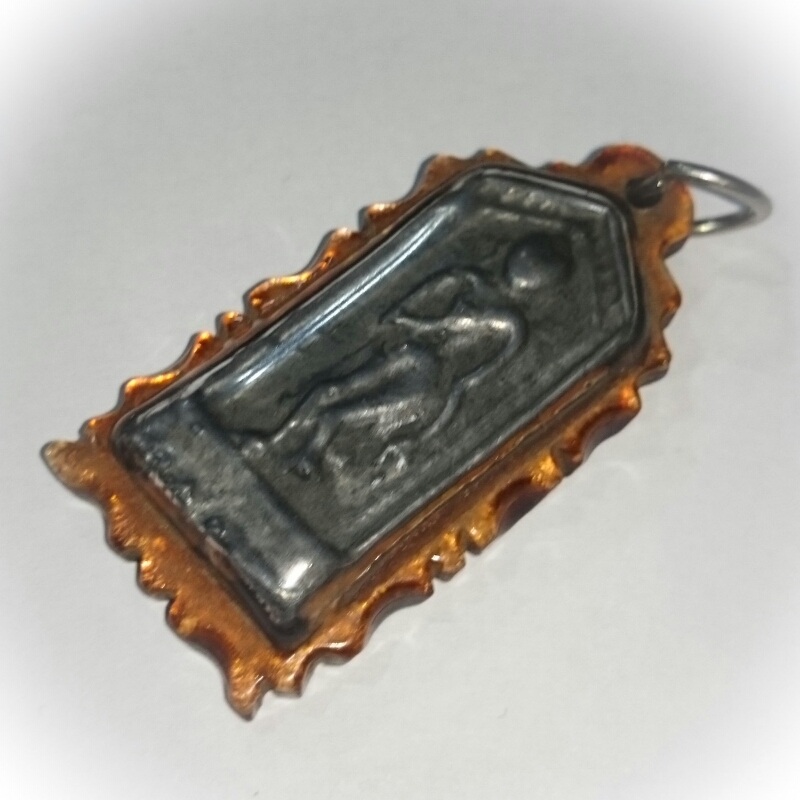 Pra Lila walking Buddha Metallic Medallion amulet in 'Nuea Maekasit Pasom Ukabat' (Alchemical Metall Alloy with Meterorite) An early and world famous classic amulet from the 'Yuk Dton' (Early Era) of the Great Luang Por Guay, of Wat Kositaram. The amulet is estimated to have been made roughly between the years 2480 and 2490 BE.
The Pra San Yern, or 'Pra Lila' amulets of Luang Por Guay are found in both Earthen Clay and in Metallic form. This particular model is a very rare version, made from Nuea Maekasit - Maekasit is an Alchemical metallic Alloy, made using Ancient Khmer Sorcery to transform Mercury into a hard substance, and sometimes mix it with other Sacred Subsyances and metals.
Nuea Maekasit is obtained by Alchemically smelting Iron Artifacts, with Mercury as the main base Magical ingredient, and performing Elemental Invocations until the structure of the metal changes, and becomes a sacred Metal of Alchemical Nature. Alchemy and Metallurgy are combined here as one facet of the various aspects of empowerment of the amulet. The Makasit and Maekapat Sacred Alchemical Metals are not only especially apt for channelling Magical Forces, but also is a preferred substance for aesthetic reason.
Often looking like the interior is filled with Silvery Lek Lai, if you place the metal in water, it changes color, and also with passage of time, the color and textures of the metal change color. It has the reputation of being able to 'Hnun Duang Chadtaa' (improve Karma and Horoscope, Luck, Fortune, Destiny and Fate). It is also reputed to be able to forewarn of Dangers or Enemies.
Luang Por Guay's amulets have reached the highest level of respect and collectorship in their history now, and are considered to have noticeable effects that are felt be everybody who owns and wears one of his amulets. The stories of confirmation of their power are more than can be counted, and his gereat Patipata and Exceedingly Powerful applied methods of Sorcery are a large part of what attributes to their power.
His amulets are now extremely rare to find because those who already own any will never wish to part with them again, and they are hence becoming one of the rarest kind of amulets to find these days. Usuallly this happens because of specualtion by the collector scene, but in the case of Luang Por Guays amulets, it has happened primarily for their Sacred Value, much much more than for their collectorship and artistic value, which is of course also extremely high.
Luang Por Guay is famous for his immensely diligent and complex manner of empowering (Pluk Sek) amulets, which involved daily empowerments at various times of day namely at dawn, morning, midday, afternoon, evening and midnight.
In addition, he would perform empowerments during the various 'Reuks' (Astrological Influentian moments), to bring total coverage of protection and fortuitous blessings to all who might wear and Bucha his amulets, namely the 'Reuks Mongkol' Buddhist Auspicious alignments, the 'Reuks Jone' (Gangster Alignments) Inauspicious Alignments, and the 'Reuks Bun Paya Marn' Demonic Influential Alignments.
This means that it did not matter who wore his amulets, Good people would wear them, Gangsters would wear them, anybody could wear them without loss of magical effect.
Luang Por Guay was born on 2nd of November 2448 in the year of the snake, in Soi 9, Ban Kae , Tambon Bang Khud, Sakburi, Chainat. His Patipata trajectory as a Buddhist Guru Monk is an amazing story that has enchanted Buddhist Folk to become his devoted followers all around Thailand, for his obvious extreme dedication to high empowerment methods using Occult Buddha Magic to create extremely powerful Sacred Amulets. He was also a Grand Master of Sak Yant Tattoos, which were highly reputed for their Kong Grapan Power.
Luang Por Guay Passed away under miraculous circumstances on the 12th April in the year 2522 BE as foretold by himself.
Read full Biography of Luang Por Guay Chudtintaro - Wat Kositaram
Temple:Wat Kositaram
Year of Issue:
Between 2480 - 2490 BE
Maker of Amulet:Luang Por Guay Chidtintaro
Weight:10 Grams
Recommended Uses:Metta Mahaniyom, Maha Lap, Maha Sanaeh.
Number of Amulets Made:Unknown