This list of Buddhist Guru Master monks will auto-update each time we add a new Master. Click each link in the list to view the amulets and read about each Guru Monk

External Pages
---
Pra Sangkajjai Maha Lap 2519 BE Nuea Nava Loha - Luang Por Phang Jidtakudto Wat Kongka Kirikhaet
03167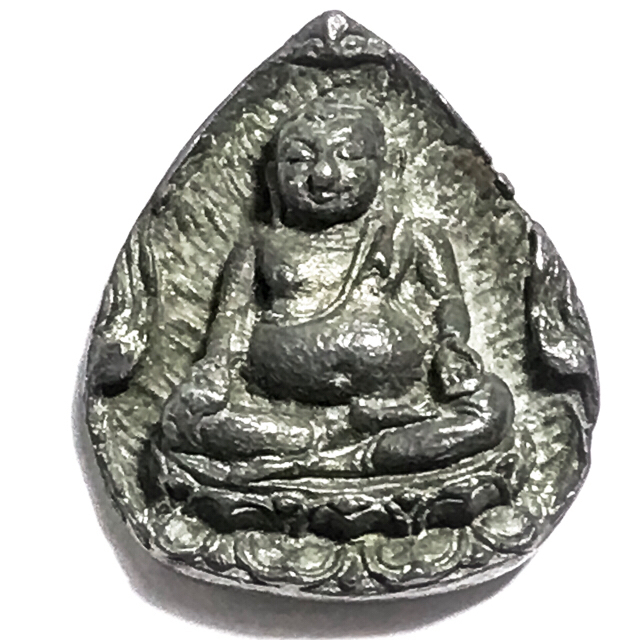 Highly Preferred Pra Niyom class Rian Roop Lor Gleep Bua Pra Sangkajjai Maha Lap 2519 BE, in Nuea Nava Loha, from Isan Master Monk, Luang Por Phang Jidtakudto, of Wat Kongka Kirikhaet Temple, in Khon Kaen.
The coin is shaped in lotus petal form, which is known as 'Gleep Bua'. The front face features the Pra Sangkajjayana Arahant, seated in Lotus Posture with the lotus petal shaped arch. Released in Buddha Abhiseka Ceremony and distributed to devotees during the fundraising of the building of the Chedi Chai Mongkol Stupa in 2519 BE This is a Pra Niyom amulet of the Tamniab Wadthumongkol (official pantheon), and is a highly desirable acquisition for serious collectors and devotees of Luang Por Phang amulets, and for collectors of competition class category Guru Monk Coins.
Nava Loha is a special and very preferred Sacred Metal made from 9 kinds of different metallic substances, which include silver and gold, and smelted ancient artefacts, such as Buddha and Deity statues and amulets, and ingots smelted from Yantra foils with the spell inscriptions of Great Sorceror Monks. The metals are smelted into one sacred Alloy with ritual incantations.
Ppra Sangkajjai is one of the most popular amjulets for Powerful Maha Lap, Metta Maha Niyom, Maha Pokasap and Maha Sanaeh Power. Pra Sangkajjai represents one of the Pra Sidtisawok Aedtakka (One of the Buddha's the most admired and praised practitioners).
The Buddha praised him for his ability to put long complex teachings into short understandable formulas. He has a golden tinted skin complexion, and was originally so similar in appearance and stature to the Lord Buddha, that sometimes people would mistake him for the Buddha if seen from a distance. For this reason, he used his mind powers to force his body to grow fatter and not so handsome as before, in order to not confuse others if he was the Buddha or not.
The ancient masters would often use the visual symbolism of Pra Sangkajjai's features to create statues in this image, which has served as an important preserver of the Faith over the Centuries, and a very old form of Buddha image dating back to the early times of Buddhism. Pra Maha Sangkajjai was originally called 'Ganjana', which means 'Gold' in Pali. He was the son of a Brahman called Bpurohidtgajjayana Kodtra in the City of Usenni.
He studied and completed the Traiwaet (Tri Veda). After his father passed away, he inherited the title of Bpurohidt (advisor to the King). This happened in the time of the King Jantabajjodti
Pra Sangkajjai had 7 close companions who came with himn to attend the Buddhas teachings at Wat Weluwanaram, and after listening to the Dhamma, becamse Arahants instantly and asked to ordain. In the Turasutra it is mentioned that Pra Sangkajjai lived to the age of 120 years old. Pra Sangkajjai Amulets. Pra Maha Sangkajjai was originally called 'Ganjana', which means 'Gold' in Pali. He was the son of a Brahman called Bpurohidtgajjayana Kodtra in the City of Usenni.
He studied and completed the Traiwaet (Tri Veda). After his father passed away, he inherited the title of Bpurohidt (advisor to the King). This happened in the time of the King Jantabajjodti
Pra Sangkajjai had 7 close companions who came with him to attend the Buddhas teachings at Wat Weluwanaram, and after listening to the Dhamma, becamse Arahants instantly and asked to ordain. In the Turasutra it is mentioned that Pra Sangkajjai lived to the age of 120 years old. Pra Sangkajjai Amulets. Sangkajjai amulets are also sometimes made as Pid Ta amulet posture too, as a mix of wealth increase, and protection from harm amulet.
Kata Pra Sangkajjai Tutorial
Kata Hua Jai Bucha Pra Sangkajjai
Arahandti Gajjaayana Thaero Mahaa Poko Pawandtumae.
This Kata calls luck and fortune and brings wealth, and other great treasures.
Full Version Kata Bucha Pra Sangkajjai
Gajjaiyana Ja Mahaa Thaero Putto Puttaanang Puttadtang Puttanja Putta Sapaa Sidtang Puttadtang Samanubpadt-dto Puttachodtang Namaa Mihang Bpiyo Taewa Manussaanang Bpiyo Prahma Namudtamo Bpiyo Naaka Subannaanang Bpiyinsiyang Namaa Mihang Sappae Chanaa Pahuu Chanaa Bpuriso Chanaa Idthii Chanaa Raachaa Paakinii Jidt-dtang Aakajchaahi Bpiyang Ma Ma
Chanting this Kata is Good for increasing popularity, business sales and promoted status. In addition, Sangkajjai amulets have the special abstract magical quality of increasing your common sense, mindfulness and wisdom is also present within this amulet. This particular aspect of the Sangkajjai magic is what is called a 'Prisnatam' (mysterious phenomenon).

Below; some of the 2519 BE amulet editions of Luang Por Phang, including the Pra Sangkajjai Gleeb Bua

The year opf 2519 BE saw Luang Por Phang release a large pantheon of amulets, man y of which are now extreme rarities and highly valued in the collector scene, but are very hard to come across due to the fact that Luang Por Phang's devotees are never prone to letting go of their amulets. The reluctance of decotees to sell has made Luang Por Phang's amulets one of the more difficult pantheons to collect.
---
Luang Por Phang Jidtakudto was born under the name of 'Phang Krong Yudti' on Tuesday 2445 BE in Ban Gudtakasian, in Tambon Khuean, Amper Khuang Nai in Ubon Rachathani. He had two siblings The young Phang was Ordained into the Sangha at the age of 20 years old in 2465 into the Maha Nikaya sect, and Wat Khueang Klang, Ubon Rachathani.
His Upachaya was Pra Kroo Luang Por Duan, Pra Ajarn dee was his Gammawājājarn. After his Ordination, Luang Por Phang then studied Dhamma Vinaya with Luang Por Somkuan, . After one year of Ordination, Luang Por Disrobed, and at the age of 23, he married with Miss Jan dee Say Sema, a girl from Ban Daeng Mor, Ubon Rachathani. They remained married for a period of 23 Years, but never had any children, except for taking care of an orphan whose parents had passed away.
As Luang Por Phang reached the age of 43, both Luang Por Phang, and his Wife, ordained, Luang Por Phang becoming a Bhikkhu, and his wife went to Ordain as a Buddhist Nun (Mae Chee). They gave all of their possessions to their adopted child Miss Noo Pan, who was married with family already. Luang Por Phang was reordained back into the Maha Nikaya lineage sect, this time at Wat Koo Khad, in Ban Sri Sukh township, in Ubon Rachathani.
This time Pra Kroo Sri Sydtaporn (Luang Por Dter) was his Upachaya. His Pra Gammawājājarn's name is undocumented. Luang Por stayed officially at Wat Koo Khad, but in fact also learned to practice Kammathāna Vipassana at Wat Pha Warin Chamrab, with Pra Ajarn Singh and Pra Ajarn Maha Bpin.
When Luang Por Phang reached the age of 47 however, he changed sect lineages to enter into the Tammayut Forest Monk Lineage and was Ordained as a Tammayut Monk at Wat Ban None (also known as Wat Tung) with Pra Maha Orn as his Upachaya and Pra Maha Sai as his Pra Gammawājājārn, and Pra Maha Luang Por Jantr as his Pra Anusāwanājārn.
His Ordination as a Tammayut Monk took place on Wednesday the 23rd of May 2491 BE, marking his third and final Ordination. Luang Por Phang then continued to practice the Kamathāna Vipassana method with Pra Ajarn Singh, for some years, and finally set out in solitary to practice Tudong (Tudhanka) Forest wandering on his own, to develop in his skills and powers.
It was then that he was able to find and learn to practice under the tutelage of the Great Pra Ajarn Mun Puratoo, the founder of the Thai Kamathāna Forest Tradition lineage at Wat Ban Namon in Sakon Nakorn. After receiving tutelage from Ajarn Mun, he continued with his solitary Tudong Forest wandering. During his forest wanderings, he came to stay at Wat Pha Ballanksilatip in Ban Taen, Khon Kaen, and stopped to stay there for one year.
Once the rainy season retreat was over, Luang Por Phang then wandered out again and came past the municipality of Manja Kiri in Ban Soke Nam Khun.
The local devotees of the area saw Luang Por Phang was staying in the forest, and beseeched him to stay for a while, asking him to stay and practice at the foot of the Pu Pa Daeng mountain. This place was considered very sacred to the local folk, and there was a water spring where water flowed out all the year round.
Luang Por Phang saw the place, and was astounded to see that it was the place he had been having visions of in meditation for many years already, and so decided it was destined for him to stay there. Until Luang Por Phang's appearance, no monk had ever been able to stay iin this place, for its powerful local spirits and magic present, but Luang Por Phang was able to remain there quite easily.
Luang Por Phang then invited the local devotees to help him to build a temple there. The locals of this area used to call this sacred mountain water source 'Doon', and so in those days as the temple was rising up into existence, they called it 'Wat Doon. Luang Por Phang stayed on building the temple of Wat Doon, occasionally traveling out into the forest on Tudong, and had various miraculous adventures during those journeys he made in solitary into the deep forests, and mastered his Wicha.
He remained faithful to the simple ways of a Bhikkhu and endured the hardships of a Tudong Monk, and was thus a well attained 'Pra Subattibanno' (Good Bhikkhu of High Endurance, Renunciation and Purity). The temple of Wat Doon was given the official name as we know it today of Wat Udom Kongka Kirikhaet.
Other Meritorious Deeds of Luang Por Phang;
In the year 2505 BE Luang Por Phang constructed yet another temple in Ban Jaeng Tab Ma, in Manja Kiri Municipality, Khon Kaen, a small distance away from Wat Udom Kongka Kirikhaet, about 4 Kilometers to the east. This temple was given the name 'Wat Pha Pattana Kiri', or commonly known by the local devotees as 'Wat Ban Jaeng'
Another great Meritorious deed of Luang Por Phang, was that he built a road (widening of the road) which was too thin and impossible for the local farmers and other traffic to navigate along without difficulty, withough any need of government funding, and presided over the whole construction process, to lessen the problems of locals of the area, and solve the problem of lack of funds of the local provincial government.
Luang Por Phang also pestered the local Government in the department of public highways to build another road widening and lengthening to bring devotees to the temple (for there was no real road to speak of for devotees to come to the temple), which took him constant efforts writing to the government offices, between the years 2507 BE, and 2523 BE. Finally, the Government assisted to build the road in the year 2523 BE, after his letters to them and requests were finally heard. His patience and persistence won out in the end, to give the locals a road to be able to use for their needs, and to reach the temple without having to cross wild territory
In the year 2523 BE, Luang Por Phang sponsored the building of the Pratat Kham Kaen Sirodom Relic Stupa Shrine which stands before the Central Municipal Building of Khon Kaen City, with the assistance and donations of the local devotees, to celebrate two hundred years of the Ratanakosin Era. On the 31st march 2525, Somdej Pra Sangkarach Sakol Maha Sangka Barinayok (Somdej Prayan Sangworn Pra Sangkaracha Royal Head Monk, came to perform the Inauguration of the Pratat relic Shrine for the Local Buddhist Folk to be able to perform Bucha and Revere the shrine.
On the 28th of November, Luang Por Phang was admitted to Hospital and was found to have Cancer of the Gall Bladder. On the 23rd of February 2525, Luang Por was readmitted to the Paet Banya hospital because he felt rather weak, and was suffering internal bleeding, and his heart muscles were having problems pumping his heart.
On 16th March 2525 Luang Por felt a bit better, and the Comittee of Devotees of Luang Por Phang came to take Luang Por Phang back to the temple, but after a few days of having returned to his temple, he felt ill again, and was unable to eat or drink, or pass water. Then, on the 24th of March 2525, at 16:45 PM, Luang Por Phang finally passed away peacefully, at the age of 80 years Old, which was a very sad occasion for the devotees of this highly beloved Monk, who never sought recognition and always worked hard for the welfare of the devotees and his temple, and to spread the Buddha Dhamma.
He was known for having always said "I don't want my name to be known famously' 'I don't want to receive honors or status' 'I don't wish people to speak highly of me' - But these wishes seem to have been in vain, for indeed, Luang Por Phang, is one of the ost highly revered Monks of Udorn Rachathani, and his Goodness and Generosity, and Tireless Work to help his People, is Legendary, even now long after his passing.
The final cremation ceremony to bid farewell to Luang Por Phang was held on Tuesday 24th March 2528 at 16:00 PM with thousands of devoptees from around the counrty who came to attend and pay their last respects to Luang Por Phang Jidtakudto Satu! May Luang Por Phang and his great Merits, remain in our memory forever, and may his great blessings remain with us, through the Buddhanussati of keeping his memory and reverence to Luang Por Phang in our hearts, with the amulets in his image which we wear and revere, in 'Putta Bucha'!
Temple:Wat Kongka Kirikhaet
Maker of Amulet:Luang Por Phang
Weight:10 Grams
Recommended Uses:Serm Duang, Metta Maha Niyom, Maha Lap, Klaew Klaad, Kong Grapan Chadtri
Size of Amulet:1.5 x 1.5 Cm
Encasement Options
Waterproof Casing (9) Without Casing (0)