This list of Buddhist Guru Master monks will auto-update each time we add a new Master. Click each link in the list to view the amulets and read about each Guru Monk

External Pages
---
Pra Sivali Dern Dong Nuea Dam Pim Lek Niyom 2490 BE - Luang Por Guay Wat Kositaram (2448 - 2522 BE)
03404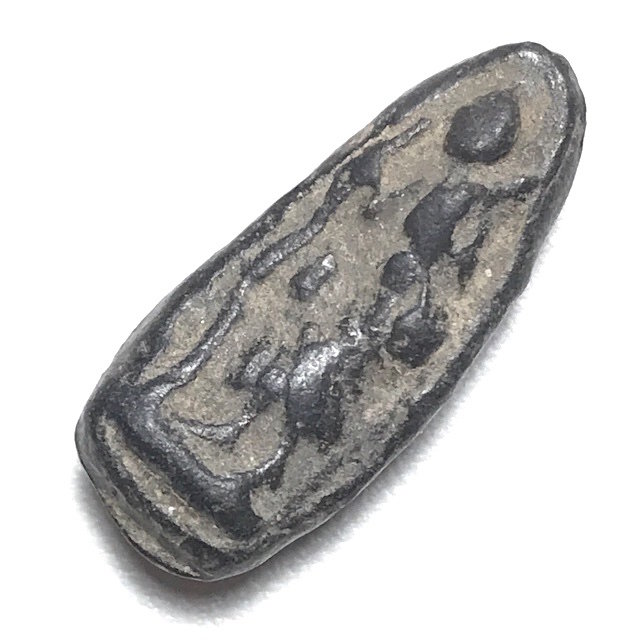 Presenting an extremely rare, and highly preferred and sought after Sacred Pra Sivali walking Buddha in rare Sacred Black Bailan powders, in small 'Pim Klang' size, measuring 2.5 x 1 Cm.
This is an early and world famous classic amulet from the 'Yuk Dton' (Early Era) of the Great Luang Por Guay, of Wat Kositaram. The amulet is estimated to have been made roughly between the years 2480 and 2490 BE, and is a very rare black powders exhibit in Pim Lek. The black powder versions are much more difficult to find, and were made in much less numbers.
The Pra Sivali Walking Arahant Monk amulets of Luang Por Guay, are found in both Earthen Clay and in Sacred Powder form, in Pim Lek (small), Pim Klang (medium), and Pim Yai (large) models.
This particular exhibit is an extremely rare black powders version, and is well preserved, with clear refined details. A highly sacred amulet that is of the highest sacred Value for devotees of Luang or Guay, and for collectors for preservation and study, as well as most certainly worthy of entering into competition for prizewinning. We feel this amulet is most capable of first prize status. Being a Pim Lek, the amulet is also a very recommendable amulet not just for men, but also for ladies and children.
Pra Sivali is commonly pictured with the 'Glod' (umbrella), representing a traveling forest monk (Tudong), who lives in simplicity and travels light, with the minimum of belongings to carry. Apart from as a statue on the altar for making reverence, small miniature statuettes of Pra Sivali are very popular as luck bringers to carry around at work during the day, and increase one's fortune.
Luang Por Guay's amulets have reached the highest level of respect and collectorship in their history now, and are considered to have noticeable effects that are felt be everybody who owns and wears one of his amulets. The stories of confirmation of their power are more than can be counted, and his gereat Patipata and Exceedingly Powerful applied methods of Sorcery are a large part of what attributes to their power.
His amulets are now extremely rare to find because those who already own any will never wish to part with them again, and they are hence becoming one of the rarest kind of amulets to find these days.
Usuallly this happens because of specualtion by the collector scene, but in the case of Luang Por Guays amulets, it has happened primarily for their Sacred Value, much much more than for their collectorship and artistic value, which is of course also extremely high.
Luang Por Guay is famous for his immensely diligent and complex manner of empowering (Pluk Sek) amulets, which involved daily empowerments at various times of day namely at dawn, morning, midday, afternoon, evening and midnight.
In addition, he would perform empowerments during the various 'Reuks' (Astrological Influentian moments), to bring total coverage of protection and fortuitous blessings to all who might wear and Bucha his amulets, namely the 'Reuks Mongkol' Buddhist Auspicious alignments, the 'Reuks Jone' (Gangster Alignments) Inauspicious Alignments, and the 'Reuks Bun Paya Marn' Demonic Influential Alignments.
This means that it did not matter who wore his amulets, Good people would wear them, Gangsters would wear them, anybody could wear them without loss of magical effect.
Kata Pra Sivali
Ahang Wantaami Siiwaliitaadtuyo Ahang Wantaami Sappaso
Kata to Bucha Pra Sivali
Iminaa Saggaaraena Siiwalii Thaerang Apibpuchayaami
(When you chant this whilst making Bucha to Pra Sivali, then say in your inner heart
silently the following words;
Bpuchidtang Sappalaapang Bprasitti Mae Thaerassa Aanupaawaena Sappa So Thee Pawandtu Mae

Kata Pra Sivali (Luang Por Guay – Wat Kositaram, Chaynat)
Siiwalii Ja Mahaa Thaero Bpajjaya Laapa Buchidto Manusso Taewadtaa Into
Pramaayamo Yagkha Waa Bpidtassa Nirandtarang Bpana Laapa Saggaarae
Aanaendti Nijjang Siiwalii Thaerassa Laapo Saggaaro Hodti Siiwalii Mahaa Thaeran Ja Buchagassa
Sataawaabi Kaatanja Sangwadt Dtanassa Laapo Ja Saggaaro Hodti Thaerassa Aanupaawaena Laapo Mae Hodtu Sappataa Aedtaena Sajja Wachaena Laapo Mae Hoedtu Sappataa
Kata for chanting when going on Business trips
Na Chaa Liidti Bprasitti Laapaa
Kata Hua Jai Pra Chimplii (heart Mantra of Pra Chimplii)
Saatu Siwalii Ja Mahaa Thaero Na Chaa Li Dti Bpasitti Laapaa Bpasanna Jidt Dtaa
Sataa Hondti Bpiyang Ma Ma Sappae Chanaa Pahu Chanaa Sappae Tisaa Samaa
Kadtaa Gaala Pochanaa Wigaala Pochanaa Aakaj Chaaya Aakaj Chaahi Bpiyang MaMa
Short Kata Pra Sivali
Siiwalii Ja Mahaa Thaero Chay Ya Sitto Mahit Tigo Thaerassa Nupaawaena


Katas for Pra Sivali for each day of the week
Sundays (Chant 6 times) – Chimpalii Ja Mahaa Naamang Sappa Laapang Pawissadti
Thaeras Saanupaawaena Sataa Hondtu Bpiyang Ma Ma
On Mondays (Chant 15 times) – Yang Yang Bpuriso Waa Idthii Waa Turaehi Waa
Sami Bpaehi Waa Thaeras Saanpaawaena Sataa Hondti Bpiyang Ma Ma
On Tuesdays (Chant 8 times) – Chimpalii Ja Mahaa Thaero Soho Bpajjayaa Timhi
Chaeya Laapo Mahaa Laapo Sappa Laapaa Pawandtu Sappataa
On Wednesdays (chant 17 times) Tidt Dtidt Tha pa Wae Rachaa Biyaa Ja kara Dtu
Mae Yae Saaradt Dti Niran Dtarang Sappa Sukhaa Wahaa
On Thursdays (Chant 19 times) – Chimpalii Ja Mahaa Thaero Yagkhaa Taewaa Pi
Bpuchidto Soraho Bpajjayaa Timhi Ahang Wantaami Sappataa
On Fridays (Chant 21 times) – Chimpalii Ja Mahaa Thaero Taewadtaa nara
Bpuchidto Soraho Bpajjayaa Nimhi Mahaa Laapang Garondtu Mae Laapaena Udt
Dtamo Hodti Sappa Laapang Pawandtu Sappataa
On Saturdays (Chant 10 times) Chimpalii Ja Mahaa Naamang Intaa Prahmaa Ja
Bpuchidtang Sappa Laapang Prasitti Mae Thaeras Sanupawaena Sataa Sukhii
Bpiyang Ma Ma
Ancient Kata for Pra Sivali
"Saatu Siwalii Ja Mahaa Thaero Ugaasa"
(Say in your heart) "May the magical powers of luck and fortune of Pra Sivali Thaera be installed within my perception, mind and body. As Pra Sivali was often a safe refuge for the Buddha, the Arahants and the 4 thousand Dhamma Khandas, thus so shall Pra Sivali Thaera be my refuge. May his immense power of Metta Mahaniyom and Choke Laap Saggaara generate riches andgood fortunes in life, For absence of material things leads to physical suffering and plight".
Below, one of the various Pra Sivali Pim Yai (in Nuea Pong), featured in the official documentation encyclopedic work of Pra Niyom Category amulets of Luang Por Guay.
Luang Por Guay was born on 2nd of November 2448 in the year of the snake, in Soi 9, Ban Kae , Tambon Bang Khud, Sakburi, Chainat.
His Patipata trajectory as a Buddhist Guru Monk is an amazing story that has enchanted Buddhist Folk to become his devoted followers all around Thailand, for his obvious extreme dedication to high empowerment methods using Occult Buddha Magic to create extremely powerful Sacred Amulets. He was also a Grand Master of Sak Yant Tattoos, which were highly reputed for their Kong Grapan Power.
Luang Por Guay Passed away under miraculous circumstances on the 12th April in the year 2522 BE as foretold by himself.
Read full Biography of Luang Por Guay Chudtintaro - Wat Kositaram
'
Temple:Wat Kositaram
Year of Issue:
Between 2480 - 2490 BE
Maker of Amulet:Luang Por Guay Chudtintaro
Weight:3 Grams
Recommended Uses:Metta Mahaniyom, Maha Lap, Maha Sanaeh.
Size of Amulet:4.5 x 2 Cm
Encasement Options
Solid Gold Custom Casing - We will email you with a price quote according to current Gold Prices, and Invoice You after Agreement (0) Waterproof Casing (9) None (0)