This list of Buddhist Guru Master monks will auto-update each time we add a new Master. Click each link in the list to view the amulets and read about each Guru Monk

External Pages
---
Pra Somdej Chiang Saen Chun Doo Hwan 2522 BE - Nuea Rae Dam - Luang Phu To Wat Pradoo Chimplee
02728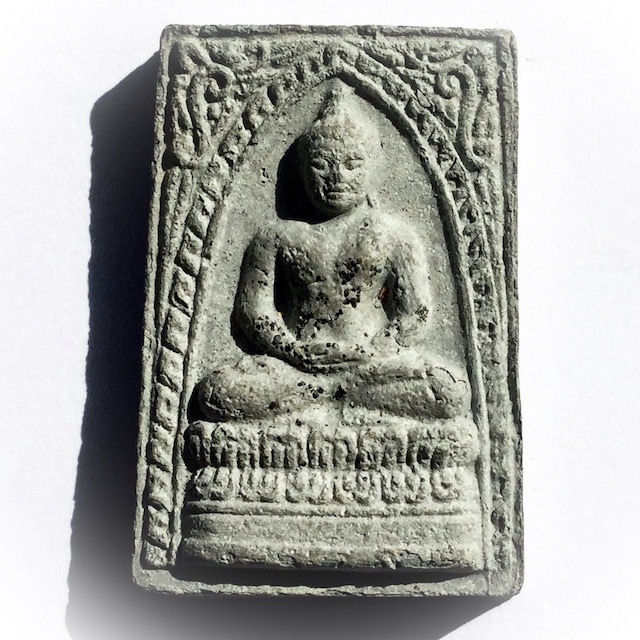 Pra Somdej Chiang Saen - Chun Doo Hwan edition 2522 BE - Luang Phu To Wat Pradoo Chimplee. Made from Nuea Rae Dam (blackish mineral derived Muan Sarn Sacred Powders).

The Pra Somdej Chiang Saen 2522 BE of Luang Phu To is an extremely famous editon for its miraculous legend of saving the life of the Prime Minister of South Korea. In 1983, Chun was the target of a failed assassination attempt by North Korean agents during a visit to Rangoon, Burma. The North Korean bombing killed 17 of Chun's entourage, including cabinet ministers. Four Burmese government officials were also killed in the attack
For those who seek the inimitable top class Master Piece, this amulet is the right choice for those whose budget permits it.
This amulet can be found worn in Thailand by high ranking police, army, civil servants and politicians, who jealously guard them for their Sacred Power of Protection and Auspicious Blessings.
The story comes from the visit of the Korean prime minister Chun Doo Hwan to Thailand, under save the opportunity to visit with his Majesty the King and Majesty the Queen of Thailand. Majesty the Queen, presented the prime minister, with a Pra Somdej Chiang Saen of Luang Phu To, in Nuea Rae Dam (Black Lek Lai Mineral Powders).
The amulet was presented to Chun Doo Hwan, to take with him on his subsequent visits to other countries to keep him safe with. After this, the prime minister Chun Doo Hwan journeyed on to Burma, taking the Amulet with him.
It turned out to sit in one of the places he visited in Burma that when I was a terrorist who lied to try to kill Chun Doo Hwan and his ministers. Most of his entourage were killed in the blast, but the prime minister himself was unharmed. After the incident, the prime minister made the statement that he had carried the Amulet given to him in Thailand throughout his journey.
He said that on the day, when he left to travel to the ceremony where the explosion occurred, he had a very strange hunch that something bad was going to happen, and it made him slow down on his way to the ceremony. This caused him to arrive late which was what saved his life.
Once the Amulets appreciation society members in Thailand found out that the Amulet wall by the prime minister of South Korea as he was saved miraculously in the bomb blast was in fact the Pra Somdej Chiang Saen of Luang Phu To, they instantly renamed this particular edition, to give it the famous nickname it now enjoys, of "Pra Somdej Chun Doo Hwan".
As soon as the story of Klaew Klaad Miracle got out, this particular series of Amulets became extremely popular, and were snapped up in furor by the devotees and collectors of Luang Phu To's amulets.
As more and more people began to what shape this amulet, a host of new of stories stories began to arise, about its powerful qualities of Metta Maha Niyom and Maha Lap. This increases the popularity, and of course rarity, (through fast depletion of this Amulet), making it one of the Eternal classics of this great Master Monk.
The amulet is in the form of a Chiang Saen Periodic Style Buddha Image, seated within a decorative 'Sum' arch, with Thai Granok Flames. The Muan Sarn use in this amulet came from Sacred Elements which were donated to Luang Phu To by devotees, which were ground with other Sacred Powders of Luang Phu To, and pressed into a delicately and exquisitely styled block press which was created for the edition. The Block Press was made by taking the image from an Ancient Chiang Saen Era Buddha Image as the design.
The edition funded the building of a Dhamma Practice Hall at the affiliated temple of Wat Tham Singto Tong in Racha Buri. Wat Tham Singto Tong was one of Luang Phu To's favorite haunts for staying to practice Kammathana Vipassana.
Luang Phu To performed solo Empowerment for this edition to donate to His Majesty the King. Only 999 amulets were made in special series for the donation to HIs Majesty.
A further 84,000 amulets were placed in Kru Hiding Place Chamber within the Chedi Stupa and the Shrines of the Temple, to preserve Buddhism far into the future (by slow distribution over centuries). Only 3000 of the total number were kept outside of the Kru Chamber, and distributed to devotees. Hence, until the next time the Kru is opened, only 3000 amulets are in circulation, along with another 999 which were placed un the care of His Majesty, for personal distribution to state officials and important personages.
Luang Phu To of Wat Pradoo Chimplee was one of the greatest Masters of the Last Century, and a Highly revered Monk around the whole Kingdom of Thailand. he was Respected and revered by His Majesty Our great King, who was a close friend and companion. This Great Monk achieved his status through his Great deeds and his great Diligence in his Patipatā (Practice of Purity and Renunciation), and in his Great Attainments in Dhamma Pariyatti and Dhamma Patipatā.
Luang Phu To was born on the 27th March 2429 BE in Ban Klong Bang Noi in Samut Prakarn and passed away on 5th March 2524 BE. His many honorable awards of status reflect his great practice and diligence, since beginning to studdy the Dhamma Vinaya at Wat Pradoo as a Samanera Novice monk, through to become the Bishop of the Ta Pra Municipality (2463 BE), to becoming awarded the charge of being the Pra Kroo Sangka Wichit for the Abbot of Wat Maha Tat in 2457 BE.

In 2463 BE, Luang Phu To became ascended to the status of Pra Kroo Sanya Badtr Chan Dtri (Third Level, tantamount to Batchelor of Arts in Dhamma). In 2497 BE, Luang Phu then became promoted to Pra Kroo Sana Badtr Chan Toe (Second Level, tantamount to a Doctorate in Dhamma), of Royal Category. In the year 2500 BE, Luang Phu was then given the additional status of Upachaya Ordaining Officer. In the year 2506 BE, Luang Phu attained the status of Pra Kroo Sanya Badtr Chan Ek (tantamount to a Masters Degree in Dhamma).
In 2510 BE Luang Phu To was given the charge of being the Gammagarn treasurer of the Temples of Ta Pra Minicipality. Then, in 2511 BE, Luang Phu To was promoted once more to Pra Kroo Chan Kroo Pised (tantamount to an Honors degree in Dhamma).

In 2516 Luang Phu became Pra Racha Kana (Royal Appointment Sangha Comittee) and head officer of the General Affairs of Vipassana Practice. In 2521, Luang Phu To received the status of Pra Racha Kana Chan Rach (tantamount to being an Archbishop of the Royal Decree). His Blessings are believed to possess the most powerful protective power, and to increase success and prosperity.
His amulets are both highly revered for their sacred Power of Protection and Prosperity, but also as a connection and Buddhanissati reminder of the Great Guru master, tto beseech his blessings through the amulet. One of the most highly sought after Pra Niyom Category Amulets, which is seen to grace the pages of any and every important amulet encyclopedia, and the highly prized and jealously guarded talisman of the high end collector and devotee.

Temple:Wat Pradoo Chimplee
Encasement Options
Solid Gold Custom Casing (Waterproo​​f) - We will email you with a price quote according to current Gold Prices, and Invoice You after Agreement. (0) Waterproof Casing (9) Without Casing (0)