This list of Buddhist Guru Master monks will auto-update each time we add a new Master. Click each link in the list to view the amulets and read about each Guru Monk

External Pages
---
Pra Somdej Gaen Jantr 2497 BE Jaek Mae Krua Niyom - Luang Por Ngern Wat Don Yai Horm Only 300 Ever Made
03104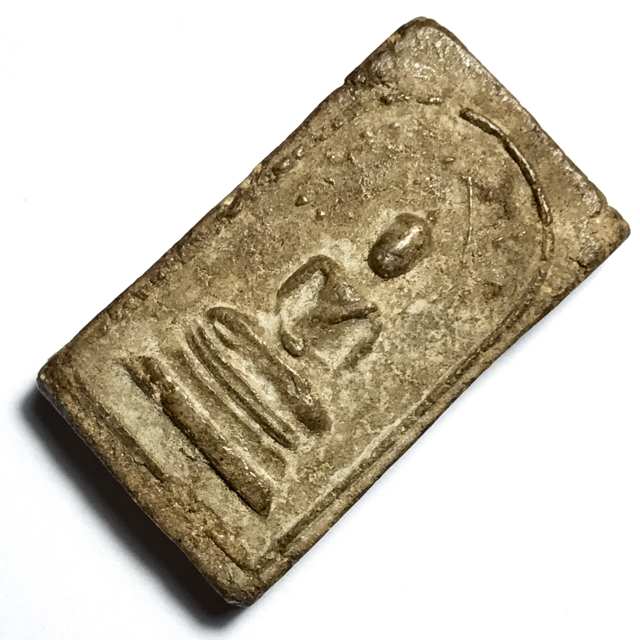 An incredibly beautiful and pristine exhibit of Luang Por Ngern's Pra Somdej Gaen Jantr Pim Prok Po ancient amulet from the year 2497 BE. This amulet, as are most amulets from Luang Por Ngern, is highly renowned for the powerful Kong Grapan Chadtri, Klaew Klaad, and Maha Ud Magic it possesses but has special Metta Mahaniyom and Maha Sanaeh added blessings from Ajarn Phu Niam. Extremely Sacred for the inclusion of powders of the Pra Somdej Wat Bang Khun Prohm.
Luang Por Ngern was mostly known for Kong Grapan Chadtri Klaew Klaad Maha Ud Magic and less for Metta Mahaniyom Mercy Charm or Maha Sanaeh Enchantments. His Kong Grapan Chadtri Klaew Klaad Magic was and is second to none for protective amulets.
In the year 2496 BE, as the temple of Wat Don Yai Horm was buying land and proceeding to expand the perimeter wall of the temple to reach the main road, the devotees of Wat Don Yai Horm were called upon to help to build the temple wall with meritorious donations, or to help to lay the bricks of the wall.
And so to repay the devotees with some magical and spiritual support, Luang Por Ngern decided to create an edition of amulets to distribute to those devotees wo came to make merits. In this event, many ladies came to perform the task of kitchen canteen work and to cook for the tired men who were helping to build the wall. Luang Por Ngern considered this, and decided that he needed to make an exception to his usual empowerment focused purely on Kong Grapan Chadtri Klaew Klaad, and to Invoke Metta Mahaniyom Kaa Khaay Mercy Charm and Business Prosperity, because Warrior Magic type amulets would not be fitting to give to the lady devotees, of which so many were present. The amulets should also be of the right size and dimensions for a lady to wear, not just men only.
Dimensions; 2 x 1.5 Centimeters
And so, Luang Por Ngern began by collecting as much Pong Somdej Wat Bang Khun Prohm powders from broken up Pra Somdej Wat Bang Khun Prohm amulets which he had received as a donation for Muan Sarn Sacred Powders from the head of the Municipal Public Health Authority of Bangkok some years before, and mixed them with his own Pong Bpathamang Yantra Powders to use for making amulets with High Metta Mahaniyom Kaa Khaay Maha Lap Magic.
Another magical ingredient of great importance, which also lends its name to the amulet, was to bring a piece of Mai Gaen Jantr branch wood and grind it down into a stringy mass. The magical sap within the wood then caused the fibrous substance to turn pinkish ochre, and release a perfumed aroma. These substances were mixed with the other ingredients necessary for composing the sacred clay, and pressed into the form of these Pra Somdej Prok Po Amulets, now so famously known as the Pra Somdej Gaen Jantr.
The amulets were pressed up to reaching around 2-300 Votive Tablets, and the process was stopped, because these amulets were intended to be distributed exclusively for the lady devotees who were helping out in the kitchens. During the empowerment, Luang Por Ngern sent an apprentice to go and call Mr. (Ajarn) Niam (Luang Por Ngern's younger brother). When some people asked why Luang Por Ngern was insisting on Ajarn Niam coming, Luang Por Ngern answered that he himself was able to perform powerful Kong Grapan Chadtri and Klaew Klaad and Maha Ud Magic, but that his nephew Niam was the most powerful sorceror for Maha Sanaeh and Metta Mahaniyom Magic in the Municipality.
Luang Por Ngern explained that his powerful invocations would bring increased Metta Maha Sanaeh to the edition. It is hence also interesting to not e that this edition has recieved its Kong Grapan Chadtri Klaew Klaad Maha Ud power from Luang Por Ngern, and has extra Maha Sanaeh Metta Mahaniyom Magic from one of the Great Laymasters of Nakorn Pathom of the Previous Century too, Namely Ajarn Phu Niam, of the Luang Por Ngern Lineage.
This edition is one of the rarest editions from Luang Por Ngern and is highly preferred for being empowered by both Luang Por Ngern and Ajarn Phu Niam, as well as for the fact that only a maximum of 300 amulets were ever made for the Mae Krua Kitchen Maids. Luang Por Ngern Jantasuwanno, of Wat Don Yai Horm (Official Ordained Name; Pra Racha Tammaporn), was known as the Taep Jao of Wat Don Yai Horm, and was extremely famous for his amulets, which are renowned for their Kong Grapan Chadtri, Klaew Klaad, Metta Maha Niyom, and Maha Lap Powers. Luang Por Ngern was the previous Abbot of the temple of Wat Don Yai Horm, before the Great Luang Por Chaem, who continued after him.
He was a 'Pra Nak Pattana', which is the term given to a Monk who specialised in developing temples and Building Shrine Rooms, and local facilities for the common folk, such as schools and hospitals, to make merits helping living beings, to alleviate their sufferings. In the times of Luang Por Ngern, the temple of Wat Don Yai Horm and the surrounding area were still in the midst of undeveloped countryside, and the temple was the centre of gathering for the local folk.
The temple of Wat Don Yai Horm was hence the place where the folk would go to be educated by the monks of the temple who performed the duty of teaching children and schooling them, as well as healing illnesses and ailments. Apart from this it was of course first and foremost the spiritual centre of the community, and the place where people received Dhamma teachings, and learned how to meditate, pray, and chant Kata.
Luang Por Ngern was renowned for his meritorious attainments in both restoring and developing the temple facilities, providing education in the form of schooling for children, and medical treatment for the poor, and was a great source of comfort to those who came in desperation to seek spiritual consolation. This is the reason why he was called 'the Angel of Wat Don Yai Horm'.
Luang Por Ngern was also extremely renowned for his high level of Patipatā (Practice of Restraint as an Ordained Bhikkhu within the 227 Rules of the Buddhist Vinaya Pitaka Canon), for his leadership in guiding the local devotees towards the right way to practice. He was just as well renowned and revered, for diligently and tirelessly developing the temple and its annexed facilities.
He built many Public Buildings for the benefit of the Local Folk, in order to alleviate their sufferings. Even though Luang Por Ngern is long since passed on to the next world, the people of Nakorn Pathom province still pay respect and revere this Great Monk for his great Merits and Metta, and the selfless deeds he performed, and public facilities he built for the local folk, and his memory is as alive today, as it was during his lifetime.
He is considered one of the great Guru Monks of History, and his amulets are amongst the most highly sought after. His vast pantheon of amulets range from highly preferrred Pra Niyom Monk and Buddha coins, Alchemical Maekapat Metal amulets, his famous Pra Sip Tat, Takrut, Putta Chinarat, Pra Sip Tat, Clay amulets (such as the Pra Tri Gaay, Pra Baramee Sip Tat, and Pra Putta Chinarat) and Sacred Powder amulets, especially his Pra Somdej are very favoured indeed.
Temple:Wat Don Yai Horm
Maker of Amulet:Luang Por Ngern
Weight:5 Grams
Recommended Uses:Mercy Charm, Business Sales, Professional Success, Love and Passion, Protection, Invincibility, Evasion of Deadly Disasters
Number of Amulets Made:Only 200 - 300 Amulets Ever Made
Size of Amulet:2.5 x 1.5 Cm
Encasement Options
Solid Gold Custom Casing (Waterproo​​​​​​​​f) - We will email you with a price quote according to current Gold Prices, and Invoice You after Agreement (0) Waterproof Casing (9) Without Casing (0)