This list of Buddhist Guru Master monks will auto-update each time we add a new Master. Click each link in the list to view the amulets and read about each Guru Monk

External Pages
---
Pra Somdej Gao Chan Pim Ok Rong 2470 BE - Nuea Pong Puttakun - Luang Phu Liam - Wat Sri Rueang Bun
02887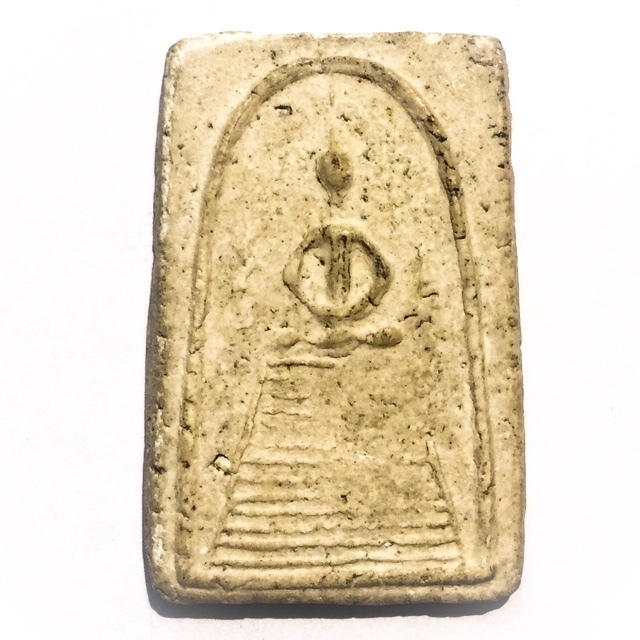 The Pra Somdej Gao Chan Ancient Buddha Amulet on Nine Tiered Dais with split torso design is an extremely rare and classic Sacred Votive tablet from Olden days Master Luang Phu Liam of Wat Sri Rueang Bun, and is an esteemed member of the Dtamra Pra Somdej of Master Class Status.
The image has inimitable features of the style of amulets which are so highly recognisable as those of Luang Phu Liam, Wat Sri Rueang Bun. The slim torso, has a split down the middle (Ok Rong) and slanted elongated ears (Hoo Bai Sri)
Luang Por Liam of wat Sri Rueang Bun is a monk whose life story is not so very well recorded, because he was one of the gaeji Ajarn of Olden days, in times when it was still not common practice to record the Biographies of Monks, but from gathering info from many different books and articles, it is possible to piece together the most important facts.
Luang Phu Liam was the Abbot of Wat Sri Rueang Bun between 2457 and 2480 BE, after which he retired from the duties of Abbot due to old age and and lived until the year 2488 BE when he died at the age of 82 . Luang Phu Liam was born in the Isan country, who after his ordination as a monk, began the practice of Tudong solitary wandering, and wandered westwards until he reached Nontaburi.
It was here that Luang Phu Liam stopped to dwell in the areea close by to Wat Sri Rueang Bun, and this is how he came to stay there. He was known for his diligence and self controlled practice of Vinaya in the 227 Rules of practise of Ordained Bhikkhus.
The local devotees of Wat Sri Rueang Bun had great reverence for Luang Phu Liam, for his merciful abilities in Traditional Medicine and Healing Practices. At the time that Luang Phu Liam came to stay at Wat Sri Rueang Bun, the temple was in disarray, with hardly any monks staying there, and the temple had no Abbot.
So the local folk beseeched Luang Phu Liam to stay there permanently and be the Abbot. Luang Phu was about 55 years old at that time, and Wat Sri Rueang Bun was a very peaceful small temple with open spaces, which fitted with his advanced practices of serenity and silence.
And so, Luang Phu accepted the offer to remain at Wat Sri Rueang Bun. Luang Phu became very renowned for his abilities to spray holy water and banish ghosts and demons who had possessed people, and even victims of rabid dog bites, who were howling with madness, would be instantly healed when Luang Phu performed his holy water ceremony on them.
As time passed, Luang Phu began to restore and build up the temple, and the people's faith and reverence for his selfless deeds grew and grew, and devotees began to increase steadily, coming to help Luang Phu in the development of the temple. As Luang Phu saw so many devotees come to help with the work and to make donations, he felt the need to give them something in return for their help, and to protect them and bring them good fortunes.
So Luang Phu began to make Pong Lop Sacred Yantra powders and performed his most powerful Metta Maha Niyom Magic to empower them, and mixed them according to the Dtamra Pra Somdej with Plueak Hoy seashell powders, to add Kong Grapan Chadtri power along with Kluay Nam Wa bananas, in the same formula used by Somdej Pra Puttajarn (Dto) Prohmrangsri of Wat Rakang Kositaram.
He then pressed these powders into the form of amulets, which consisted of 20 or so different design models. The artisans who made the 'Mae Pim' block press molds were expert in their work and created the different designs based on the same form as was used by the Great Luang Phu Poo of Wat Intra, and also basing some designs on models from the Dtamra Wat Chalerm Pragiart, and the amulets of Luang Por Kram of Wat Pra Ngern.
In addition a few new original design models were created that are particular to Luang Phu Liam, which completed this pantheon of 20 or so amulets. The amulets were finished in 2470 BE, and Luang Phu began to empower them with blessings continuously for the whole ten years of his time as Abbot, and to hand them out slowly to the devotees over the years which came to pass from then onwards.
Luang Phu did not bury any of the amulets in Gru Chamberand kept them in the open air always, and so all of his amulets have a very clean and smooth appearance, with no Kraap Gru mildew on them.
The sacredness of these almost Century old amulets are indisputable for their great age, and the fact that Luang Phu Liam made them for the purpose of free distribution to the devotees, with completely pure intentions, giving them his most diligent efforts and intense empowerment. The amulets of Luang Phu Liam are an immensely attractive alternative to the much more expensive amulets of Luang Phu Poo of Wat Intra, being of great age and with complete adherence to the Dtamra Pra Somdej.
Temple:Wat Sri Rueang Bun
Year of Issue:
2470 - 2480 BE
Maker of Amulet:Luang Phu Liam
Weight:5 Grams
Recommended Uses:Protection, Auspicious Blessings, Buddhanussati
Size:3.5 x 2.5 Cm
Encasement Options
Solid Gold Custom Casing (Waterproo​​​​​​​f) - We will email you with a price quote according to current Gold Prices, and Invoice You after Agreement (0) Waterproof Casing (9) Without Casing (0)