This list of Buddhist Guru Master monks will auto-update each time we add a new Master. Click each link in the list to view the amulets and read about each Guru Monk

External Pages
---
Pra Somdej Hlang Suea Phaen 2533 BE School Building Edition - Luang Por Phern Tidakuno - Wat Bang Pra
02916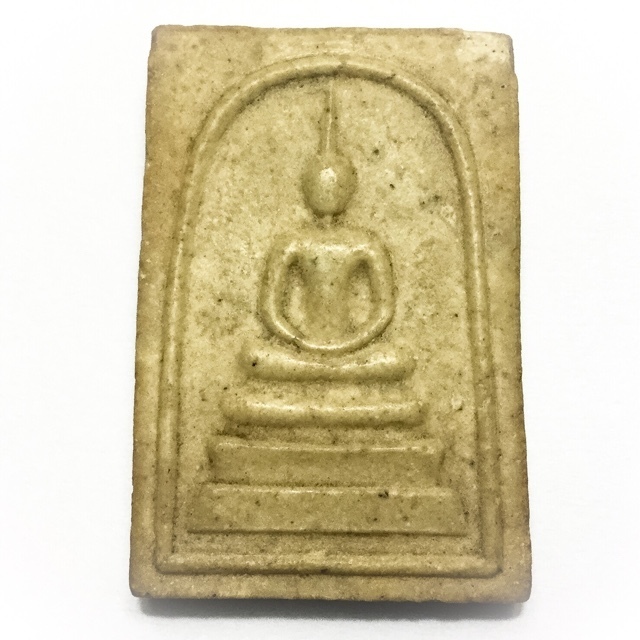 Pra Somdej Pim Pra Pratan Gaes Yaw (long topknot) Hlang Suea Phaen (leaping tiger on rear face) - a highly preferred and difficult to encounter amulet, from the 2533 BE School Construction Fund Edition, compassionately created by Luang Por Phern Tidtakuno (Wat Bang Pra), to raise funds for the building of a school for the local children to receive and education.
This amulet is officially recorded in the Dtamra of the Pantheon of Amulets of Luang Por Phern, and is an accepted classic, that is quite a rarity to encounter. A perfect votive tablet for devotees of the Buddha, of Luang Por Phern Tidtakuno, of Wat Bang Pra, and of Sak Yant Thai Temple Tattoos (especially those with the leaping tiger tattoo above all others).
The front face features an exquisitely designed Pra Somdej Buddha sitting in the meditation posture on a 3 tiered dais. This amulet is made from 'Nuea Pong Nam Man', oily herbal powder Sacred clay. The high quantity of Tang oil in the Muan Sarn Sacred Powders exudes to the surface as the amulet has hardened, rendering a very smooth but highly detailed texture to the clay.
The rear face features the image of the Suea Phaen (Leaping Tiger), for which Luang Por Phern has always been known for being 'He who Tames and Rides the Tiger'.
The words 'Luang Por Phern Srang Rong Rian' (Luang Por Phern Tidakuno Builds the School), are embossed above the leaping tiger. The words 'Wat Bang Pra Nakorn Pathom' and the number 33 (for the year of edition, being 2533 BE) are embossed below the leaping tiger.
Luang Por Phern Tidakuno (Wat Bang Pra) was the greatest Sak Yant Master in living memory, and abbot of Wat Bang Pra Temple in Nakorn Pathom. Luang Por Phern. Is one of the most internationally famous monks all of this century mainly for his grand role in the promotion of Sak Yant Sacred Tattoos, And of course his powerful amulets which are now becoming ever more favored and ever rarer, and of course,ever more valued.
Those who rever the Great Luang Por Phern will be at best served with this purely Buddhist Amulet of Auspicious Blessings, for the faith of the Devotee and the Metta of the Guru Master, is the connection that causes the Miracle Events which are so often attributed to amulets to occur.
Attributed Powers; Kong Grapan Chadtri, Maha Pokasap, Metta Mahaniyom, Serm Duang Klaew Klaad, Maha Amnaj.
Wai Kroo Luang Phor Phern
Kata Bucha Luang Phor Phern
Kata Pra Somdej (Aaraatanaa Pra Krueang)
Always say; 'Namo Dtassa Pakawato Arahato Sammaaa Samputtassa' first, three times before making any Kata for amulets.
Then Chant;
Puttang Aaaraatanaanang
Tammang Aaaraatanaanang
Sangkang Aaaraatanaanang
(Make Your Wish) - Continue with the Beseeching for Fulfilment of Wishes;
Puttang Prasittime
Tammang Prasittime
Sangkang Prasittime
Khong Khuen Spirit Possession Wai Kroo Luang Phor Phern
Temple:Wat Bang Pra
Maker of Amulet:Luang Por Phern Tidtakuno
Weight:8 Grams
Recommended Uses:Protection, Prosperity
Size of Amulet:3.5 x 2.5 Cm
Encasement Options
Solid Gold Custom Casing (Waterproo​​​​​​​f) - We will email you with a price quote according to current Gold Prices, and Invoice You after Agreement (0) Waterproof Casing (9) Without Casing (0)