This list of Buddhist Guru Master monks will auto-update each time we add a new Master. Click each link in the list to view the amulets and read about each Guru Monk

External Pages
---
Pra Somdej Matupayas 2521 BE with Khaw Plueak Rice Grain inserted - Wat Samakee Pracharam (Chonburi)
02628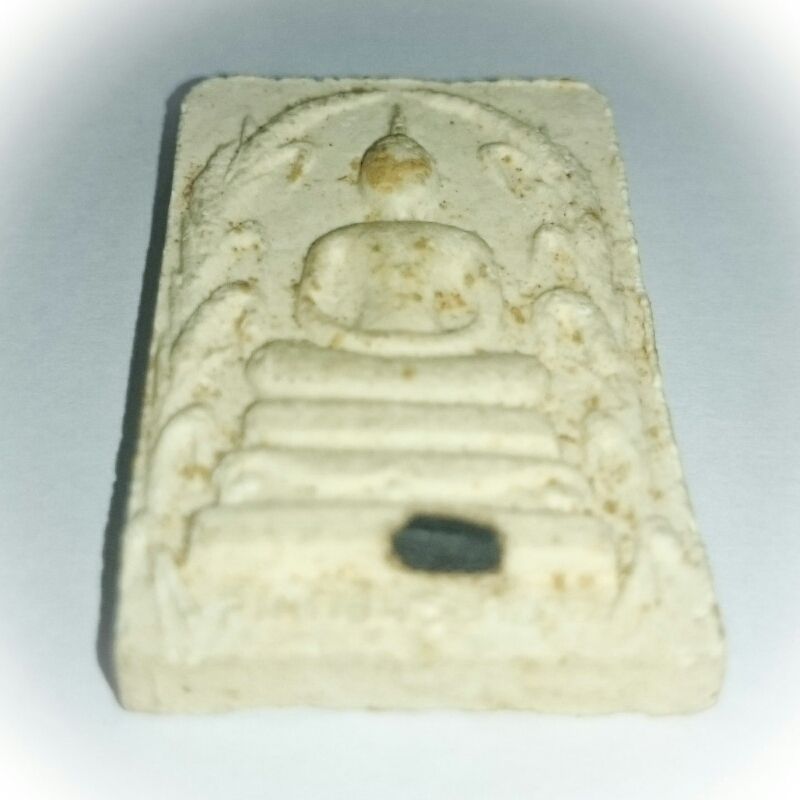 Pra Somdej Matupayas Fang Khaw Plueak Nuea Pong Puttakun 2521 BE - Sacred Powder Buddha Image with Blesséd Rice Grain inserted from wat Samakee Pracharam, in Banglamung, Chonburi Province. The amulet is made from Nuea Pong Puttakun, and features a Buddha Image with an elongated and elegant 'Pra Gaes' Topknot, which rises up to touch the 'Sum' Arch.
The arch which contains the Buddha Image is decorated with sheapf os rice plant leaves leaning inwards, and represent the prosperous harvest imbuing the amulet with high Maha Pokasap Prosperity Blessings. To increase the Maha pokasap effect, a sacred blessed rice graiin of 'Khaw Plueak' Organic Rice is embedded into the Dais on which the Buddha is Residing.
The Buddha is seated on a three tiered Dais in the posture of Khad Samati Raab' (Meditation). The torso is styled as 'Ok Grabork' cylindrical torso. The head has the classic 'Hua Mai Kheed' matchstick head shape, which is an extremely beautiful elongated oval shape. The depth of relief of this particular Pra Somdej Buddha Image is very well defined, and attractive for its high definition, thowing enough shadow to accentuate its beautiful features from a distance.
This is a very eyecatching and unusual Pra Somdej to say the least, and attracts the eye without effort. A most enticing amulet for collectors who love Pra Somdej, and who appreciate originality and seek something unusual to stand apart from the crowd with.
Its sacredness is unquestioned as a member of the Pra Somdej benjapakee class of amulets. its Muan sarn sacred Powders are visibly rich in Puttakun Powders, and the presence of sacred 'Kraap' Mildew formations only serves to increase its attractiveness and proves its sacred Power within.
Released in Buddha Abhiseka Blessing Ceremony at wat Samakee Pracharam in Amper Bang Lamung, Chonburi in the year 2521 Buddhist era. The rear face features a sheaf of wheat invoking the Harvest Deity Pra Mae Posop, to bring Prosperity and repeated successful harvests for each year of Life and in Business repeatedly year after year without fail. The amulet provides hence not only the usual Serm Duang Karma Improving Blessings and Klaew Klaad evasion of deadly dangers, and Metta Mahaniyom Compassionate Mercy, but also the Blessings of Maha Pokasap Prosperity.
Around the Sheaf of Wheat, are two Buddhist Kata, which you can chant for Bucha to thie Amulet and to beseech the blessings in the Kata from the Amulet
The Kata on the top of the rear face reads; พา มา นา อุ กะ สะ นะ ทุ = Paa Maa Naa U - Ga Sa Na Tu. This is the abbreviated heart Mantra of the Pahung Kata which in its long version is the Chant which recounts the Buddha's Victory over the Armies of Mara, known as 'Kata Pahung'. It brings all forms of Buddhist Blessings including Prosperity, Safety from Accidents and mara Beings and Demons, and brings Elevated Status both Socially and Professionally (Promotion).
The Kata which resides on the bottom half of the amulet under the wheat sheaf, reads อหัง สุขิโต โหมิ = "Ahang Sukhidto Homi" and means 'Please Let me Be Happy'. The Blessings recieved from this Kata are obvious, namely Happiness and Liberation from falling into States of Suffering.
Kata Pra Somdej
Puttang Aaaraatanaanang Tammang Aaaraatanaanang Sangkang Aaaraatanaanang Puttang Prasittime Tammang Prasittime Prasittime Sangkang Prasittime
Always say; 'namo tassa pakawato arahato sammaaa samputtassa' first, three times before making any Kata for amulets.
Here is another alternative Kata which can also be used for any kind of Somdej amulet;
Bpudtagaa Mo Sape Bpudtang Tanagaa Mo Lape Tanang Idti Gaye Yaaya Tewaanang Biyadtang Sudtawaa
chant three times; make this practice regularly, and Metta Mahaniyom will enter into your life. You can make prayer water also with the amulet if you soak it in the bowl as you chant, then use the water to spray on your head or your clothes, wares you wish to sell etc.
Temple:Wat Samakee Pracharam (Chonburi)
Weight:7 Grams
Recommended Uses:Serm Duang (improve fate and destiny) Maha Pokasap, Metta Mahaniyom, Klaew Klaad.
Encasement Options
Waterproof Casing (9) Solid Gold Custom casing (we will email you with a price quote according to gold prices at the time of inquiry) (0) Solid Silver Custom casing (we will email you with a price quote according to gold prices at the time of inquiry) (0) Without Casing (0)