This list of Buddhist Guru Master monks will auto-update each time we add a new Master. Click each link in the list to view the amulets and read about each Guru Monk

External Pages
---
Pra Somdej Nakprok 9 Chan Hlang Roop Hmuean Fang Takrut Ngern 2539 BE - Luang Por Pae Wat Pikul Tong (Singhburi)
02547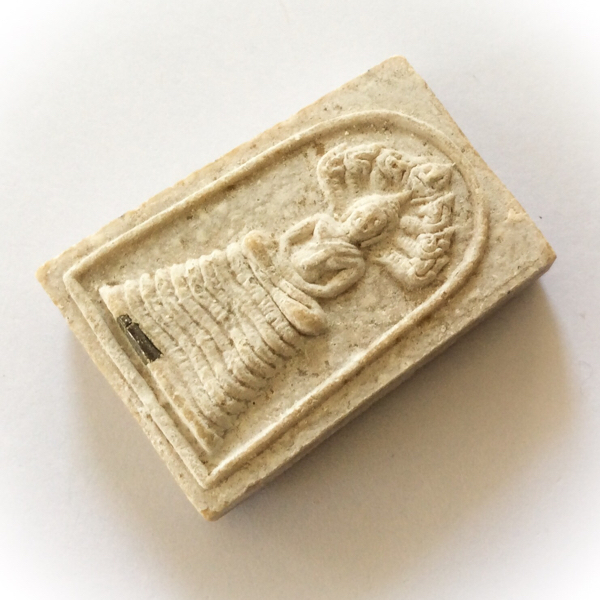 Pra Somdej Nakprok Hlang Roop Hmuean Fang Takrut Ngern 2539 BE - Luang Por Pae Wat Pikul Tong (Singhburi). A most classic and pristine example of Luang Por Pae's 91st Year. Made and Released in early 2539 as more or less the very last edition of amulets blessed in person by Luang Por Pae, before his illness in 2541 BE, which continued until his passing in 2542 BE. Pra Nakprok is of course the allocated 'Pra Prajam Wan Gerd' Buddha. for those born on a Saturday
The Pra Somdej Nakprok is made from as herbal powder mixture with Pong Puttakun, and a solid silver Takrut spell inserted with Buddhist Blessings. The Pra Nakprok Buddha is sitting on Naga Throne of 9 Tiered Dais, with 7 headed Naga Canopy providing shade from the rain in his meditation.
The Pra Nakprok Buddha is attributed to the day of Saturday, and is especially worshipped by those born on a Saturday. Others who worship the Birthday Buddhas, may worship all Seven Days of Buddhas (which actually in Thailand is composed of 8 different Buddhas, due to the fact that Wednesday has two Buddha Images, one for the daytime and one for the night time).
The inked series stamp is visible on the rear surface of the amulet, providing easy authentication process. The 91 years edition was made as the last edition to be blessed by Luang Por Pae himself, and and later released in 2539 BE.
It is therefore highly preferred for its being the final edition ever made by L.P. Pae before his Passing in 2542 BE after 73 years of ordained life at the age of 94 years old.
A most Classic and Esteemed Amulet that is now becoming very rare to see, even rarer than the famous Rainbow Pim Somdejs, if perhaps less expensive due to the less colorful Muan Sarn Powders.
They remain however more rarely seen than most amulets of Luang Por Pae. Due to their affordable price, they are therefore recommended as a very wise future speculative investment, as well as a chance to snap up of the last examples before they all disappear completely from circulation.
Luang Por Pae, or, better known as Somdej Sangkarach Pae, is one of the last half century's most reverent and long-standing respected monks of the royal procession of stateesteemed monks, Who has excelled in both his behavioural practice as well as his academic studies and adepts applied practice of Vipassana Kammathana in the Thai Tudong Forest tradition.
The amulets of this great master, have been seen to dwindle from the public amulet markets, which is due to the fact that not only Thai people have been reverie and holding his Amulets over the last decade or so up, rather that all around Southeast Asia.
Even as far as western world, people have been snapping up and hiding and stashing away his Amulets like treasure that may never be found again, which is indeed going to be true pretty soon.
This has resulted in an accelerated depletion of his Amulets, despite the fact that classic Amulets made according to the official formlas such as the Pra Somdej amulet, are making numbers of up to 84,000 per edition they have still managed to begin to disappear from the public view.
They are now not only becoming classics but also extreme rarities and the next decade can expect to see these Amulets becoming immensely difficult to seek out.
This Pra Somdej is a Historical Classic amulet, which can easily, if perhaps for some, arguably be included in the Benjapakee class of amulets under the Pra Somdej Category. This is because the Pra Somdej Category of Benjapakee Classics normally includes any top Classic which is widely accepted and has the correct Pedigree.
Encasement Options
Transparent Waterproof Casing (9) Solid Gold Custom Casing (We will email you with a price quote depending on current gold prices) (0) Without Casing (0)