This list of Buddhist Guru Master monks will auto-update each time we add a new Master. Click each link in the list to view the amulets and read about each Guru Monk

External Pages
---
Pra Somdej Nuea Pong Wised Pim Klang - Jao Khun Sangiam Wat Sutat 2516 BE Blessing with 49 great Masters
03319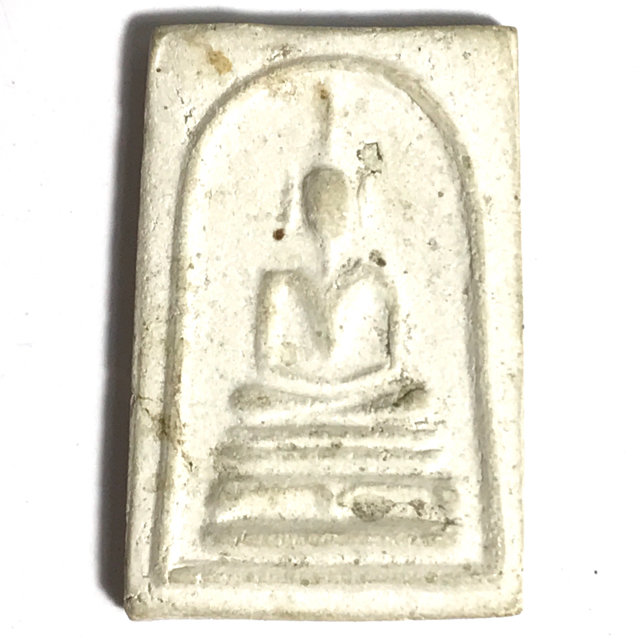 Pra Somdej Pim Klang in Nuea Pong Wised, from the ex Abbot of Wat Sutat Jao Khun Sangiam, released in the Year 2516, with extra special blessing and empowerment from the great Luang Phu To of Wat Pradoo Chimplee.
It is said that the amulets were made from Muan Sarn Sacred Powders collected by Pra Ajarn Sangiam, Somdej Pra Sangkarach (Pae), Tan Jao Khun Tip Gosa, and Jao Khun Sonti (Wat Sutat). The powders were blessed in multiple ceremonies, including the presence of Luang Phu To, and Luang Por Nueang, of Wat Jula Mani, as well as many other Great Master Monks of that Era.
Pra Ajarn Sangiam then took these Muan Sarn Sacred Powders to make this edition of amulets, and mixed them with Old broken Pra Somdej Wat Bang Khun Prohm, and broken powders of Pra Kru Wat Sam Plerm.
The amulets were pressed with the block press molds at Wat Sutat, and Pra Ajarn Jao Khun Sangiam then blessed the amulets in solo nightly empowerment for a long time until the year 2516 BE, when he invited 49 Monks to come and assist in the Buddha Abhiseka Blessing Ceremony at Wat Sutat.
Amongst the many Masters present were; Luang Phu To (Wat Pradoo Chimplee), Luang Por Pae (Wat Pikul Tong (Singhburi), Luang Por Nueang (Wat Jula Mani) Luang Por Tiam (Wat Kasatrirach), Luang Por Horm (Wat Sak Hmak), Luang Por Thin (Wat Pha Lelai), and Luang Por Tong Yoo (Wat Nong Mai Pa-Ong.
The rear face of the amulet has the Khoome letters 'Sa' and 'Ta' (for 'Wat Sutat) embossed, which is a standard feature seen on the rear face of many amulets from Wat Sutat (but not all).
Use the Traditional Thai Buddhist Method for Bucha;
1. Chant Maha Namasakara (3 Times)
2. Chant the Trai Soranakom (3 Times)
3. Chant Kata Aaraatanaa Pra Krueang (3 Times)
Kata Maha Namasakara
Namo Dtat-Sa Pakawa-Dto Araha-Dto Sam-Maa Sam-Put-Dtat-Sa
Namo Dtat-Sa Pakawa-Dto Araha-Dto Sam-Maa Sam-Put-Dtat-Sa
Namo Dtat-Sa Pakawa-Dto Araha-Dto Sam-Maa Sam-Put-Dtat-Sa
Kata Aaraatana Pra Krueang
Puttang Aaraatanaanang
Tammang Aaraatanaanang
Sangkang Aaraatanaanang
Puttang Prasittimae
Tammang Prasittimae
Sangkang Prasittimae
Below; Amulet Publication showing three different models of Pra Somdej released by Kao Khun Sangiam in the 2516 BE Ceremony.
Temple:Wat Sutat
Maker of Amulet:Pra Ajarn Jao Khun Sangiam (2443 - 2526 BE)
Weight:8 Grams
Recommended Uses:Protection, Prosperity, Good Karma, Promotion of Status
Size of Amulet:3.4 x 2.2 Cm
Encasement Options
Solid Gold Custom Casing - We will email you with a price quote according to current Gold Prices, and Invoice You after Agreement. (0) Stainless Steel Casing (9) Waterproof Casing (9) None (0)