This list of Buddhist Guru Master monks will auto-update each time we add a new Master. Click each link in the list to view the amulets and read about each Guru Monk

External Pages
---
Pra Somdej Pae 3000 Pim Yai Yorn Yuk 2533 BE - Classic Pra Niyom Amulet - Luang Por Pae Wat Pikul Tong
02685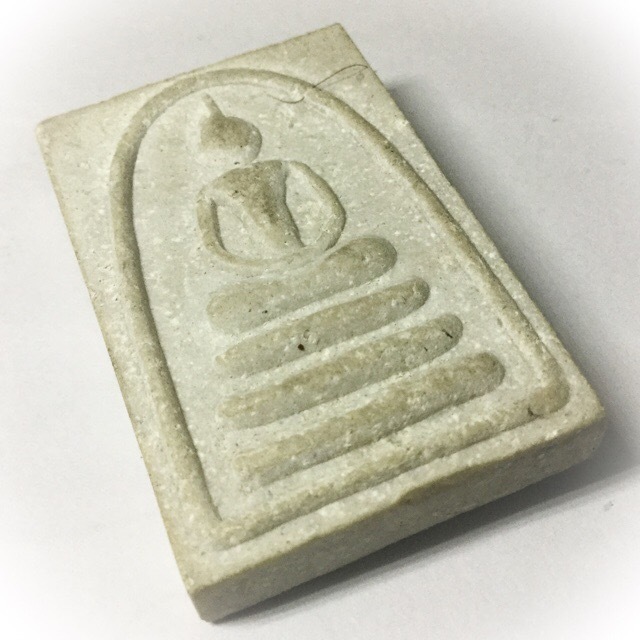 Pra Somdej Pae Sam Pan (3000 Edition) Pim Yai (Large Pim) - a Most sought after and highly valued 'Yorn Yuk' second release classic Pim Niyom 3000 Edition amulet.
This extremely popular and rare amulet was released in 2533 BE, after the 'Pae Neung Pan' (1000 edition) released in 2510 BE, and the first Pae Sorng Pan (2000 Edition) in 2512 BE. This was a second comemorative release of the 2512 BE first batch Pae 3000, and is one of Luang Por Pae's preferred 'Niyom' class Pim.
This particular exhibit is an extremely attractive and pristine condition Pra Somdej Pae 3000 (Run Sorng) Classic Pim Niyom amulet from Luang Por Pae Wat Pikul Tong (Singhburi). This amulet enjoys a place amongst the most Internationally Famous Pra Niyom Master Class Amulets of All, and is now residing between the mid and upper levels of the top rank of High End Amulets.
The Year 2010 saw the amulets of Luang Por Pae suddenly disappear from the public collector market, and seem to have finally reached a state of depletion. Subsequently prices are expected to rise with all of his editions on a constant scale.
All Releases of the Pra Somdej Pae 3000, are however since a long time already placed in the high end price category and is found in the hands of serious collectors, and devout disciples of Luang Por Pae. You can encase this amulet if you wish to choose waterproof casing, no case, or custom solid gold casing.
This particular exhibit was lucky to have some visible trace of Luang Por Pae's Hair embedded in the Muan Sarn Powders, visible on the top right corner of the front face
Luang Por Pae produced the first ever sacred powder amulets in 2494 BE, sixteen years before the creation of the Somdej Pae Pan (1000). The first Pra Somdej was a Pra Somdej in two Pim models. The second time he made amulets was in 2509 BE, also with 2 different models (Pim).
The first Pim has two small Sacred Yant on the rear side, (Luang Por's traditional Pu-Sorn Yantra), and the second Pim bearing the sitting image of Luang Por Pae on the rear face.
Luang Por Pae 1000 (2510 BE), 2000 (2511 BE), The first three Batches of 3000, and all of the 4000 are the most highly valued and sought after (and rarest) of all the different series,, because these were the editions which made the least numbers of amulets, increasing their rarity.
There were also smaller 'Pim Kanaen' models in each edition, which had also usually two different styles of miniature Somdej amulet released; One with a full frontal image of Luang por Pae on the back, and the second tier of the Buddha's dais having a 'Thaan Singh' (lion legs).
The other model has a design similar to the Thai number eight on the rear face, and no lion legs (tabvle legs) on the Dais/Pedestal of the Buddha. Neither miniature 'Pim Kanaen' model had any lettering statiung the edition. A Total of Nine Pae Pan++ editions were made.
The back face of the amulet has the traditional name of 'Pae' (แพ) embossed, with the number three (๓), and the word 'Pan'(พัน), meaning 'thousand', which authenticates, and ensures a highly regarded example of status. In addition, this model has the lettters 'Yor' (ย) and 'Kor' (ค) embossed.
Luang Por Pae, or, better known as Somdej Sangkarach Pae, is one of the last half century's most reverent and long-standing respected monks of the royal procession of stateesteemed monks, Who has excelled in both his behavioural practice as well as his academic studies and adepts applied practice of Vipassana Kammathana in the Thai Tudong Forest tradition.
The amulets of this great master, have been seen to dwindle from the public amulet markets, which is due to the fact that not only Thai people have been reverie and holding his Amulets over the last decade or so up, rather that all around Southeast Asia. Even as far as western world, people have been snapping up and hiding and stashing away his Amulets like treasure that may never be found again, which is indeed now already happening.
This has resulted in an accelerated depletion of his Amulets, despite the fact that classic Amulets made according to the official formlas such as the Pra Somdej amulet, are making numbers of up to 84,000 per edition they have still managed to begin to disappear from the public view. They are now not only becoming classics but also extreme rarities and the next decade can expect to see these Amulets becoming immensely difficult to seek out.
Made from Pong Puttakun, (Buddhakun Powders, according to the Dtamra Pra Somdej making, using the five sacred powders made from Yantra Inscriptions (Pong Wised 5 Chanid). Luang Por Pae's amulets are famous for the mass of Pong Puttakun that rises to the surface and leaves a fine layer of white mildew upon the surface, revealing empowerment by a monk with true purity of practice.
This Pra Somdej Pae 3000 2533 BE, is a Historical Classic amulet, which can easily be included in the Benjapakee class of amulets under the Pra Somdej Category.
This is because the Pra Somdej Category of Benjapakee Classics normally includes any top Classic which is widely accepted and has more than enough points of reference, to pass the correct Pedigree. It is one of the rare models of Luang Por Pae's amulets, superceded by the Pra Somdej Luang Por Pae 1000 of 2510 BE, and of course, the Pae 2000 of 2512 BE.
Temple:Wat Pikul Tong (Singhburi)
Maker of Amulet:Luang Por Pae
Weight:13 Grams
Recommended Uses:Maha Lap, Maha Pokasap, Metta Mahaniyom, Serm Duang
Number of Amulets Made:According to the Dtamra Pra Somdej of Somdej Pra Puttajarn (Dto)
Size of Amulet:4 x 2.5 Cm
Encasement Options
Waterproof Casing (9) Custom Solid Gold Casing (we will email you with a price quote according to Gold prices at the time). (0) Without Casing (0)