This list of Buddhist Guru Master monks will auto-update each time we add a new Master. Click each link in the list to view the amulets and read about each Guru Monk

External Pages
---
Pra Somdej Pan Lan - Brazen metals 92nd Year edition - Luang Por Pae Wat Pikul Tong 2536 BE
02518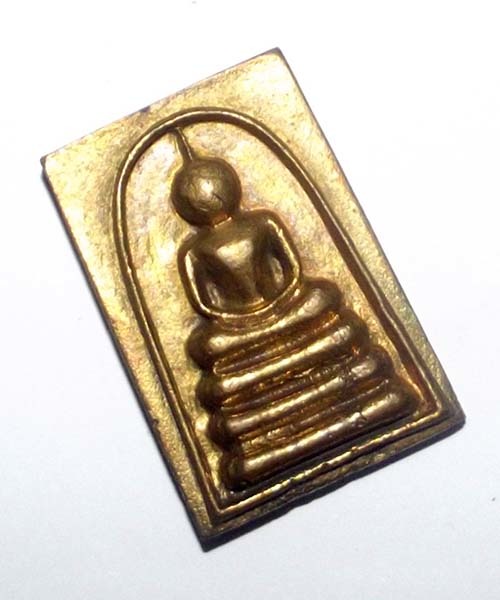 Pra Somdej Pan Lan Luang Por Pae Wat Pikul Tong (Singhburi) 2536 BE - 92nd birthday edition amulet in Nuea Tong Rakang (Sacred Temple Bell brass with Yantra Foils smelted with Brazen artifacts). Released in 2536 BE to celebrate Luang Por Pae's 92 year of life.
Made from sacred brazen artifacts smelted together into one sacred metallic alloy of alchemical nature. This particular Amulet was was released in an edition given the name of 'Somdej Pan Lan' meaning roughly 'Buddha of 1000 Millions'.
Luang Por Pae's Amulets are a Fine Class Sacred Amulet that is not outside the reach of those with lesser Budgets than some of the Wealthier Collectors, a Fine and recommendable Truly sacred Amulet of the Pim Niyom Class.
It is easily presentable in show, and is an amulet that any Thai Amulet Collector in the Know would be quite Proud to own and Wear, however Rich or Not. This is thus what we call a Top Class Amulet, at a very affordable price.
This kind of amulet it is very popular with Thai Buddhists. Even more so than sacred powder amulets. This is because sacred powder amulets break easily over time, whereas, metallic amulets can last hundreds, and even thousands of years without breaking.
This great master is internationally famous with amulet collectors and people of the Buddhist faith around the world. He is probably the most famous maker of this type of amulets to have graced the last half-century.
His amulets, have been till now, much more affordable than other amulets from Masters of the same calibre, but have a lately become ever rarer since various nations of Southeast Asia have begun to fervently collect his amulets.
They have become ever rarer lately, and prices are now beginning to rise. This can be expected to be the prelude to his Amulets becoming truly essential rarities on the ancient amulet collector scene, and, that, their prices will rise incredibly over the next 10 years or so.
A most classic Thai Buddhist amulet, of high esteem from one of the 20th century's greatest masters of international fame, which any true Buddhist would be proud to wear and would feel inspired from. Its sacred power should be umistakable and undoubtable for the sheer respect and reverence which the whole Nation of Thailand has, for the life's work of this great Thai Buddhist master monk.
Luang Por Pae was an extremely respected and well loved Monk for his great deeds of generosity, which he manifested in many projects which benefited the general good of the local people of both Singhburi and Lopburi Provinces.
Above; Luang Por Pae, Wat Pikul Tong (Singhburi)
Temple:Wat Pikul Tong
Maker of Amulet:Luang Por Pae
Weight:30 Grams
Recommended Uses:Protection and Wealth Increase, Auspicious Blessings, Improve Karma
Size of Amulet:3.5 x 2.5 Cm
Encasement options
Waterproof casing (9) Solid gold custom casing (260) Without casing (0)