This list of Buddhist Guru Master monks will auto-update each time we add a new Master. Click each link in the list to view the amulets and read about each Guru Monk

External Pages
---
Pra Somdej Pim Kanaen (Pim Pra Pratan) - Nuea Pong Puttakun Ud Pong Wised - Luang Por Pae - Wat Pikul Tong - Casing Included
02664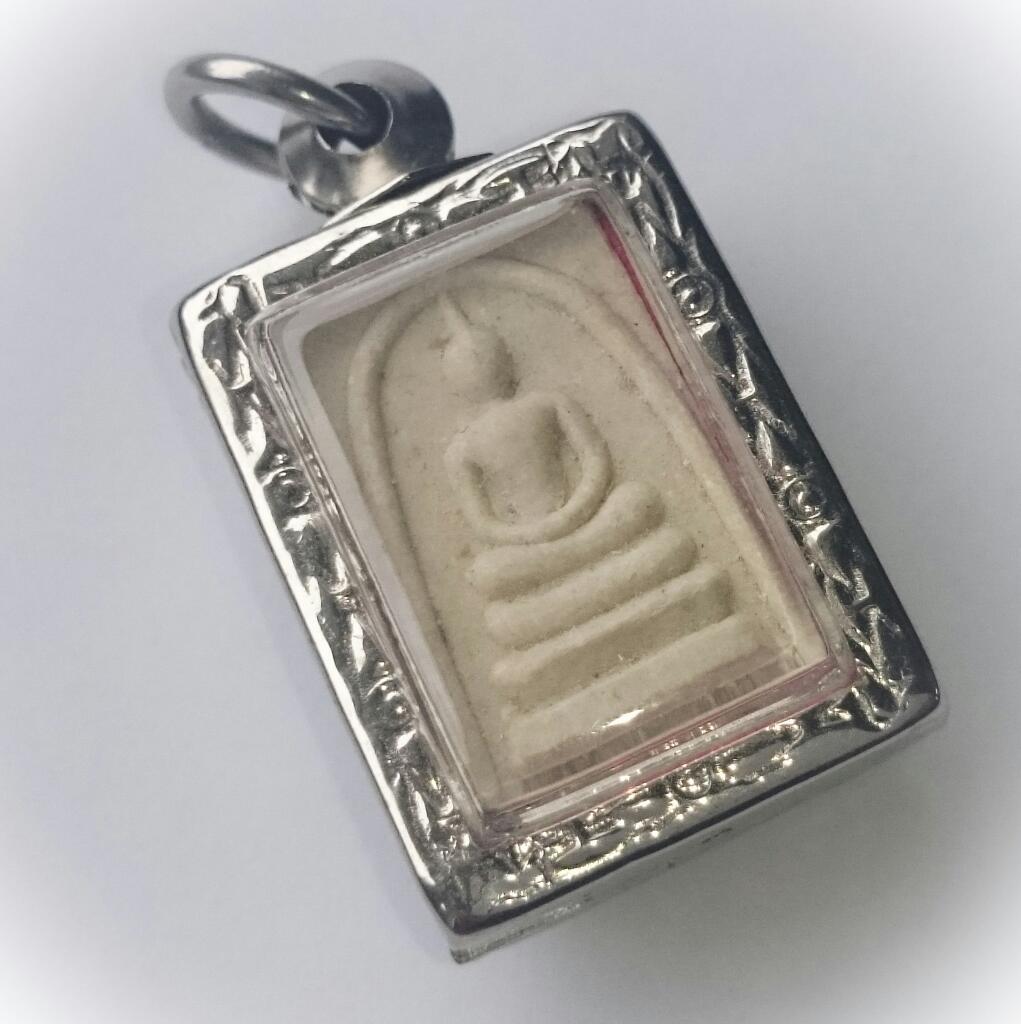 Pra Somdej Kanaen Pim Pra Pratan Miniature Buddha Amulet on 3 Tiered Dais - Ud Pong Wised (Very Special Sacred Powders inserted into base) - Luang Por Pae, of Wat Pikul Tong. Luang Por Pae's Pra Somdej amulets are of the Niyom Classification (preferred by the reference class collector circles), Making this amulet Reference Class amulet.
This particular example is a small size 'Pim Pra Pratan Kanaen' small size Niyom amulet, and is recommendable and apt for Ladies or Children to wear, due to its petite size, and delicate design features.
This amulet is a very popular amulet for devotees of LP Pae, for the inclusion of 'Gesa' (hair) of this Great Buddhist Master Monk in the Muan Sarn Powders. The soft white velvety surface texture of the Pong Puttakun sacred powder mixture, gives the amulet a wonderful sheen which would look best perhaps encased in gold casing.
A hole in the base has been filled with Sacred Powders, as is traditional with most Pra Somdej amulets from Luang Por Pae.
This is a Historical Classic amulet which can easily if perhaps arguably be included in the Benjapakee class of amulets under the Pra Somdej Category. This is because the Pra Somdej Category of Benjapakee Classics normally includes any top Classic which is widely accepted and has the correct Pedigree.
Pra Somdej Luang Por Pae are definitely amulets of High Pedigree. The stories of miracles and fortunate lifechanging experiences which have happened to Devotees of his amulets, that news of their magic power has travelled to many other countries where his amulets are revered highly, including Taiwan, Singapore, China and Malaysia.
One more thing which makes Luang Por Pae amulets not only popular and rare, is the fact that Luang Por never made large numbers of amulets. He would not issue amulets very often, and would only ever make them in small numbers. The Muan Sarn ingredients used were always of the finest and most sacred ingredients possible to acquire, and the Putta Pisek empowerment ceremonies were always attended by Great Master Guru Monks of high repute.
In a phrase; An all time classic, from a Great Guru Master whose attainments are undoubted, and whose amulets have seen many a story of life saving miracles or lucky windfalls circulating. Whoever owns this Somdej Luang Por Pae amulet, can rest assured of its sacred power and the fact that it can only become ever rarer, that it is a treasure in itself for its constant and steady increase in rarity, esteem, class and value.
Recommended Ladies amulet! Price includes stainless steel casing with engraved pattern casing.For praying to Buddhist Amulets such as this, you can use the Kata Aaratanaa Pra Krueang
These amulets can be found in all volumes of official documentation which is part of what makes his sacred amulets so popular, because of their extensive documentation forauthentication when one has good reference images for study.
Above; Luang Por Pae Pra Somdej and other amulets, in official documentation magazines
Luang Por Pae amulets are highly recognisable tend to accumulate a very fine Midew-like white powdery film on the surface, especially in the case of the rainbow coloured ones more than others. But it does form on all different kinds of his amulets of the sacred powder variety. This fine white powder which rises up to reside on the surface of the amulet is part of the true character of Luang Por Pae's amulets, and is considered a mark of Sacred Power when this Pong Puttakun powder rises to reside upon the hardened surface.
Luang Por Pae was renowned for his purity of practice, and his Pra Somdej amulet, is one of the most classic and sought after to be found in the modern era. This means the last half-century. Many other amulets of the same or lesser standard cost much more but this is about to change, and is indeed changing very fast in Thailand
Another part of the reasons for the rapid depletion and increased rarity of Luang Por Pae amulets, is the fact that his amulets are not only of top importance and collectability in Thailand, rather, also on international shores. Many Singaporeans Malaysians Taiwanese and Hong Kong nationals, have been buying up these amulets for more than the last 10 to 15 years. This has caused a massive depletion of those amulets which could still be found on the market back in those days.
As a result, these amulets have not only attained the grand respect and high spiritual and monetary value that they possess today, but are also now entering the halls of fame of essential rarities, which are immensely hard to find.
We predict that by the time our children are grown up, these amulets will be of immensely increased value, and incredibly hard to find one on offer at all, except at a price, that is only affordable to millionaires.
They are already amongst the most preferred Pra Somdej amulets and skyrocketed during the years 2550 to 2557 BE, raising them to the status of Master Class Pra Niyom amulets of the highest level. It is not expected to become easier for find them either, so now is the time, to hunt and gather the amulets of Luang Por Pae, before it is too late.
Temple:Wat Pikul Tong
Maker of Amulet:Luang Por Pae
Weight:10 Grams with Case
Recommended Uses:Protection, Mercy Charm, Auspicious karma, Lucky Fortunes, Prosperity & Good Health, Protection from and Evasion of Dangers.
Size of Amulet:2 x 1.5 Cm (2.5 x 2 Cm with Case)
Encasement Options
Waterproof Casing (8) Free Stainless Steel Casing (0)