This list of Buddhist Guru Master monks will auto-update each time we add a new Master. Click each link in the list to view the amulets and read about each Guru Monk

External Pages
---
Pra Somdej Pim Pra Pratan Nuea Pong Puttakun Hlang Roop Muean - Traimas Edition - Luang Por Huad - Wat Don Po Tong
02682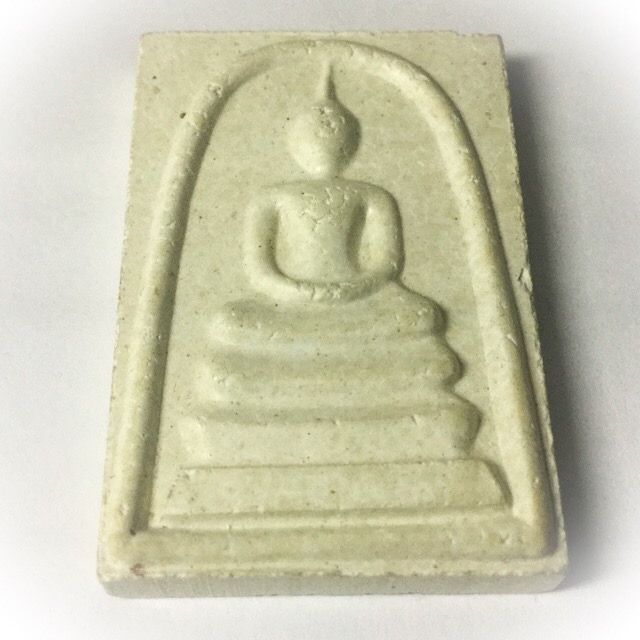 Rare Sacred Powder Pra Somdej Amulet bearing the image of Luang Por Huad on the rear face, from 2536 BE. This Pra Somdej is in Pristine Condition and has an Immensely Charming Aura, its design being both subtle, and highly defined in its prominent details.
The Pfront face of the Pra Somdej is the Classic Pim Pra Pratan Buddha in Meditative Posture, seated on a 3 tiered dais, within a tapered arch (Sum). The design is excellently created by the artisan of the block press, and has resulted in an extremely pristine amulet of highly attractive appearance, with majestic features.
The rear face features the image of Luang Phu Huad, and the words 'Traimas' which is the name of the edition, and refers to 'Trimester' which is the traditional period of empowerment given to Thai Buddhist Amulets. Some Chinese Script is also Embossed on the corners of the rear face.
Pra Kroo Bricha Wutikhun, otherwise known as Luang Phu Huad, of Wat Don Po Tong, in Supanburi was in his trajectory as a Buddhist Guru Monk apprenticed to an impressive list of Great Magical Masters, including Luang Por Opasi, and Luang Por Sorn (Wat Pha Lae Lai).
He practised Mastery of Vipassana Kammathana techniques at Wat Khao Dee Salak, amd during his residence there, he was responsible for successfully improving and developing the temple and raising it to a status of regional importance.
Because of this, he attained a very large following of Devotees. Luang Phu Huad was then appointed as the Abbot of Wat Don Po Tong, where he subsequently also continued to perform restorations and develop the temple right up to the time of his passing away on the 15th August in 2539 at the age of 86.
Luang Por Huad was known to be a 'Pra Mee Wajasit' who apoke little and would never speak ill of others, or in a negative manner. he would never argue about anything or disagree with people, preferring to avoid speaking than entering into any disagreement with others. He was known to only speak truths, and never speak things which were uncertain.
Luang Por Huad adhered very strictly to the Buddhist Vinaya Rules of the Ordained Monks Vinaya Pitaka Canon, and was a very diligent practitioner.
He made quite a large number of different amulets during his life, some of which are very expensive and rare to find, such as his 'Rian Por Sor 10', the Pra Chai Esso, and the Pra Tong Kam amongst many others, but his most highly sought after and rarest of all amulet, is his Pra Kring Medicine Buddha cast metal statuette, because only 84 of them were made in total.
Almost every single edition of amulets of Luang Por Huad produced at least one News story of a Miraculous Event attributed to a devotee wearing one of his amulets. Ten Years after his passing away, his body was found to have turned dark black-blue and hardened into 'Nil' which is considered to be Sapphire, and he is revered throughout the Supanburi Province as a Miracle Monk.
Temple:Wat Don Po Tong
Maker of Amulet:Luang Por Huad
Weight:8 Grams
Recommended Uses:Klaew Klaad, Kong Grapan Chadtri, Metta Mahaniyom
Number of Amulets Made:Unknown
Size:3.9 x 2.5 Cm
Encasement Options
Solid Gold custom casing (we will email you with a price quote according to current prices at the time of inquiry) (0) Waterproof Casing (9) Without Casing (0)