This list of Buddhist Guru Master monks will auto-update each time we add a new Master. Click each link in the list to view the amulets and read about each Guru Monk

External Pages
---
Pra Somdej Pra Pratan - Nuea Pong Bailan Pim Yai 2550 BE - Luang Por Dtat Wat Chai Na
02735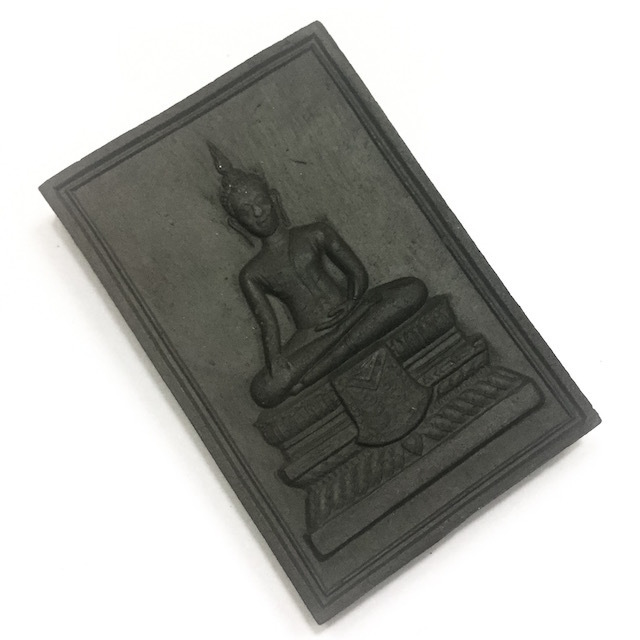 Pra Somdej Pra Pratan Jumbo size amulet, in Black Bailan Parchment Powders, from the Late Luang Por Dtat of Wat Chai Na.
This first edition Pra Khun Phaen is an extremely rare amulet indeed, for which we are extremely proud to present it with clear images for your perusal and study, and for documentation for posterity. The Pra Khun Phaen is made from extremely coarse Pong Prai Kumarn powders, and is hand pressed.
This hand pressed early First Edition Pra Khun Phaen form this master, making this an exclusive amulet of classic status, that was only made in very small numbers, before Luang Por Dtat's powers became so widespread.
The rear face features the Yant Putsoorn, with the Kata 'Putta Sangmi', 'Na Chaa Lidti', and "Na Ma Pa Ta', and the Name of the temple of Wat Chai Na, and date of edition (2550 BE)
The front face of the Pra Somdej features the Pra Pratan, which is of course the Main Buddha of the Uposadha Shrineroom, Seated on a Dais, in the 'Victory over Mara' Posture, touching the Earth, to call the Mae Toranī Earth Goddess to Witness his Enlightenment, and wash away the Maras in a deluge. This now rare amulet from Luang Por Dtat, is in pristine condition, and has extremely well defined clear features. The amulets of Luang Por Dtat are now very rare to find, due to two major influential facts;
1. The Looksit (devotees) of Luang Por Dtat have kept a large number of them for themselves, due to Luang Por Dtat having an extremely large local following, in addition to worldwide following.
2. Only few amulets were made in each edition, which caused fast depletion of each edition, and rapid disappearance from the 'Sanam Pra' Amulet Marketplaces
The fine powder base of the black Bailan Sacred Parchment and Herbal Powders, with the five Special Pra Somdej Powders according to Dtamra Pra Somdej, are exqu isite, and contain an immense quantity of the fine soft black powders from ancient black bailan parchment grimoires, containing Buddhist Suttas and Magickal Incantations.
It can be said that few other masters who have passed away in the last 2 decades have generated such a fast depletion of his amulets by devotees as Luang Por Dtat, with the exception of perhaps Luang Phu Ka Long, and Luang Por Kambu. Because Luang Por Dtat did not produce massive quantities of amulets, is pantheon is also much more difficult to find all models anymore, making them rarer than those of some of his peers.

Luang Por Dtat, of Wat Chai Na was a highly revered Gaeji Ajarn Guru Monk of the Paetch Buri Province, whose Takrut amulets became Legendary within his own lifetime. Hlwong Por Dtad (Pra Putta Wiriyaagorn), of Wat Chai Nai, Pechtburi province, is one of Thailands great Gaeji Ajarn.
A great specialist in Takrut amulets, and Phalad Khiks, he is the creator of a vast range of different Takrut, as well as other amulets, including Pra Somdej, Pra Khun Phaen, and other Buddhist Votive Tablets.
Luang Por Dtat passed away in 2552 BE, leaving his Devotees devastated. His amulets depleted at the temple within a few months of his passing, and have now become an extreme rarity to find any at all. His leaden Takrut amulets are as legendary as his world famously powerful Palad Khik charms, Some of his tiger skin Takruts would also contain leaden Takrut concealed within the tiger skin too.
His Palad Khik, Takrut (special!!) and Pra Somdej Amulets are famous around the country and indeed the world.This 1st Edition Pra Khun Phaen is of course an extremely highly sought after item with Devotees of Luang Por Dtat's amulets, not only due to its rarity, but also its aesthetic appeal. LP Dtat was renowned for his great humility, and modesty.
He never presented stories of himself or made claims about his powers, or amulets. He would often play down his powers claiming to not possess any kind of ability, yet he was always seen to perform extremely diligent empowerments with high levels of concentration, in contradiction to is modest claims. In addition, the many stories of Klaew Klaad Lifesaving Miracles occurring with Devotees who wore, and still wear his amulets, have also served to substantiate the widespread belief in the powers of his amulets.
His ability to enchant and empower physical objects (amulets), was legendary amongst his Peers, and was impossible to go unnoticed. His Aura of Magical Prowess emanated around him despite his Humility and Great Metta, and his Psychic Powers were highly noticeable when in is presence.Known for his Kong Grapan Chadtri Klaew Klaad protective amulets, Khun Phaen, Monk Coin, Takrut, and Tiger Skin Amulets, Pra Somdej Yiaw Chanee (Gibbons Piss Amulet), are Immensely renowned with Devotees, for their ability to Protect from Dangerous Accidents.


Temple:Wat Chai Na
Maker of Amulet:Luang Por Dtat
Weight:35 Grams
Recommended Uses:Protection, Promotion, Successful Business and Profession, Safety, Health Wealth and Happiness
Number of Amulets Made:Extremely few Numbers
Size of Amulet:5.5 x 3.5 Cm
Encasement Options
Solid Gold Custom Casing (Waterproo​​​​​​​f) - We will email you with a price quote according to current Gold Prices, and Invoice You after Agreement. (0) Waterproof Casing (9) Without Casing (0)