This list of Buddhist Guru Master monks will auto-update each time we add a new Master. Click each link in the list to view the amulets and read about each Guru Monk

External Pages
---
Pra Somdej Prok Po Pim Prajao Ha Pra Ongk Chud Wat Pai Lom 2513 BE - Luang Phu Tim - Wat Laharn Rai
02631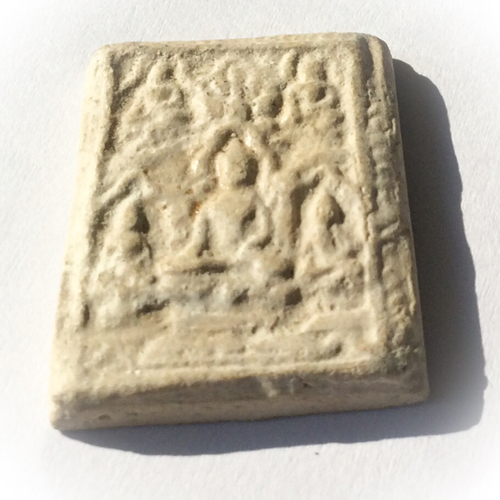 Pra Pong Pim Pra Jao Ha Praongk (Five Buddhas) - Nuea Pong Puttakun, an extremely rare and now extremely highly esteemed amulet, from the great Master Luang Phu Tim, of Wat Laharn Rai - made in 2513, and released at Wat Pai Lom 2514 BE.
This amulet is classifiable as a 'Pra Anuraks' (Conservation Class Model Amulet) of the Dtamra Luang Phu Tim, of Wat Laharn Rai (Rayong). This classic competition class amulet is a well known category of competition entry, and a popular show-piece for serious collectors. Blessed and empowered by Luang Phu Tim of Wat Laharn Rai. The amulet was made in 2513, but released one year later in 2514 BE, after a second Buddha Abhiseka ceremony at Wat Pai Lom.
This amulet is in stock but is currently only for show, due to a sudden massive price increase on the collector scene, for which we are waiting for the prices to stabilise before posting it at a fair price according to the current status. You are welcome however to email us at thailandamulets (at) outlook.com, if you do not wish to risk waiting, and are interested in making an offer.
Above and beyond this, the amulet is an authentic Sacred Buddhist Image, blessed and made in 2513 by Luang Phu Tim, released in 2514, in a ceremony held at Wat Pai Lom in Rayong Province (one of the Luang Phu Tim lineage temples).
This edition featured Various Traditional Ancient styles of Amulets such as the Prajao Ha Pra Ongk, and many other famous Pim, Pra Somdej amulets in white and brown powders, in various models (Pim), Pra Luang Por Dto, Pra Pong Nang Kwak, and various other Sacred Powder Amulets such as Pra Nang Paya, Pra Ha Tat, Pra Pid Ta, and other famous Benjapakee style and Pra-Kru style amulets.
An extremely recommendable collectors piece for your personal museum, for its high Puttakun value. The amulet has now risen in status as a Pra Niyom Classic Category amulet that is equally comparable to Luang Phu Tims Classic Famous Amulets such as the Rian Jaroen Porn and the Rian Sema Luang Phu Tim. The Empowerment ceremony was performed with Luang Phu Tim presiding over the empowerment and Buddha Abhiseka ceremony.
The Dharma Wheel stamp of the temple of Wat Pai Lom, is embossed in relief into the rear face of this most classic, rare, sacred, powerful, but still affordable Pra Kru amulet.
This amulet along with Pra Nang Kwak Hlang Yant Ha, is one of the rarest and most sought after of the whole edition, which is now becoming the most sought after edition of Luang Phu Tim that is still in circulation, since the complete depletion of the already extreme high price range editions which came directly from Lat Laharn Rai.
Such editions are now only affordable by the wealthiest of devotees and collectors, and which require a very high level of expertise in recognizing and authenticating before risking their purchase.
This edition is now expected to reach depletion within a period of a couple of years, as Thai Amulet Traders and Fans, and many collectors around the world, and especially in Malaysia and Singapore, are snapping them up with the foresight that the edition is now becoming the next millionaire edition, and is entering the same level of rarity and esteem as the editions which preceded it, one by one, as each edition depletes and becomes no more available, or affordable.
Since the official confirmation and acceptance within the expert circles and official documentation catalogues of this edition being a true member of the Dtamra Luang Phu Tim, and being part of his pantheon of amulets blessed by his own hand, the edition is now risen to full Pim Niyom Classic status, and has skyrocketed to fame as well as prices having risen at a breakneck speed
Containing his famous Muan Sarn Sacred Powders that are now legendary and priceless the world over. This particular exhibit has not yet been entered into competition, but is in our opinion worthy of a prizewinning status, and would easily take prominent lead in its category. This can be entered in any and all but the most high end competitions of world class category in both Regional and National competitions.
It can stand its ground against other top amulets of the Pra Niyom Master Class, and would be proud to be worn by any serious Devotee and Collector, simply because of its Class, Status and Revered Master Monk who made and blessed it, and now because of its High Status and Accepted Value.
Officially catalogued and admitted into the top prize-giving competitions, this is a perfect amulet to enter into the High End Category of Thai Buddhist Amulet collectorship, and competition grade amulets for entry into the world of Pro-Collector Sacred Ancient Amulets of the First Class.
There are many different colored mineral derived elemental substances, which give the amulet an inimitable appearance when you examine the surface textures to find the different components of the Muan Sarn Sacred Powders within the amulet, and if present, can authenticate and confirm its validity. The amulets are made from a Muan Sarn Sacred Powders composed of a large variety of sacred clay earths, Pong Prai Kumarn, herbal pollens and powders, and Puttakun powder. Herbs and Sacred ingredients with all sorts of different blessings and powers were added to gif a complete range of blessings.
Luang Phu Tim stands amongst the top ten Guru masters of Thai Amulet History, and Hence, this amulet can only be recommended for its status, sacred value, magical power, artistic appreciation, and collectorship value.
Above; Pra Khun Phaen Prai Kumarn - Famous Amulet of Luang Phu Tim
Luang Phu Tim Issarago of Wat Laharn Rai is perhaps most famous for his Pra Khun Phaen Prai Kumarn, and his ultra powerful and now totally depleted at the temple 'Pong Prai Kumarn' powders, used in his famous Pra Khun Phaen amulets and Look Om Pong Prai Kumarn.
His famous Rian Sema coin, Jaroen Porn coin, and other amulets are amongst Thailand's most prized and Internationally Famous amulets of all History.
Temple:Wat Pai Lom
Maker of Amulet:Luang Phu Tim of Wat Laharn Rai
Weight:7 Grams
Recommended Uses:Protection, Evade Dangers and Evil Eye, Lucky Fortunes, Improve Karma, Meditation, Buddhanussati
Size of Amulet:3 x 2.5 Cm
Encasement Options
Waterproof Casing (0) Solid Gold Custom Casing (We will Email You with a Price Quote according to current gold prices at the time of inquiry) (0) Without Casing (0)