This list of Buddhist Guru Master monks will auto-update each time we add a new Master. Click each link in the list to view the amulets and read about each Guru Monk

External Pages
---
Pra Somdej Sai Rung Hlang Yant Ongk Pra Ud Pong Wised 2513 BE - Jao Khun Nor - Wat Silakhant
02625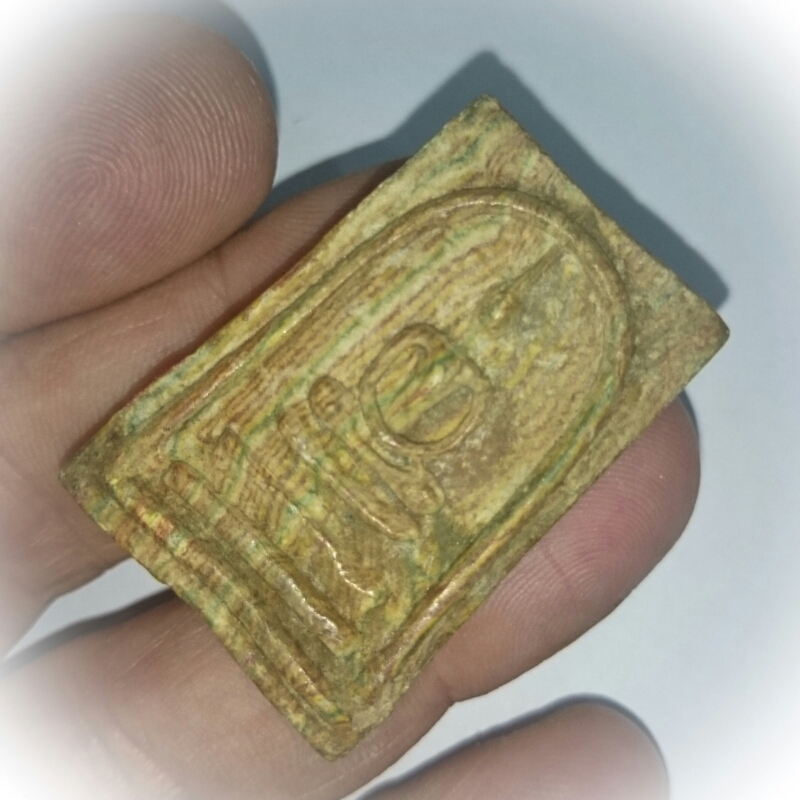 This is an extremely fine example of the Pra Somdej Sai Rung of the 2513 BE Edition Blessed by the the Great Jao Khun Nor, who is a Monk of Historical Importance and who maintained a perfect, exemplary, and admirable trajectory of practice in his Patipata as a Buddhist Monk.
Released at Wat Silakhant Temple. Jao Khun Nor was a Arya sangha Guru Monk whose Magical Powers as far as amulets are concerned are undisputed, and are known for their Metta Mahaniyom, Maha Lap, Klaew Klaad, and Serm Duang properties.
The Pra Somdej Amulet is a member of the family of 'Top Five' Benjapakee Amulets which are considered of the most culturally valuable amulets in Thai Buddhist Amulet Collection.
A most recommendable amulet for the Family Heirloom Collection, and to Wear, with no black magic, and pure Buddhakun Blessings. Increase Wealth and treasures and Klaew Klaad Protection, Serm Duang (Improve Auspicious Karma).
This model is extra special for the inisertion of Jao Khun Nor's Special Pong Wised special Puttakhun Powders in the base of the amulet.
Jao Khun Nor is officially known as 'Tan Tammawidtago Pikhu' or 'Prayan Radtnarachamanidt. He was known for his immense Mercy and Compassion and Sincerity, as well as for his Extreme Diligent Effort and Patience in his Practice of Purity in the Buddhist Vinaya as a Bhikkhu in the Buddha Sasana.
Yant Ongk Pra on rear face of Pra Somdej Sai Rung 2513 BE Wat Silakhant Blessed by Jao Khun Nor. The Muan sarn of the amulet is extremely dense and hard. Sacred powders are inserted into a hollow
He died in the year 2514 BE at the age of 74, after 56 years as an Ordained Monk. He passed away after suffering a long time from a terrible cancer on his neck, which he suffered throughout his final time,, but which disappeared just before his death, and which was an extremely large protuberance with a very painful open wound. But Tan Jao Khun Nor still went to every monring and evening prayer chanting of the Uposadha Chapel and would sit and give Dhamma sermons as usual, and never once showed that he was in pain in front of the Devotees, which is unimaginable to any normal Human Being.
Above, a picture of the Great Monk Jao Khun Nor as he suffered with extreme throat cancer, but remained practicing as usual without fail, maintaining complete diligence, without taking a rest.
The open wound of the Cancer disappeared before his death, despite the fact that he refused any special treatment apart from letting Dr. paibun clean it regularly (after which he would always give blessings to everybody chanting the Chinabanjara Kata). He said 'The wound came by itself, and so, it should also leave by itself.
Before he passed away, he performed the blessing and empowerment of sacred earths and gravels, which he called 'Pra Por Mae Torani Bpatawi Dhatu' which means 'Mother and Father Dharani Earth Mother Elemental Relics', which are considered extremely powerful.
He was reputed to say to Devotees that if they were to remember him, they should think of him by his Dhamma name of 'Tammawidtago', which means to think of the Dhamma, or 'Dtreuk Therng Pra Tam' which also means to think of the Dhamma (His birth Name was 'Dtreuk')
Above; The Pra Por Mae Torani Bpatawi Dhatu Relics of Jao Khun Nor
It was said by the Sangkaracha Royal Monk who was also the Upachaya (ordaining officer) of Jao Khun Nor, that "this is not any ordinary person - he is already a Noble Person (one of the four kinds of Enlightened Beings). In addition, The Great Luang Ta Maha Bua was known to have said that Jao Khun Nor was a 'Pra Arahant Klang Krung' declaring him an Enlightened Arahant.
Temple:Wat Silakhant
Maker of Amulet:Jao Khun Nor
Weight:14 Grams
Recommended Uses:Klaew Klaad, Maha Pokasap, Serm Duang (improve fate and destiny), Maha Pokasap, Metta Mahaniyom
Size of Amulet:3.8 x 2.5 Cm
Encasement Options
Waterproof Casing (9) Solid gold custom casing (we will email you with a price quote according to current gold prices at the time of inquiry) (0) Without Casing (0)