This list of Buddhist Guru Master monks will auto-update each time we add a new Master. Click each link in the list to view the amulets and read about each Guru Monk

External Pages
---
Pra Somdej Sai Rung Rainbow Buddha Amulet with 24K Gold Takrut - Pre 2537 BE - Luang Por Koon Parisutto - Wat Ban Rai
02536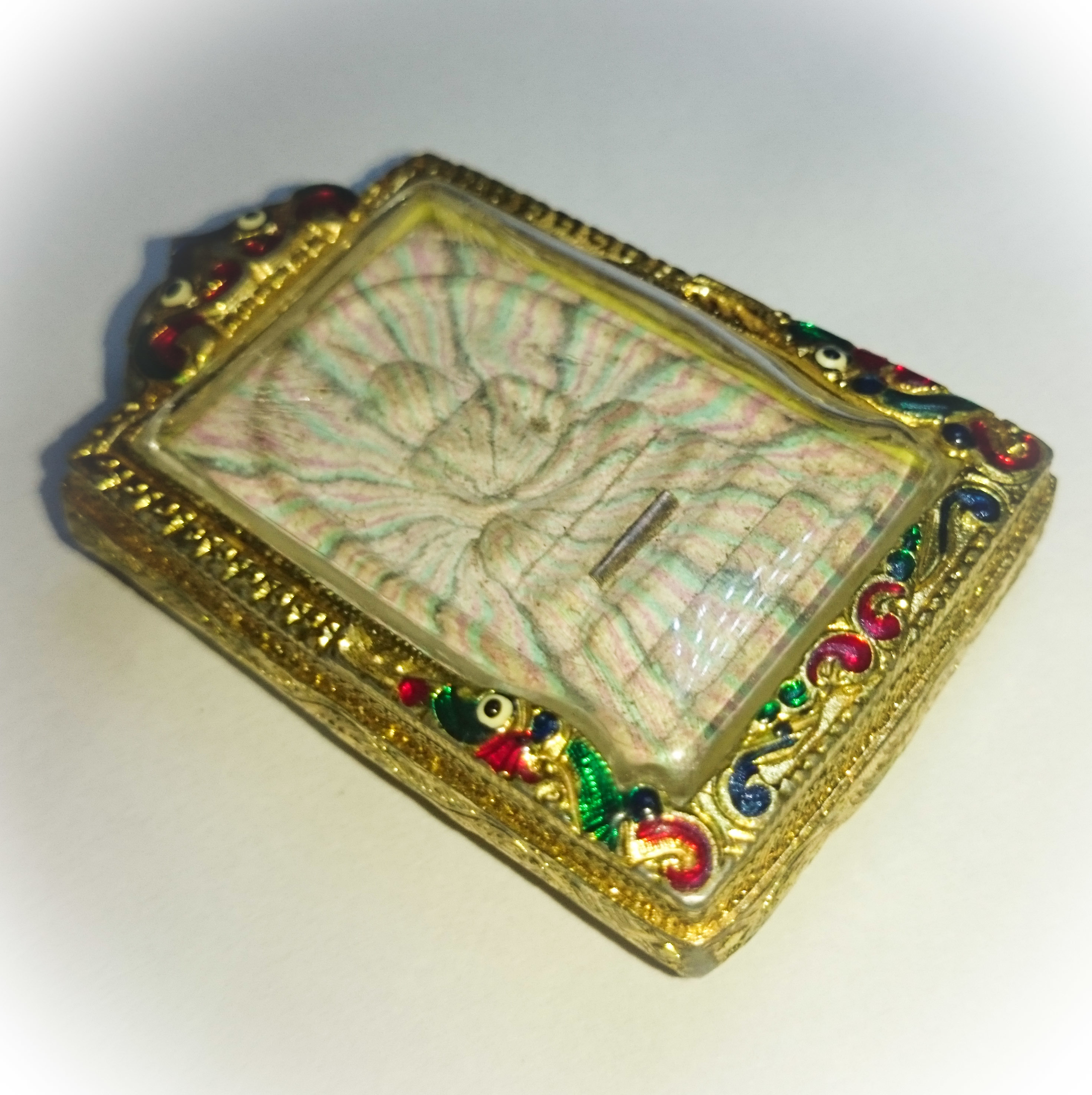 Pra Somdej Luang Por Koon Pim Sai Rung Takrut Tong Kam - rainbow colored Muan Sarn Sacred Powders Buddha Image with solid 24K Gold Takrut spell inserted. The amulet is one of Luang Por Koon's earlier and rarer Pra Somdej amulets, from before 2537 BE.
Special Gold Plated Casing with Ya Rachawadee Fancy Enamel colored glaze deco casing is included with the amulet in the price.
Amulets between 2537 BE and 2555 BE are less popular than those made before 2537. This is due to overproduction after 2537 of many editions, which reduced the collectibilty and rarity of the said editions. Ediitions before 2537 BE, are hence highly valued, and ever rarer to find an authentic model on the amulet collector market places.
Indeed, some editions which have been, and are being released since 2556 BE are now being also ever more widespread valued, due to the stricter control now of both the limited numbers of amulets, as well as great care and extensive measures made in the manufacturing and smelting and designs of the post 2556 BE editions, to prevent and make forgeries close to impossible to reproduce, and too costly to undertake.
The rainbow Somdej, as many people lovingly call it, has only two true Meistros of the Art, being Luang Por Koon, and of course the Great Luang Por Pae  of Wat Pikul Tong (Singhburi). Tjis particular model was the top model range with solid gold Takrut, along with the usual Ongk Kroo possessing three gold Takrut which is next to unaffordable and in any case almost impossible to find anymore.
Luang Por Koon is now a very aged Monk who is perhaps the most beloved and famous Monk of Thai History at least Modern History. His humility is said to be equalled by his miraculous power to bless people with great blessings, especially protective and wealthy blessings.
It is completely certain that his Amulets will live on as some of the greatest most Revered, and collectible Amulets of all time. Their fame and praise will continue to increase, far far into the future from now.
One could hardly wish for a better auspicious Buddhist Amulet than a Pra Somdej Luang Por Koon, to wear around one's neck, and feel its power and purity of the Buddha Image. To Bucha the Pra Somdej Sai Rung as Buddhanussati (remembrance of the Buddha and is achievements, as a reminder of our own practice).
The image of Luang Por Koon is embossed on the rear face. the amulet, being ow of a respectable vintage, has of course some wear and tear along the edges, more visibly on one side than the other.
A total rarity, especially this particular model, which you will be very lucky to see anywhere anymore, be it on the internet, in the temples or markets.. The can mostly now only be found around the necks of devotees, which is hardly surprising considering the prestige and calibre of these amulets.
One must also consider the fact that they do not (yet) carry a millionaire price tag with them, and can be afforded by most people who desire a truly sacred amulet and are prepared to invest just that little bit more in getting an amulet that will be amazing not only today, but also when our grandchildren and their children grow up. A heritage heirloom amulet is what we like to call this kind of eternally classic Buddhist Amulet, that will never ever lose popularity.
Temple:Wat Ban Rai (Nakorn Rachasima)
Year of Issue:
Between 2517 and 2536 BE
Maker of Amulet:Luang Por Koon
Weight:8 Grams
Recommended Uses:Protection, Auspicious Blessings, Prosperity