This list of Buddhist Guru Master monks will auto-update each time we add a new Master. Click each link in the list to view the amulets and read about each Guru Monk

External Pages
---
Pra Somdej Siarn Badtr Hoo Bai Sri Pim Ok Rong 2538 BE Uposatha Building Edition - Wat Nok
02939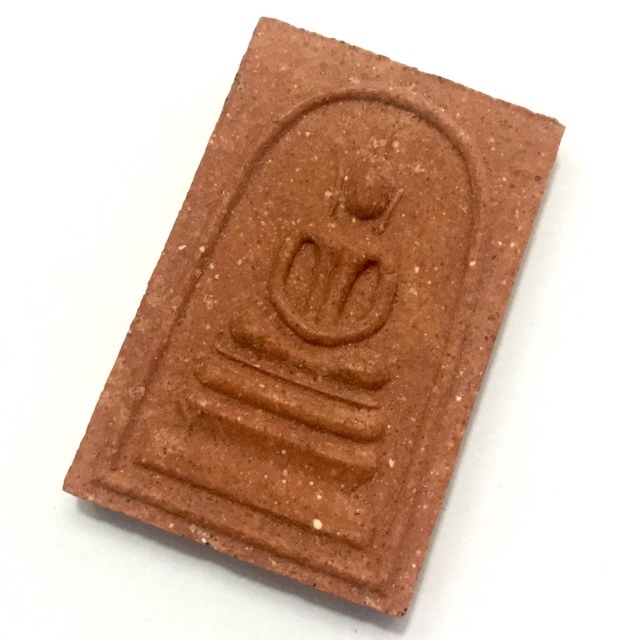 Pra Somdej Siarn Badtr (alms-bowl shape head) Hoo Bai Sri (elongated ears) Pim Ok Rong (split torso). 'Run Sang Bote' (Uposatha Srhine Room building edition).
This Pra Somdej released in the year 2538 BE at the famous temple of Wat Nok in Bangkok, commemorated the completion of the Uposatha Shrine Room restoration at Wat Nok.
Made from red sacred powders. this votavie table is unusual in its design features, with three differently styled steps to the Dais, and a slim ridge under the Buddha, which represents the meditation mat upon which the Buddha sits to meditate.
The torso of the Buddha has a split through the middle, which is known as 'Ok Rong', with a rounded head like the shape of a monk's almsbowl, and elongated ears. All these features are clearly reminiscent of the style used in the famous Pra Somdej Wat Gaes Chaiyo amulets.
Wat Nok is a very important and old temple in Bangkok, that has seen many great masters pass through its shrine room to perform Buddha Abhiseka ceremonies of many important editions, and is a temple of National Importance.
Use the Traditional Thai Buddhist Method for Bucha;
1. Chant Maha Namasakara (3 Times)
2. Chant the Trai Soranakom (3 Times)
3. Chant Kata Aaraatanaa Pra Krueang (3 Times)
Kata Maha Namasakara
Namo Dtat-Sa Pakawa-Dto Araha-Dto Sam-Maa Sam-Put-Dtat-Sa
Namo Dtat-Sa Pakawa-Dto Araha-Dto Sam-Maa Sam-Put-Dtat-Sa
Namo Dtat-Sa Pakawa-Dto Araha-Dto Sam-Maa Sam-Put-Dtat-Sa
Trai Soranakom
Puttang Cheewidtang Yaawa Nipaanang Saranang Kajchaami

Tammang Cheewidtang Yaawa Nipaanang Saranang Kajchaami
Sangkang Cheewidtang Yaawa Nipaanang Saranang Kajchaami
Tudtiyambpi Puttang Cheewidtang Yaawa Nipaanang Saranang Kajchaami
Tudtiyambpi Tammang Cheewidtang Yaawa Nipaanang Saranang Kajchaami
Tudtiyambpi Sangkang Cheewidtang Yaawa Nipaanang Saranang Kajchaami
Dtadtiyambpi Puttang Cheewidtang Yaawa Nipaanang Saranang Kajchaami
Dtadtiyambpi Tammang Cheewidtang Yaawa Nipaanang Saranang Kajchaami
Dtadtiyambpi Sangkang Cheewidtang Yaawa Nipaanang Saranang Kajchaami
Kata Aaraatana Pra Krueang
Puttang Aaraatanaanang
Tammang Aaraatanaanang
Sangkang Aaraatanaanang
Puttang Prasittimae
Tammang Prasittimae
Sangkang Prasittimae
Temple:Wat Nok
Weight:8 Grams
Recommended Uses:Metta Maha Niyom, Serm Duang, Maha Lap, Klaew Klaad
Size of Amulet:3.5 x 2.5 Cm
Encasement Options
Waterproof Casing (9) Without Casing (0)