This list of Buddhist Guru Master monks will auto-update each time we add a new Master. Click each link in the list to view the amulets and read about each Guru Monk

External Pages
---
Pra Yord Khun Pol Hlang Suea Run Udom Prachanat 2541 BE - Nuea Pong Toop - Luang Por Phern Wat Bang Pra
03214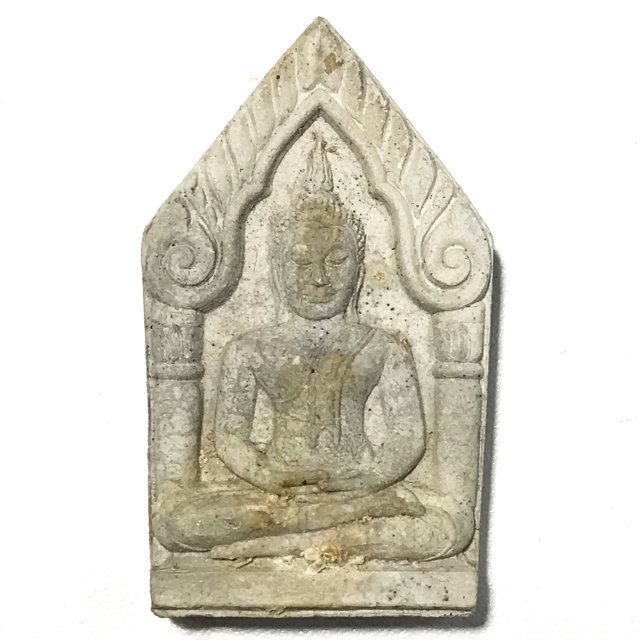 Pra Pim Khun Phaen Yord Khun Pol in Nuea Pong Toop Sacred Incense Powders, from the 2541 BE 'Udom Prachanat' Wai Kroo Edition celebrating Luang Por Phern Tidtakuno's 76th Year of Life. This exhibit comes with the original temple box included. The Pra Yord Khun Pol is made from fine incense powders from monks praying, with herbal powders.
The amulet has been placed in Kru Chamber to gather Sacred Prayers and charge with Buddhakhun Power, which results in 'Kraap Kru' mildew formation on the surface of the Muan Sarn clay. A most classic sacred powder amulet, from the Great Master of Sak Yant, Luang Por Phern Tidtakuno of Wat Bang Pra temple in Nakorn Pathom.
The rear face features the Yant Suea Maha Amnaj Tiger of Commanding Power, with the Kata Suea Maha Amnaj inscribed in Khom Agkhara around it.

The Pra Yord Khun Pol has many different forms of artistic interpretation, and is one of the Classic Historc Periodic Amulets which has its own 'Benjapakee' five regions set of 'Pra Niyom' preferred amulets, and is famed for its Serm Yos (Increase Status), Maha Amnaj Commanding Power, Kong Grapan Chadtri Invincibility, Klaew Klaad Evasion, and Maha Pokasap - Maha Lap Wealth Increasing powers.
This amulet comes with original temple box included
The amulets of Luang Por Phern Tidakuno (Wat Bang Pra) are highly renowned for their Kong Grapan Chadtri Klaew Klaad, Maha Lap, Maha Amnaj and Serm Duang Powers. This is of course, one of the reasons why the Great Luang Por Phern, has hundreds of thousands of devotees around the world, if not millions. The Pra Yord Khun Pol has 5 Major Artistic Styles of Reference, forming their own 'Benja Pakee' Family of Five Regional Top Yord Khun Pol preferred Models. Each of these five Regional Styles also have their proliferations, resulting in a Grand Pantheon of Amulets which are all known as 'Pra Yord Khun Pol'.
The five kinds of Yord Khun Pol amulet within the five top Benjapakee of the Yord Khun Pol Niche, are;
Pra Ruang Rang Pern - Wat Pra Sri Radtana Maha Tat (Sukhothai Province)
Pra Huu Yaan - from the Kru Burial Chamber find at Wat Pra Sri Radtana Maha Tat in Lopburi
Pra Chinarat Bai Sema, from the Kru Burial find at Wat Pra Sri Radtana Maha Tat, in Pitsanuloke,
Pra Mahesworn, from the Kru burial archeological find at Wat Pra Sri radtana Maha Tat, in Supanburi,
Pra Ta Gradan from the famous Kru Burial find at Sri Sawad, considered to be an amulet that is over 500 years since its making.
Luang Por Phern (Pra Udom Prachanat), is one of this Century's Greatest Master Gaeji Ajarn Guru Monks, and holds World Famous International Status as well as being a revered Monk of the Thai Royal family.

Luang Por Phern. Is one of the most internationally famous monks all of this century mainly for his grand role in the promotion of Sak Yant Sacred Tattoos, And of course his powerful amulets which are now becoming ever more favored and ever rarer. And of course,ever more valued.
Those who rever the Great Luang Por Phern will be at best served with this purely Buddhist Amulet of Auspicious Blessings, for the faith of the Devotee and the Metta of the Guru Master, is the connection that causes the Miracle Events which are so often attributed to amulets to occur.
Attributed Powers; Kong Grapan Chadtri, Maha Pokasap, Metta Mahaniyom, Serm Duang Klaew Klaad, Maha Amnaj.
Kata Bucha Pra Yord Khun Pol
Arahang Sukhadto Pakawaa
Kata Bucha Luang Phor Phern
Kata for Thai Buddhist Amulets (Aaraatanaa Pra Krueang)
Always say; 'Namo Dtassa Pakawato Arahato Sammaaa Samputtassa' first, three times before making any Kata for amulets.
Puttang Aaaraatanaanang Tammang Aaaraatanaanang Sangkang Aaaraatanaanang Puttang Prasittime Tammang Prasittime Prasittime Sangkang Prasittime
Temple:Wat Bang Pra.
Maker of Amulet:Luang Por Phern Tidtakuno
Weight:8 Grams
Recommended Uses:Kong Grapan Chadtri, Metta Mahaniyom, Klaew Klaad Evasion Magic, Serm Duang.
Size of Amulet:3 x 2 Cm
Encasement Options
Solid Gold Custom Casing (Waterproo​​​​​​​f) - We will email you with a price quote according to current Gold Prices, and Invoice You after Agreement (0) Waterproof Casing (9) Without Casing (0)