This list of Buddhist Guru Master monks will auto-update each time we add a new Master. Click each link in the list to view the amulets and read about each Guru Monk

External Pages
---
Pra Yord Khun Pol Pim Klang Hlang Yant Pu Dhavaradi 2510 BE - Buddha Amulet for Protection and Status - Por Tan Nam - Wat Don Sala
02938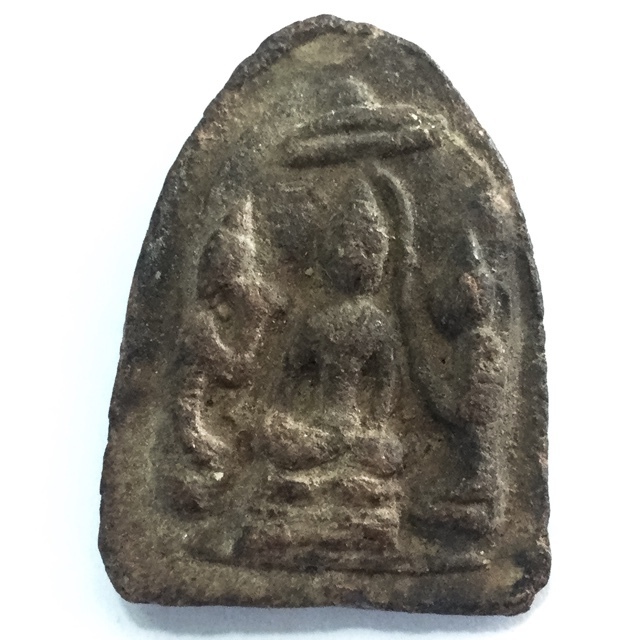 Pra Yord Khun Pol Pim Lek Nuea Wan Hlang Yant Yant Pu Dhavaradi (Chedi Stupa on rear face) Sacred Powder Buddha Amulet in Large size model. The amulet is the medium model measuring
This is Ancient Classic of Por Tan Nam, and Immense Rarity from the Great Olden Days Khao Or Master Monk of Wat Don Sala, in Pattalung. and is a standard bearer amulet seen to be made by almost all Khao or Masters, which can be most famously denoted by the Pra Yord Khun Pol amulet of the Great Ajarn Chum Chai Kiree of the Dtamnak Dtak Sila Khao Or Southern Academy of Sorcery.
The amulet is empowered with the Wicha Pra Yord Khun Pol, containing Invocations to summon the power of Kong Grapan Chadtri, Klaew Klaad, Maha Amnaj (commanding power and influence) and Serm Yos Status Promotion Magic. The front face of the amulet bears the Image of a Buddha setead in Mara Vichai Posture. The two Savaka, Magdalyayana and Saributra are standing either side, one holding a 'Chadtr' Parasol to shade the Buddha.
2510 BE saw this Amulet released in various different 'Pim' (models);
1. Hlang Yant Pu Dharavadi (Stupas Yantra - 1, 2 or 3 Stupas), 2. Hlang Yant Bai Po. 3. Oblong shaped Pra Yord Khun Pol 'Pim Badtiharn' (Miracle Pim) Hlang Yant Pu Dhavaradi, and 4. Pra Luang Por Tuad Pim Hlang Bai Po Amulet also released in the same edition, along with 5. Pra Pid Ta Nuea Takua Long Thom, leaden Nirodha Buddha amulet, which is also so Rare and famous, from Por Tan Nam.
This Edition was one of Por Tan Nams Early Era Amulets, and a highly preferred Pra Niyom Classic. of national and International Historical Fame and Prestige. Powerful Kong Grapan Chadtri Klaew Klaad Protection and Evasion, Serm Yos Status Increaser Amulet of Legendary Proportion.
This is a most classic Benjapakee type amulet, and a large one indeed at that, which any true lover or collector of Thai Buddhist amulets would wish to have in their collection and of course to wear around their neck
Por Tan Nam of Wat Don Sala (Pattalung), was one of the Great protagonists of the Samnak Dtak Sila Khao Or School of Sorcery, and one of the Greatest Guru Masters of the Southern Thai Provinces of all History. His amulets, and Amulets made in his Image are considered to be Most Sacred with Thai people of the South.
His Role in the History and Legends of the Khao Or Magical tradition, and collaboration with the making of Amulets with this Grand and Large family of Sorceror Monks, who stem from a number of Famous temples within the Khao Or Tradition. His amulets are as sacred and rare as they are priceless, and are amongst the most esteemed and collected amulets of the High End 'Pra Niyom' Collector Category.
These amulets are part of the famous Pantheon of 'Maha Wan' Herbal Powder base amulets, made by Por Tan Nam between 2510 and 2512 BE which are amongst the most highly regarded and revered amulets of the Historical Pantheon of Wat Don Sala. In those days, Pra Ajarn Nam and the great Ajarn Chum of the Dtamnak Dtak Sila would still use Sacred Powders from Luang Por King (Wat Ban Suan).
The amulets of the 2510 - 2512 BE Era were made after Por Tan Nam's second and final Ordination, and are famous for their content of Ancient Sacred Earthen and Powder Amulets of many Great Olden Days Masters, and the Maha Wan Herbal Powders of Pra Ajarn Nam mixed with his Pong Tang Ha Samrej 5 Sacred Yantra Powders. In these times, Por Tan Nam still mixed bis own powders and made his own Yantra Inscriptions.
Pra Yord Khun Pol - A Benjapakee Story
Pra Yord Khun Pol is one of the Classic Historc Periodic Amulets which has its own 'Benjapakee' five regions set of 'Pra Niyom' preferred amulets, and is famed for its Serm Yos (Increase Status), Kong Grapan Chadtri, Klaew Klaad, and Maha Pokasap - Maha Lap powers. There are various forms seen in various regions who made the Yord Khun Pol amulet, with five of them becoming the most preferred, hence they also carry the name, 'Benja' (meaning 5) and 'Pakee' (Benjapakee).
The five kinds of Yord Khun Pol amulet within the five top Benjapakee of the Yord Khun Pol Niche, are;
Pra Ruang Rang Pern - Wat Pra Sri Radtana Maha Tat (Sukhothai Province), Pra Huu Yaan - from the Kru Burial Chamber find at Wat Pra Sri Radtana Maha Tat in Lopburi, Pra Chinarat Bai Sema, from the Kru Burial find at Wat Pra Sri Radtana Maha Tat, in Pitsanuloke, Pra Mahesworn, from the Kru burial archeological find at Wat Pra Sri Radtana Maha Tat, in Supanburi, and the Pra Ta Gradan, from the famous Kru Burial find at Sri Sawad, considered to be an amulet that is over 500 years since its making.
Use the Maha Namasakara (Namo Dtassa x 3), and Kata Aaaratana Pra Krueang to Bucha and beseech wish fulfilment from the Prakam Dee Kwai Yord Khun Pol.
Maha Namasakara Kata
Namo Dtassa Pakawadto Arahadto Sammaa Samputtassa
Namo Dtassa Pakawadto Arahadto Sammaa Samputtassa

Namo Dtassa Pakawadto Arahadto Sammaa Samputtassa
You can practice the Kata Aaraatanaa Pra Krueang, by using the tutorial in the below youtube video.

Kata Aaraatanaa Pra Krueang
Kata Aaraatanaa Pra Krueang
Puttang Aaraatanaanang, Tammang Aaraatanaanang, Sangkang Aaraatanaanang
(Pray for your wishes)
Puttang Bprasittimae, Tammang Bprasittimae, Sangkang Bprasittimae
Kata Bucha Pra Yord Khun Pol
Arahang Sukhadto Pakawaa
Kata Bucha Pra Yord Khun Pol (Version 2)
Chant Maha Namasakara (Namo Tassa) Three times first, as usual before chanting to amulets.
Na Mo Puttaaya Na Ma Pa Ta Ja Pa Ga Sa Na Ma A U Putto Arahang
Chant once in the mornings for Metta and Choke Lap.
Chant once in the evenings for protection from danger and evil energies.
Temple:Wat Don Sala
Maker of Amulet:Por Tan Nam Puttasaro
Weight:10 Grams
Recommended Uses:Protection, Commanding Power, and Status Increase
Size of Amulet:3.5 x 2.5 Cm
Encasement Options
Solid Gold Custom Casing (Waterproo​​​​​​​f) - We will email you with a price quote according to current Gold Prices, and Invoice You after Agreement. (0) Waterproof Casing (9) Without Casing (0)