This list of Buddhist Guru Master monks will auto-update each time we add a new Master. Click each link in the list to view the amulets and read about each Guru Monk

External Pages
---
Rian Bai Po Hlang Yant Duang Pim Lek 2500 BE - Nuea Tong Daeng Luang Por Lee - Wat Asokaram
03074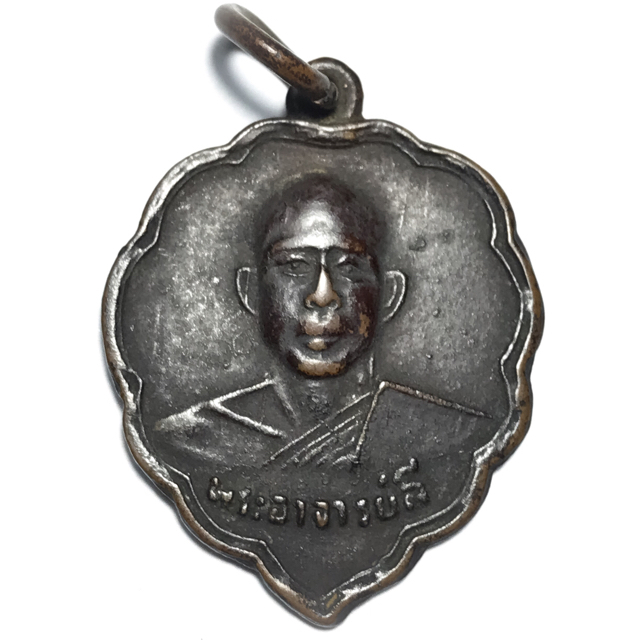 Rian Bai Po Bodhi Leaf shaped Guru Monk coin from the 25 Centuries of Buddhism Celebrations Edition of 2500 BE, in Nuea Tong Daeng. An absolute All-Time Classic Pra Niyom Amulet, especially recommendable for those who believe and follow the teachings of the Forest tradition Masters. The coin is a Pim Lek, smaller model measuring 3 x 2.5 Cm, and is fitting for both men or women, being medium size amulet. The celebration of this event held at Wat Asokaram was graced by the presence of some of the greatest Arya Sangha of the Era, including Luang Ta Maha Boowa, Luang Phu Singh, Pra Ajarn Dter, and Ajarn Fan Ajaro.
The front face features a cameo 'Kreung Ongk' semi torso of Luang Por Lee. The rear face features the Sacred Yant Duang, for karma Improvement and Auspicious Lucky Fortunes, with Numerology Spells within Twelve Segments of the Astrological Wheel, surrounded by lotus petals. This coin also had another rear face version with Ajarn Mao on the rear face instead of the Yant Duang, which is also a very rare model indeed. The coins were made in Nuea Loha, Tong Daeng Phiw Fai, Tong Daeng Rom, and Albaca. This Pim with Yant Duang is the rarest of all the models, and is only seen very rarely. The models with Yant Duang also exist in two versions, as is the case in the sacred powder versions (Pra Bai Po Jak). One version is the yant Pra Putta Jao, and the other version has the Yant Por Tan Lee emblazoned on the rear face.
Pra Suttitamma Rangsri Kampira Mettajarn (Luang Por Lee - 31st of January 2449 BE - 26 April 2504 BE), was a Vipassana Kammathana Monk of the Forest Tradition Lineage of Luang Phu Mun Puritadto, and is a Kroo ba Ajarn of the Buddhist Path, who is of immense Importance to Thai Buddhists. He was the most lauded of all the apprentice monks who studied under Luang Phu Mun. Luang Phu Mun often spoke of him with great respect.

Luang Por Tan Lee was also the first monk to inaugurate a Buddhist temple of the Thai forest tradition linage of Luang Phu Mun in the capital city, at Wat Asokaram. It was also Luang Por Lee Who inaugurated the great celebrations of 2500 years of Buddhism at Wat Asokaram, which was part of a chain of events resulting in the third biggest ever mass blessing of Amulets, and grand ceremonies all around the country celebrating this great event.
This was where he released perhaps his most famous editions of Amulets during these 25 centuries of Buddhism celebrations of 2500 BE. Hundreds of temples around the country gathered to release Amulets to be passed around the major ceremonies to receive mass blessings from hundreds of the greatest Guru masters of the time. This edition from Luang Por Lee, is one of the most widely known editions, and highly revered, as well as being extreme rarities, due to the large number of Devotees and collectors around the world who fanatically gather and hoard the Amulets of this great Master.
The celebration of this event held at Wat Asokaram was graced by the presence of some of the greatest Arya Sangha of the Era, including Luang Ta Maha Boowa, and Luang Phu Fan Ajaro. The Rian Bai Po Luang Por Lee was made with both image of Luang Por Lee, and with Buddha Image too, in both Pim Yai and Pim Lek (large and small versions), with various rear face designs. The different rear face designs were made on both the coins, and the sacred powder and baked clay Buddha Images from the Hlang Riab (smooth rear face).
Also, there were two kinds of different Yant inscriptions on the two 'Hlang Yant' models. one model was the Yant Pra Putta Jak, and the other was the Yant Kroo of Luang Por Lee himself. There are also a very few models of Sacred Powder models, with an indented Buddha Image, within an arched dais on rear face, which are seen rarely.
This edition of Luang Por Lee is extremely popular and already tried and tested, and accepted for its power, not only by Thai Buddhists, but by devotees of Luang Por Lee and his amulets, around the world. The fact that it was part of the National Celebratiopon Ceremonies of the 25 centuries of Buddhism is also an additional Sacred Element attributed to this Edition.
They amulets of Luang Por Lee, have enjoyed the honorable status of Pra Niyom category for many years already, but in recent times, his amulets have risen to even higher importance than before, and this trend does not seem to be slowing down. We are delighted to present those few remaining amulets of this great Master we can find available, for your enjoyment and perusal.
Luang Por Lee was not only a Master Gaeji Ajarn Guru Monk of the Thai Buddhist Folk, nor was he solely famous for his amulets. In truth, Luang Por Lee is one of the great Kroo Ba Ajarn of some of the greatest monks and Arya Sangha realized Masters of the last Century. His teachings were so great, that they inspired and led some of the great Masters of the present day and recent past.
He was an iconic teacher for the western forest tradition monks who came to Thailand to ordain with the great Ajahn Chah Supatto of Wat Nong Pha Pong, and his teachings are translated into English, and are considered immensely important teachings for the dedicated practitioner of Vipassana Kammathana practice, and especially for Monks. Luang Por Lee began to make amulets at Wat Pha Klong Kung around 2496 BE, and used a design he had obtained from his visit to India as the model to carve the block press molds from.
The original images were from two different carved Buddha images which Luang Por Lee had from India which were carved in Ivory. One of the images was seated in the 'Pang Samadhi' meditation posture with clasped hands on the lap, seated within a Bodhi Leaf, with four Yant in Khom Agkhara around the Buddha. This image had a Yantra on the rear face (Hlang Yant Duang). Some were also pressed with no Yant on rear face (Hlang Riap) The other image had the Buddha with one hand raised in the first sermon posture (Dhamma Dhesana).
The Dhamma Dhesana sacred powder model was made with no Yant Puttajak (four Khom letters) on the front face, just smooth surface with leaf veins (Hlang Riap). However one can stil find variations in authentic models. There were also some which were cut around the Buddha image into a five sided triangular shaped amulet, which became known as the 'Pim Ha Liam'.
Because of the many slight variations which can be found in sacred powder models of Luang Por's Bai Po Jak amulet, it is not the best criteria to use the visual details as the main authentication method. Knowledge of the Muan Sarn Sacred Powders and their appearance, and how the clay should look, is a very important tool to use with this kind of amulet. Each Muan Sarn Clay is different, be it Gesorn Pollens, Red Clay Earth (Nuea Din), Nuea Chocolate, or black Bailan Parchment Powders.
Use the Buddhist Method of Bucha for this amulet, by chanting the Maha namasakara Three Times, and then the Kata Aaraatanaa Pra Krueang
Maha Namasakara
Namo Dtat-Sa Pakawa-Dto Araha-Dto Sam-Maa Sam-Put-Dtat-Sa
Namo Dtat-Sa Pakawa-Dto Araha-Dto Sam-Maa Sam-Put-Dtat-Sa
Namo Dtat-Sa Pakawa-Dto Araha-Dto Sam-Maa Sam-Put-Dtat-Sa
Kata Aaraatanaa Pra Krueang
Puttang Aaraatanaanang
Tammang Aaraatanaanang
Sangkang Aaraatanaanang
Then make your Prayer/Wish, and continue with;
Puttang Prasittimae
Tammang Prasittimae
Sangkang Prasittimae
Temple:Wat Asokaram
Maker of Amulet:Luang Por Lee
Weight:6 Grams
Recommended Uses:Guru Worship, Buddhanussati, Protection, Improve Karma, Auspicious Lucky Fortunes and Fate
Size of Amulet:3 x 2.5 Cm
Encasement Options
Solid Gold Custom Casing (Waterproo​​​​​​​​f) - We will email you with a price quote according to current Gold Prices, and Invoice You after Agreement (0) Waterproof Casing (9) No Casing (0)