This list of Buddhist Guru Master monks will auto-update each time we add a new Master. Click each link in the list to view the amulets and read about each Guru Monk

External Pages
---
Rian Dtalab Ya Mong Pim Lek Hlang Hnaa Phaag Suea Kroeng 2518 BE Monk Coin with Tiger Fur + Muan Sarn in Rear Face - Luang Por Te Wat Sam Ngam
02987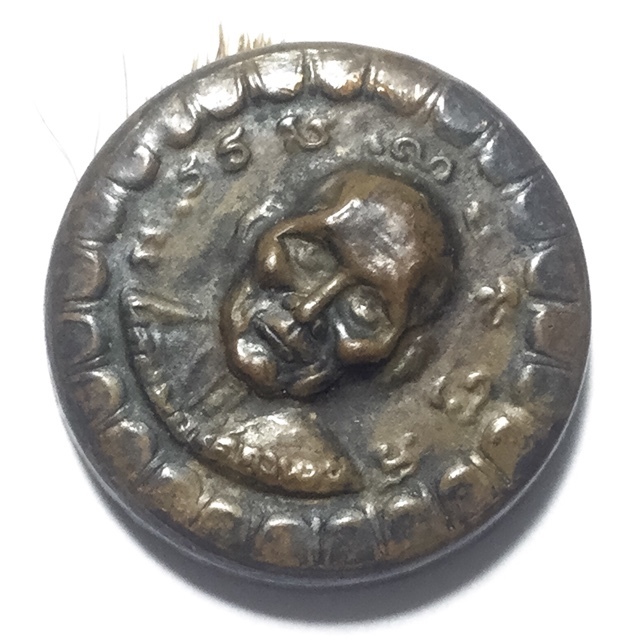 Rian Dtalab Ya Mong (lipgloss capsule lid coin) with tiger forehead fur inserted into the rear face of lid, from the Great Master of Kumarn Tong of Wat Sam Ngam, Luang Por Te Kong Tong. This is the Pim Lek Model, which was released along with the Pim Yai larger model. This model is also a preferred version with the name of Luang Por Te not exceeding the contours of his robes (Niyom)
Luang Por Te is considered to be the all time master of all history for Wicha Kumarn Tong and his powerful Pong Prai Kumarn. His Wicha Kong Grapan Chadtri and Klaew Klaad is also Legendary, and is said to have served many soldiers in wartime battles, to save their lives.
The front face of the Dtalab Ya Mong, has the image of Luang Por Te embossed with Khom Agkhara Spells around the rim of the Dtalab. Some Pong rae minerals and sacred powders, and tiger forehead fur were inserted into the rear face by Luang Por Te, and enchanted with his Incantations, the Inscirption of the Yan Na Suea Kroeng Tiger Yantra, and the psychic empowerments of Luang Por Te's Meditative Prowess.
The Rian Dtalab Ya Mong was cast in a very similar form to the lid of a 'Ya Mong' tiger balm capsule, which resulted in this amulet recieving the popular folk nickname of 'Rian Dtalab Ya Monk', becasuse 'Dtalab Ya Mong' means 'massage balm lid'.
Although Luang Por Te was and continues to remain world famous for his powerful wicha Kumarn Tong, Luang Por also made a vast array of other amulets, almost all of which are popular and considered very powerful by the devotees of this Legendary Master.
He made many types of Takrut, See Pheung and Nam Man Prai, Sacred Powder amulets, metal coins, occult charms, Pha Yant (Yantra Cloths), and Bucha statues
His power of Kong Grapan Chadtri, Klaew Klaad, Maha Lap, Kaa Khaay, Maha Pokaap and Maha Amnaj, also enjoys legendary status and world wide fame.
The Rian Dtalab Ya Mong with Tiger Forehead fur is predominantly for Maha Amnaj, Kong Grapan Chadtri and Metta Maha Niyom, for the devotee of Luang Por Te who seeks Commanding Power and Status in the Profession, Invincibility and Evasion of Dangers and Enemies, then this is a recommandable choice.
The Rian Dtalap Ya Mong Hlang Hnaa Phaag Suea was blessed and released around the year 2518 BE.
LP Te would make amulets in various manners using different methods, mostly during the Second World War. Every single edition or type of amulet he made was the cause of miraculous events which have become legends that are still told of to this day.
He never really focused much on finding artists or developing any kind of fine Buddhist art out of the amulet design, rather focused entirely on the empowerment and gave little importance, or at least second place, to the elegance of design or features of his amulets.
Luang Por Te spent many years empowering the materials for the amulets with incantations and his most intensive blessings. The Rian Dtalab Ya Mong Luang Por Te is a highly preferred and sought after amulet of the pantheon, and is true to say that this amulet is very much a rarity in the present day.
Luang Por Te, was the creator of the famous Kumarn Tong effigies which his apprentice now continues the lineage of at Wat Sam Ngam. LP Te was an Immensely famous and able Gaeji Master Guru Monk whose equanimity and magic power is legendary around the world.
His Kumarn Tong statues and other amulets are worshipped by devotees from all continents on the planet, and the large number of people who claim to have had overturning success after making Bucha to his amulets is a further proof of the effectivity of his amulets and of his ability to empower them properly.
He was intensely aiming for the highest concentration of Puttakun Power for people to have some portable form of protection to carry with them, and to make Bucha statues for their homes and business establishments. Luang Por Te presided over the temple of Wat Sam Ngam, for many years performing meritorious deeds for the folk of Nakorn Pathom, and was extremely beloved.
He was present on many of the Greatest Blessing Ceremonies of amulets in Great templs around the country, almost always invited for his Powerful Wicha. He was regarded as the world's number one top master of his day for Wicha Kumarn Tong.
Luang Por Te passed away on the 25th December 2524 at the age of 80 years old, 6 months, 10 days. It was his 59th year of Ordination as a Bhikkhu. His remains are currently held on display for his Devotees to worship at the temple of Wat Sam Ngam.
Temple:Wat Sam Ngam
Maker of Amulet:Luang Por Te Kong Tong
Weight:1.7 Grams
Recommended Uses:Protection, Invincibility, Commanding Power and Status
Size of Amulet:1.8 Cm Diameter
Encasement Options
Solid Gold Custom Casing (Waterproo​​​​​​​f) - We will email you with a price quote according to current Gold Prices, and Invoice You after Agreement (0) Waterproof Casing (9) Without Casing (0)