This list of Buddhist Guru Master monks will auto-update each time we add a new Master. Click each link in the list to view the amulets and read about each Guru Monk

External Pages
---
Rian Gao Pra Ajarn Gao Nak Prach - 9 Guru Monks 9 Philosophers 2513 BE - Wat Taepagorn Blessed by LP Guay, LP To, LP Pae, Kroo Ba Wang, LP Toon, LP Pring
03060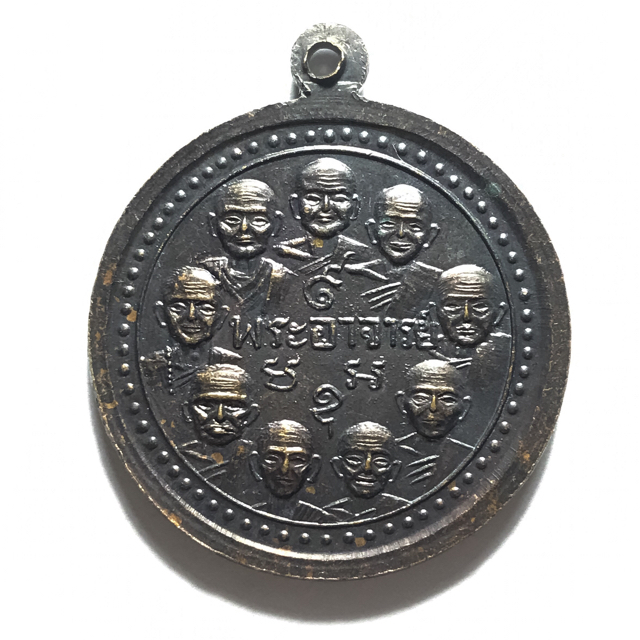 A very famous and popular coin with devotees of Luang Por Guay and devotees of Luang Phu To (Wat Pradoo Chimplee), and for the fact the coin contains two compendiums of 9 Eminent figures of Thai Buddhism and Thai History.
One side of the coin features 9 Great Master Monks, encircling the words '9 Pra Ajarn' (๙พระอาจารย์). The other side has nine great Philosophers, emblazoned around the words '9 Nak Prach' (๙นักปราชนญ์).
Made from Nuea Tong Daeng (sacred Copper Alloy), the coin is in excellent condition, and is a highly recommendable Klaew Klaad Kong Grapan Serm Duang Serm Yos amulet with Maha Amnaj Commanding Influence.
Blessed in 2513 BE in Buddha Abhiseka at Wat Taepagorn in Bangkok, with the great Luang Phu To, and Luang Por Guay present to empower the amulets, amongst a large number of other great masters of that time. of the over 40 Monks present to bless the amulets, the most prominent names were; Luang Phu To (Wat Pradoo Chimplee), Luang Por Guay (Wat Kositaram), Luang Por Thin (Wat Pha Lelai), Luang Por Toon (Wat Po Nimit), Luang Por Supoj (Wat Sutat), Luang Por Nor (Wat Klang Ta Ruea), Luang Por Pae (Wat Pikul Tong), Luang Por Pring (Wat Bote), Kroo ba Wang (Wat Ban Den), Luang Por Juan (Wat Nong Sum), Luang Por Lamoon (Wat Sadej), Luang Por Bpuan, Wat Po Ngam, and many other great names.
Luang Por Guay;
Luang Por Guay's amulets have reached the highest level of respect and collectorship in their history now, and are considered to have noticeable effects that are felt be everybody who owns and wears one of his amulets.
The stories of confirmation of their power are more than can be counted, and his great Patipata and Exceedingly Powerful applied methods of Sorcery are a large part of what attributes to their power. His amulets are now extremely rare to find because those who already own any will never wish to part with them again, and they are hence becoming one of the rarest kind of amulets to find these days.
Usuallly this happens because of specualtion by the collector scene, but in the case of Luang Por Guays amulets, it has happened primarily for their Sacred Value, much much more than for their collectorship and artistic value, which is of course also extremely high. Luang Por Guay is famous for his immensely diligent and complex manner of empowering (Pluk Sek) amulets, which involved daily empowerments at various times of day namely at dawn, morning, midday, afternoon, evening and midnight.
In addition, he would perform empowerments during the various 'Reuks' (Astrological Influentian moments), to bring total coverage of protection and fortuitous blessings to all who might wear and Bucha his amulets.
His method involved the choosing of the 'Reuks Mongkol' Buddhist Auspicious alignments, the 'Reuks Jone' (Gangster Alignments) Inauspicious Alignments, and the 'Reuks Bun Paya Marn' Demonic Influential Alignments. This means that it did not matter who wore his amulets, Good people would wear them, Gangsters would wear them, anybody could wear them without loss of magical effect.
Click Here to Read Full Biography of Luang Por Guay Wat Kositaram
Luang Phu To of Wat Pradoo Chimplee was one of the greatest Masters of the Last Century, and a Highly revered Monk around the whole Kingdom of Thailand. he was Respected and revered by His Majesty Our great King, who was a close friend and companion.
His amulets are both highly revered for their sacred Power of Protection and Prosperity, but also as a connection and Buddhanissati reminder of the Great Guru master, to beseech his blessings through the amulet. One of the most highly sought after Pra Niyom Category Amulets, which is seen to grace the pages of any and every important amulet encyclopedia, and the highly prized and jealously guarded talisman of the high end collector and devotee.
This Great Monk achieved his status through his Great deeds and his great Diligence in his Patipatā (Practice of Purity and Renunciation), and in his Great Attainments in Dhamma Pariyatti and Dhamma Patipatā. Luang Phu To was born on the 27th March 2429 BE in Ban Klong Bang Noi in Samut Prakarn, and passed away on 5th March 2524 BE.
His many honorable awards of status reflect his great practice and diligence, since beginning to studdy the Dhamma Vinaya at Wat Pradoo as a Samanera Novice monk, through to become the Bishop of the Ta Pra Municipality (2463 BE), to becoming awarded the charge of being the Pra Kroo Sangka Wichit for the Abbot of Wat Maha Tat in 2457 BE. In 2463 BE, Luang Phu To became ascended to the status of Pra Kroo Sanya Badtr Chan Dtri (Third Level, tantamount to Batchelor of Arts in Dhamma).
In 2497 BE, Luang Phu then became promoted to Pra Kroo Sana Badtr Chan Toe (Second Level, tantamount to a Doctorate in Dhamma), of Royal Category. In the year 2500 BE, Luang Phu was then given the additional status of Upachaya Ordaining Officer. In 2516 Luang Phu became Pra Racha Kana (Royal Appointment Sangha Comittee) and head officer of the General Affairs of Vipassana Practice.
In 2521, Luang Phu To received the status of Pra Racha Kana Chan Rach (tantamount to being an Archbishop of the Royal Decree). His Blessings are believed to possess the most powerful protective power, and to increase success and prosperity.
Use the Buddhist Method of Bucha with Kata Aaratanaa Pra Krueang
Temple:Wat Taepagorn
Maker of Amulet:Luang Phu To, Luang Por Guay, Luang Por Thin, Luang Por Toon, Luang Por Supoj, Luang Por Nor, Luang Por Pae, Luang Por Pring, Kroo Ba Wang, Luang Por Juan, Luang Por Lamoon, Luang Por Bpuan...
Weight:10 Grams
Recommended Uses:Protection, Promotion, Status, Commanding Influence, Lucky Fortunes, Mercy Charm
Size of Amulet:3 Cm Diameter.
Encasement Options
Solid Gold Custom Casing (Waterproo​​​​​​​​f) - We will email you with a price quote according to current Gold Prices, and Invoice You after Agreement (0) Waterproof Casing (9) No Casing (0)