This list of Buddhist Guru Master monks will auto-update each time we add a new Master. Click each link in the list to view the amulets and read about each Guru Monk

External Pages
---
Rian Hnaa Suea Hlang Roop Nang Pern Run Bucha Kroo 2549 BE - Nuea Tong Daeng Galai Ngern - Luang Por Phern Wat Bang Pra
03215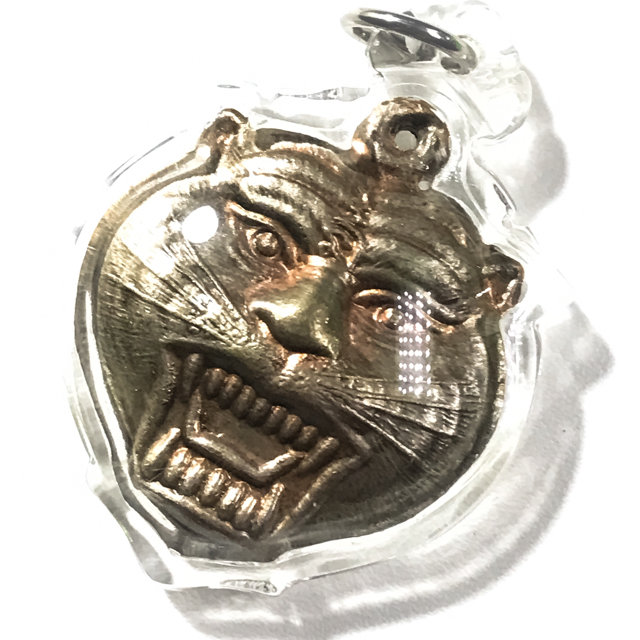 Rian Hnaa Suea Hlang Roop Nang Pern Tiger-Face Amulet with Guru Monk seated over Rifles, from the 2549 BE 'Buchai Kroo' Edition celebrating Luang Por Phern Tidtakuno's 76th Year of Life. This exhibit comes with the original temple box included. The Pra Yord Khun Pol is made from fine incense powders from monks praying, with herbal powders.
The amulet is made from Nuea Tong Daeng Galai Ngern, Sacred Copper Yantra Foil alloy, with Silver Galvanised surface. A most classic and powerful metallic amulet with Maha Amnaj Kong Grapan Chadtri Klaew Klaad Power, from the Great Master of Sak Yant, Luang Por Phern Tidtakuno of Wat Bang Pra temple in Nakorn Pathom.
The front face features the Suea Maha Amnaj Tiger of Commanding Power, full face, in deep relief cast metal (loi ongk). The mouth of the tiger is wide open, emanating its power of dominion, and fearsome strength and bravery, confirming himself as King of the Jungle, and master of its Denizens. The rear face features the image of Luang Por Phern Tidtakuno, seated in meditative posture above two crossed military rifles.

The image of Luang Por Phern has the Kata Maha Ud 'Uttang Atto' embossed as four Khom Agkhara letters around him, and the words 'Bucha Kroo Luang Por Phern Tidtakuno Wat Bang Pra 89 (บูชาครู หลวงพ่อเปิ่น วัดบางพระ). The tiger amulets of Luang Por Phern, as well as those in his image, are world famous for their Serm Yos (Increase Status), Maha Amnaj Commanding Power, Kong Grapan Chadtri Invincibility, Klaew Klaad Evasion, and Maha Pokasap - Maha Lap Wealth Increasing powers.
This amulet comes with Waterproof Casing already included
The amulets of Luang Por Phern Tidakuno (Wat Bang Pra) are highly renowned for their Kong Grapan Chadtri Klaew Klaad, Maha Lap, Maha Amnaj and Serm Duang Powers. This is of course, one of the reasons why the Great Luang Por Phern, has hundreds of thousands of devotees around the world, if not millions.
Luang Por Phern (Pra Udom Prachanat), is one of this Century's Greatest Master Gaeji Ajarn Guru Monks, and holds World Famous International Status as well as being a revered Monk of the Thai Royal family.

Luang Por Phern. Is one of the most internationally famous monks all of this century mainly for his grand role in the promotion of Sak Yant Sacred Tattoos, And of course his powerful amulets which are now becoming ever more favored and ever rarer. And of course,ever more valued.
Those who rever the Great Luang Por Phern will be at best served with this purely Buddhist Amulet of Auspicious Blessings, for the faith of the Devotee and the Metta of the Guru Master, is the connection that causes the Miracle Events which are so often attributed to amulets to occur.
Attributed Powers; Kong Grapan Chadtri, Maha Pokasap, Metta Mahaniyom, Serm Duang Klaew Klaad, Maha Amnaj.
Kata Bucha Suea
Kata Bucha Luang Phor Phern
Kata for Thai Buddhist Amulets (Aaraatanaa Pra Krueang)
Always say; 'Namo Dtassa Pakawato Arahato Sammaaa Samputtassa' first, three times before making any Kata for amulets.
Puttang Aaaraatanaanang Tammang Aaaraatanaanang Sangkang Aaaraatanaanang Puttang Prasittime Tammang Prasittime Prasittime Sangkang Prasittime
Temple:Wat Bang Pra.
Maker of Amulet:Luang Por Phern Tidtakuno
Weight:8 Grams
Recommended Uses:Kong Grapan Chadtri, Metta Mahaniyom, Klaew Klaad Evasion Magic, Serm Duang.
Size of Amulet:3 x 2 Cm